Want to really put a spring in your step? We have the best way. Combine your favorite cardio exercise routine – or find a new one – with an alkaline water detox and feel the benefits fast!
Separately, exercise or an alkaline water detox can make you feel good. Combine the two, and they will deliver an exhilarating fusion of wellbeing to re-energize your mind and body!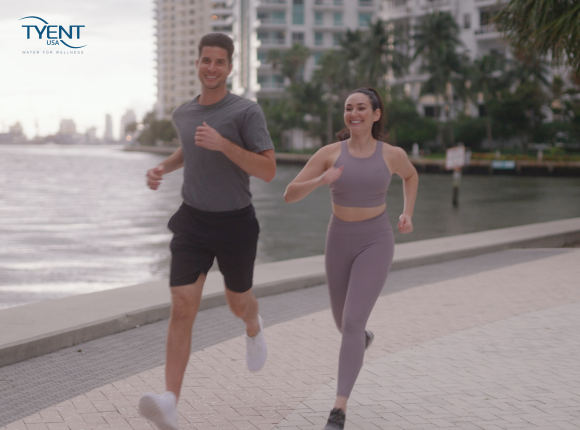 How to Do an Alkaline Diet
Let's start with the detox. Firstly, an Alkaline detox is not a fast. You can look forward to eating delicious meals, snacks and smoothies, as well as drinking lots of energizing alkaline water – at least 64 oz per day.
Use our list of alkaline foods to help you prepare a meal plan. Try to buy organically grown produce or wash non-organic fruit and vegetables with Tyent Turbo Water to remove pesticides and herbicides.
legumes
potatoes
whole grains
seafood
white meat
poultry
milk, cheese, and other dairy products
eggs
avocados
nuts
chia seeds
extra virgin olive oil
mushrooms
almonds
green leafy veggies
citrus fruits
Berries
Find Your Movement
Now the exercise part! Whether you want to run, lift, hike, swim, play tennis or team sports, make it a priority in your life and schedule your weekly cardio exercise sessions so that you're not tempted to skip one!
Drinking alkaline water from a water ionizer really helps you smash your workout goals: it's energizing and more hydrating than tap or bottled water.
How the Magic Happens!
The magic of mixing cardio exercise with an alkaline water detox is that it works quickly and makes you feel fabulous in a short space of time, which keeps you motivated.
Drinking alkaline water, eating mindfully and getting your nutrition from organic, alkaline foods can start to make you feel good almost straight away. After a week, you'll feel cleaner and lighter. You'll probably find that you've dropped a few pounds. You'll be sleeping better and reaping the benefits of being well-rested and mentally focused.
Here's another great point – you don't have to limit your detox to one or two weeks. An alkaline water detox does not eliminate any key food groups and encourages you to eat in a sustainably healthful way, so you're free to stick with it for as long as you want!
Find Out More!
Want to find out more about the incredible benefits of drinking alkaline ionized water? Click on our cheat sheet for the facts and stats you need to know!