In this article, find out why reverse osmosis water can be worse than untreated water.
In this article:
Here's Why You Should Avoid Drinking Reverse Osmosis Water
What Is Reverse Osmosis?
"Reverse osmosis water" is a fancy scientific term used by many these days. You produce it through reverse osmosis (RO), obviously. It is a process of purifying water, but most people don't know what an RO system is.
It is an issue for one crucial reason.
Without understanding how the reverse osmosis filtration works, it is difficult to see the disadvantages of the system. Reverse osmosis water is not safe for human consumption.
It is also not good for the environment. Later, you will know why.
What is reverse osmosis? RO is a method of removing contaminants from the source water by applying pressure. The machine lets the water flow through a series of artificial, semi-permeable membranes to further remove impurities.
Many homes and businesses use it for many different water purification purposes.
At home, RO systems should help "improve" tap water. Some industrial-scale water purification plants also use them.
Unfortunately, reverse osmosis is not as effective as a water treatment solution. It can create massive problems.
3 Reasons to Avoid Drinking Reverse Osmosis Water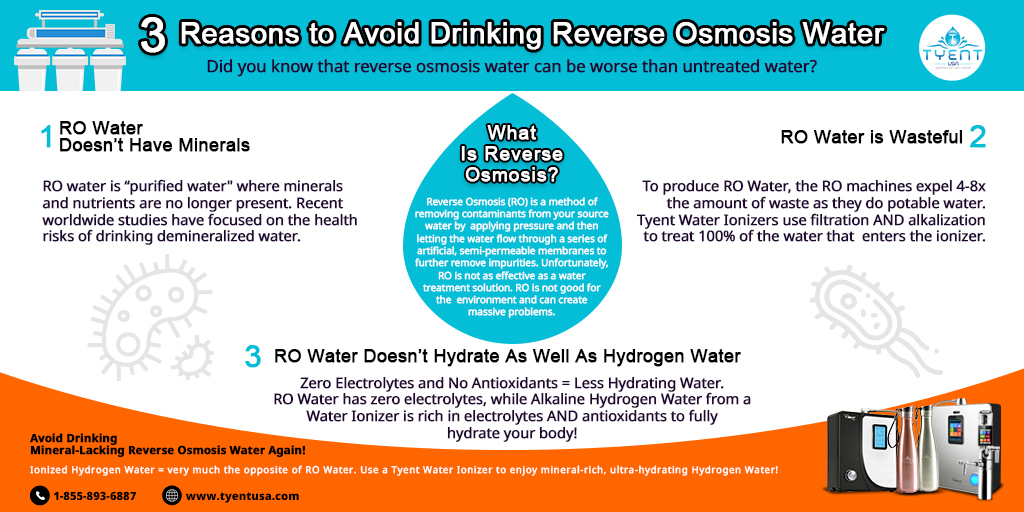 Just like distilled water, Tyent discourages drinking reverse osmosis water. Here are the reasons:
1. Reverse Osmosis Water Does Not Have Minerals
Part of the definition of reverse osmosis water is it is "purified water." It means all the sediment, heavy metals, hard minerals, nutrients, viruses, and bacteria (both the good and bad) are no longer present.
Recent worldwide studies focused on the health risks of drinking demineralized water discovered:
Drinking water should contain minimum levels of certain essential minerals . . . . Sufficient evidence is now available to confirm the health consequences from drinking water deficient in calcium or magnesium.

– Frantisek Kozisek, National Institute of Public Health, Czech Republic
In contrast, Tyent alkaline water quality maintains high levels of antioxidants. It also contains essential nutrients like magnesium, which is essential to human life.
Alkaline water can hydrate the body more efficiently than tap water.
Meanwhile, all indications cite how reverse osmosis water is less hydrating than even untreated water. This is because RO water has zero electrolytes.
When the machines filter the water, they also remove them.
Zero Electrolytes and No Antioxidants = Less Hydrating Water
Of course, alkaline water is rich in antioxidants and electrolytes. These help hydrate the body and neutralize harmful free radicals.
Electrolytes Definition: A combination of dissolved salts, magnesium, potassium, and calcium. All together, they regulate the flow of water of the cells. They are also essential in maintaining nerve impulses.
3. RO Is Wasteful
A 2013 study by researchers at North Dakota State University revealed:
An RO unit delivering 2 gallons of treated water per day may discharge 8 to 15 gallons of waste water per day to the septic system.

– Tom Scherer, Ph.D., and Roxanne Johnson
To produce reverse osmosis water, the machines have to expel 4 to 8 times the amount of waste as they do potable water!
Tyent water ionizers use filtration and alkalization. These processes treat 100% of the water that enters the unit.
Hveragerthi's channel discusses how reverse osmosis and distilled water works and what it does to your body when you drink it:

With all these downsides, here's our suggestion: drink alkaline water. It is very much the opposite of reverse osmosis water.
A water ionizer is more efficient than an RO system. It also produces mineral-rich, ultra-hydrating alkaline water.
Avoiding drink neutralized mineral-ridden reverse osmosis water again. Instead, use a Tyent water ionizer to create alkaline water.
Have you tried a water ionizer? What was the experience? Share your thoughts about it in the comments section below. Don't forget to read our Tyent Water Ionizer Buyer's Guide for more information.
Up Next: Put That Sparkling Water Down! Drink from Water Ionizers Instead
Editor's Note: This article was originally published on April 30, 2016, and has been updated for quality and relevancy.