Tyent and Enagic are two of the most established water ionizer brands in the industry. But even in a two-horse race, there has to be a winner.
When it comes to water ionizers, Tyent is the brand to beat. We are proud of our position at the apex of the industry. But what are the key differences between a Tyent water ionizer and an Enagic machine?
Buying a water ionizer means that you need the facts at your fingertips, so we've listed the 21 Reasons why Tyent is better than Enagic!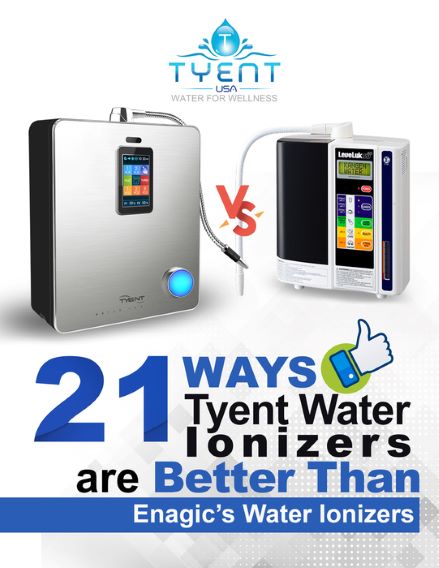 1. Style Trial: Your water ionizer is going to be in your kitchen for a long time, so you've got to like the way it looks. Tyent's commitment to design excellence shines, with water ionizers that are sleeker, sturdier and more refined than the Enagic models. No white plastic casing here. Tyent ionizer machines are cased in genuine stainless steel for a lifetime of good looks.
2. Plate Power: The K8 is 'Enagic's most powerful antioxidant machine.' It contains 8 solid titanium plates (solid plates have inferior powers of electrolysis). This is considerably less powerful than – for example – the Tyent ACE-13. The ACE-13 boasts 13 of the largest, medical-grade, platinum-dipped titanium Solid/Mesh Hybrid Plates in the industry for incomparable performance.
3. Chemical Warning: Enagic often boasts of the 'strong' acidic water that their ionizers produce. They are less forthcoming about the ingredients of the 'Electrolysis Enhancer' that is required to make this 'strong' acidic water. Although you'll struggle to find the ingredients listed on their website, Enagic Electrolysis Enhancer contains something you definitely don't want to drink – Sodium hypochlorite, otherwise known as bleach. It's not possible to ascertain to what degree trace amounts of sodium hypochlorite might conceivably end up in your drinking water, but isn't it better to avoid dangerous chemicals in the first place? Tyent water ionizers achieve low pH acidic Turbo water by having larger plates, being more powerful and featuring adjustable power settings. No chemicals required!
4. Filters: Let's face it – many people buy a water ionizer because they want to drink cleaner water. No Enagic machine has more than one standard filter. By contrast, no Tyent machine has less than a cutting edge, Dual-Filtration System that is second to none, and recognized across the industry for its astonishing filtration capabilities.
5. Easy Pre-sets? Enagic water ionizers do not have the benefit of pre-sets – Tyent water ionizers DO. The UCE-11 for example, has 99 pre-sets, to make life that little bit easier.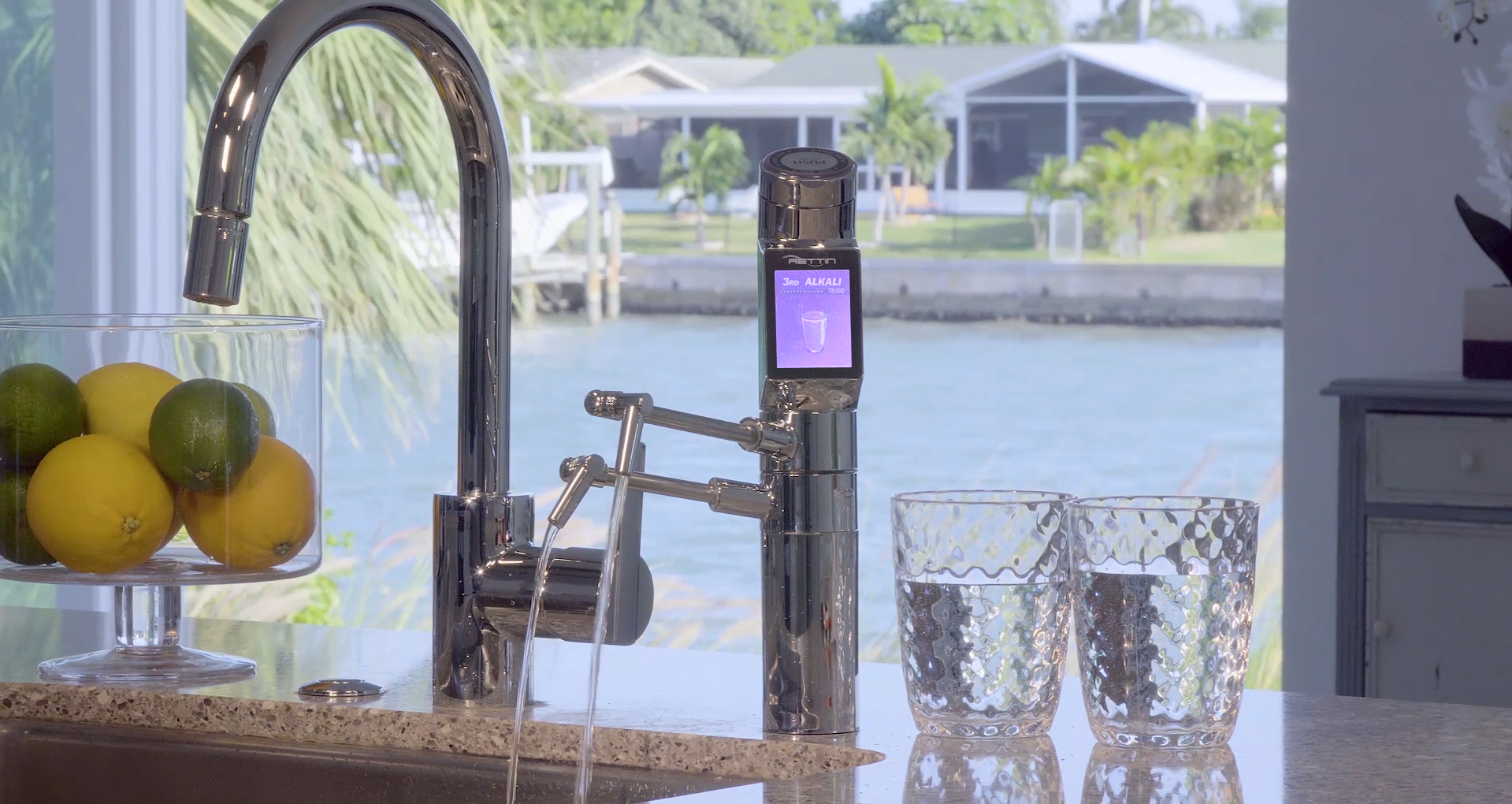 6. Trial Period: A trial period has to be long enough for it to be meaningful. We talk a lot about the benefits of ionized alkaline water and we want our customers to feel those benefits for themselves inside the trial period. Why? Two main reasons: we know that Tyent water ionizers deliver what they promise; and we care about our customers' peace of mind. An Enagic trial period? 3 days. Draw from that what you will.
7. Oxidation Reduction Potential: Known as ORP, this is the unit of measurement for the possible potency of antioxidants present in your ionized water. Tyent water ionizers have an unmatched ORP ranging from +500 to -1200. ORP is linked to the size and power of the electrolysis plates, which is why our plates produce the strongest negative ORP, and Enagic machines don't come close.
8. Contaminants Removed? Enagic claims that their water ionizers remove '95% or greater' of chlorine. Other than that? It's hard to say. Their website remains silent on this key issue, and repeated requests for specific information have drawn a blank. Tyent water ionizers, such as the industry-first Hybrid, have 0.01 micron Ultra-Filtration powers to remove over 200 contaminants. When a 4-bank pre-filter system is fitted, the Chromium-6 Filter removes:
Up to 99% of lead
Up to 99% of Chromium-6
Up to 99% of mercury, beryllium, uranium, and fluoride
9. Filtration Report: Enagic maintains their silence on this too, with no filtration report available. If their machines are doing their job, why are they so hesitant to tell people about it? We value complete transparency: an independent, comprehensive filtration report on Tyent water ionizers can be viewed here.
10. Power Type: Tyent water ionizers are built with a Switch Mode Power Supply (SMPS Plus®) with 55 adjustable power settings. Enagic machines are built with an electronic circuit linked to a transformer, which means that there is no capacity for voltage adjustability. Transformers are also less efficient and predisposed to overheating.
11. Warranty: Another important one. Here's the thing – we trust in our water ionizers 100%. We know how well they're built. We know the engineering and design of every Tyent Water Ionizer result in an incomparable machine. That's why we offer a Lifetime Guarantee on every water ionizer, with absolute confidence. It even includes parts and labor. No small print, no conditions. That's worth its weight in gold for a major purchase. What guarantee periods does Enagic offer? Either three or five years. Yep. You read that right. Even the Enagic Super501, advertised as their 'top of the line' model, comes with a measly three-year warranty. That kind of thing doesn't exactly fill customers with confidence.
12.  The Price Tag: Despite Tyent Water Ionizers outperforming Enagic at virtually every turn, our prices are far more competitive! Higher specification, lower price. And we mean a LOT lower…our super-sleek new model The Edge, for example, is an affordable-yet-high-end steal at $2495.00. By comparison, the Enagic Super501 is listed at $5,980.00. Tyent machines consistently outperform Enagic, and yet cost less!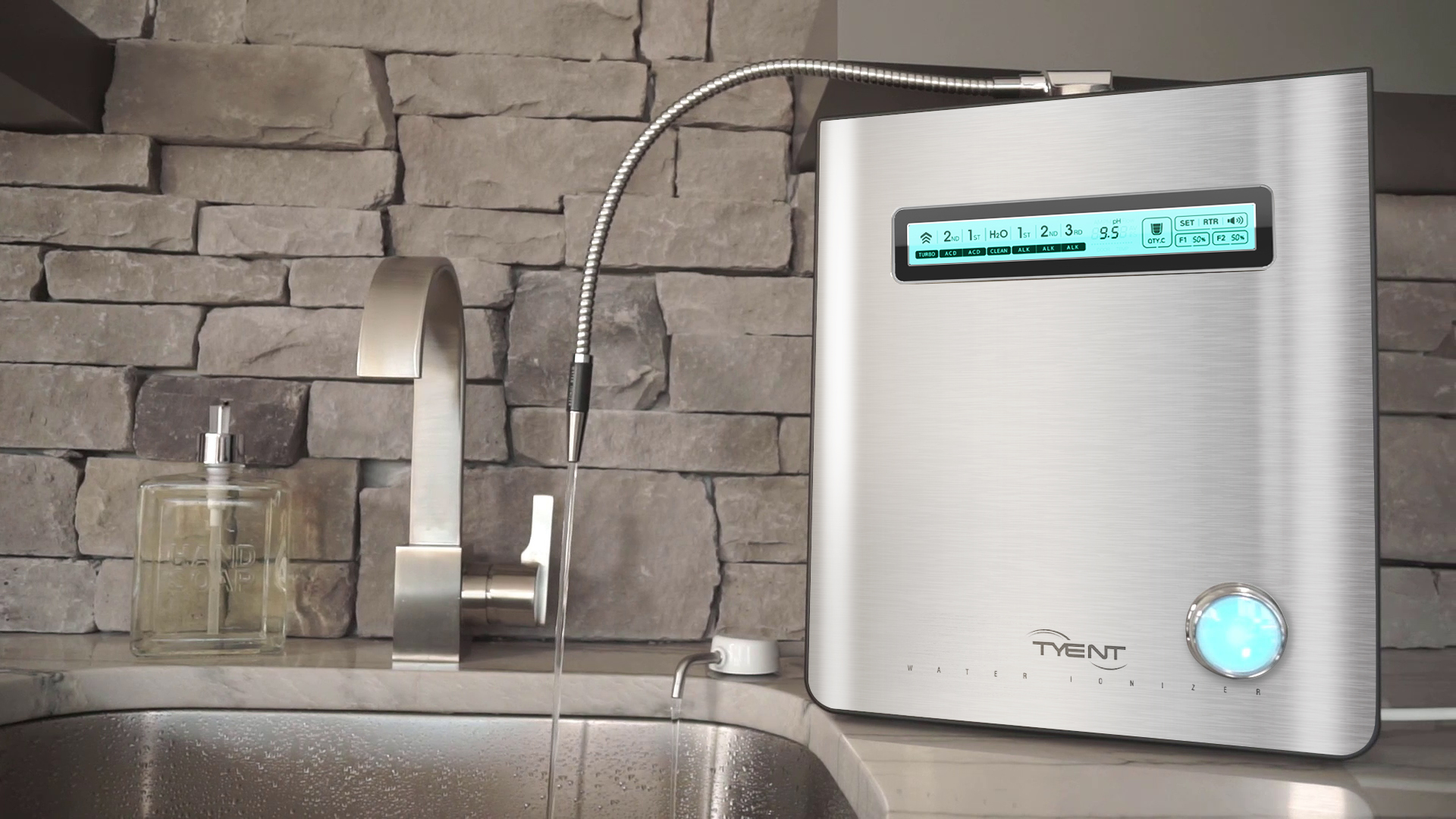 13. …and one of the reasons for this is that Enagic is a Multi-Level Marketing (MLM) business, and water ionizer distributors need to earn commission from sales. Do you want to pay more for a water ionizer, to fund several layers of personnel and their cut of the profits?
14. Touch-Free Technology: Tyent water ionizers are at the leading edge when it comes to high-tech features, with an intelligent, motion-activated flow sensor. Start and stop the water flow with a motion of your hand. You won't find this on an Enagic machine.
15. Graphical User Interface: This newly updated GUI is our most advanced yet, with more customizable features and settings than ever. Program your water ionizer with your preferences and enjoy a bespoke water ionizer experience. No Enagic machine has comparable controls that streamline and personalize your preferred settings.
16. Eco Mode and Power Saving: Both The Hybrid and the ACE-13 win green points with advanced eco-saving technology that conserves power without compromise. Enagic machines do not have an Eco feature.
17. Flow Control: Enagic ionizer machines rely on manual flow control, which means that you need to adjust your tap water flow every time you use it. Tyent water ionizers do the work for you and automatically regulate the flow, so you can enjoy a glass of Tyent alkaline water at the push of a button!
18. Smart Screen: Every Tyent water ionizer has a smartphone-style touchscreen, to suit today's lifestyle and to give an uncluttered, sleek appearance. Enagic water ionizers – even their most expensive model – have a dated, old-school LCD display screen with separate controls on the casing.
19. Quantity Selector: Always at the cutting edge of innovation – the Tyent ACE-13 has another industry first: an intelligent quantity selector. Program the size of your favorite jug or glass, and the machine will dispense precisely the correct amount. Enagic machines are manually operated and do not have this feature.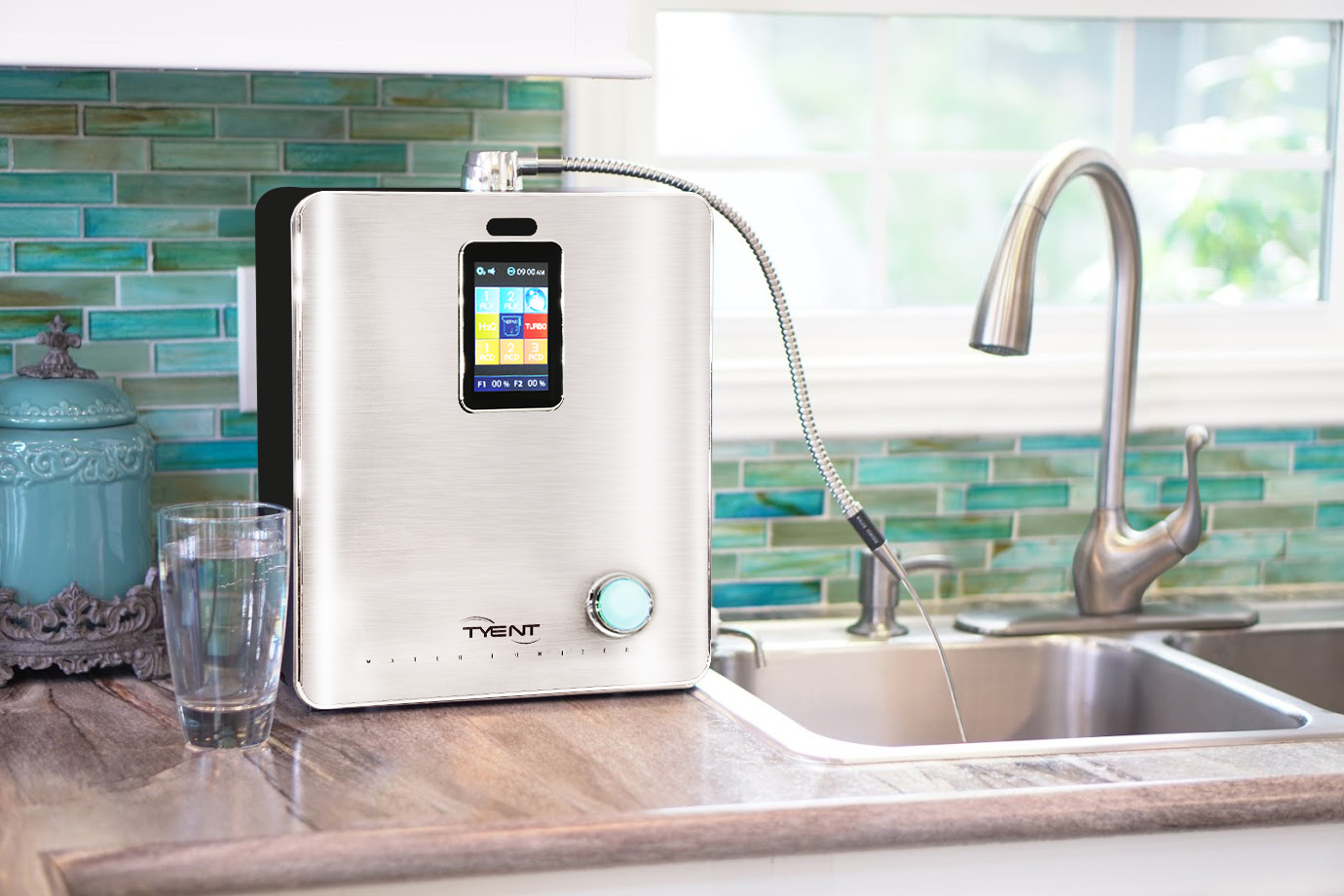 20. Xtreme Molecular Hydrogen Boost: This ground-breaking new feature is a triumph of engineering and a total gamechanger, delivering more precious molecular hydrogen than ever before. You'll find it in both Tyent's ACE-13 Turbo and the UCE-11 Turbo Water Ionizers, but not in an Enagic machine!
21. Customer Care: In our view, it's just as important as the water ionizer. An honest, caring, transparent approach to selling and post-sale customer support is important to you, and to us. Your happiness is central to the Tyent philosophy, and forms the heart of our Core Values. No matter how many times you search the Enagic website and literature – you won't find anything to compare.
Buying a water ionizer is a significant purchase, and you deserve the facts about why Tyent water ionizers really are the best in the industry, so that you can make the right decision.
Would you like to talk water ionizers? We're here to listen and answer any questions you have. Call our friendly team at .