What kind of year was 2018 for some of your favorite celebrities, influencers and sporting heroes?
What have they been up to and what has been putting a spring in their step during the last 12 months?
(Hint: it's alkaline water from a Tyent water ionizer!)

Terry Fator
The "Voice of Entertainment" Terry Fator has enjoyed another spectacularly successful year, selling out his acclaimed Las Vegas show and taking time out to support The Hockey Warriors.
What's appearing on his list of New Year resolutions?
Possibly drinking more alkaline hydrogen water from his Tyent water ionizer to keep that amazing voice firing on all cylinders!
"I did the searches. Tyent came up as the best time and time again. If you're going to do it, do it right. Do Tyent." – Terry Fator, Entertainer
Fitness and Health Pros!
Talk about a dream team! Lori Shemek, Allison Tibbs, and Cliff Shaud Brown gave us the benefit of their considerable health expertise to keep us in shape last year.
Keep drinking Tyent Water from our award-winning water ionizers and keep following them in 2019 to be at your personal best every day!
"Drinking Tyent alkaline water is how I help both myself and my pro athletes & Olympians perform at optimal levels and ready to compete." – Cliff "Shaud" Brown
A Good Influence!
Some of the most prominent health and wellness influencers out there are crazy about Tyent Water and how it boosts their health and energy levels!
From NFL player-turned-top-model Keith Carlos to all-around healthy-living inspo Jessica Deluise…drinking hydrogen-rich alkaline water from a water ionizer is a non-negotiable part of their routine!
"Keeping my skin clear, clean, and fresh by hydrating with water using Tyent alkaline hydrogen water as a part of my daily skin regimen is a MUST!" – Keith Carlos
A Royal Engagement?
We're not sure if you noticed the low-key, under-the-radar nuptials of a certain young couple earlier this year, but if the bride was flagging at any point during the considerable celebrations, then we wonder what she sipped to restore her energy levels?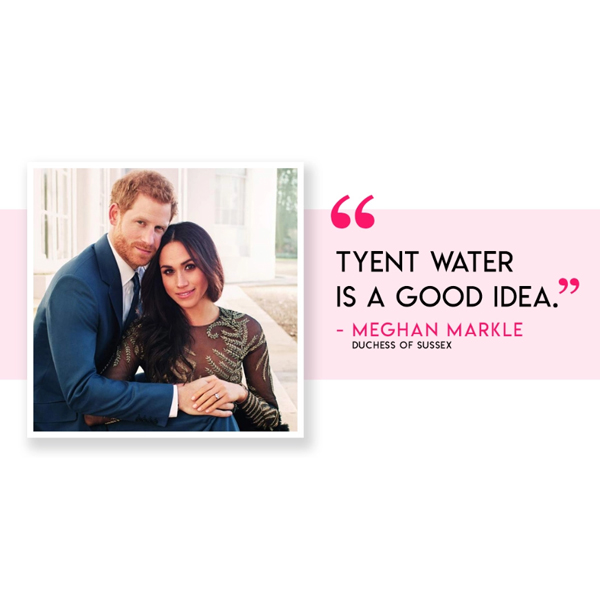 Happy and Healthy 2019!
Tyent Water Ionizers are the best in the world and right now, we're offering some AMAZING deals that you can't afford to miss!
Check them out today and give our water ionizer experts a call at .
Leap into the New Year determined  to make this your healthiest year yet with the benefits of alkaline water!