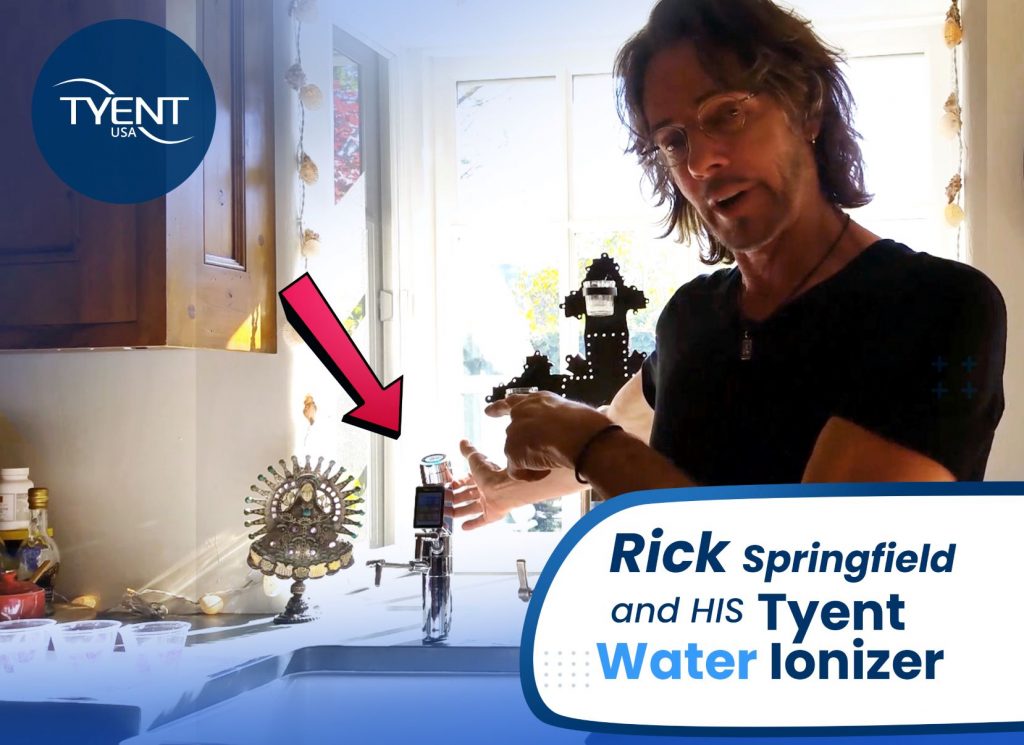 Rick Springfield: "…Disease cannot live in an alkaline environment" 
Here at Tyent, we're pretty solid Rick Springfield fans, and so you can imagine our joy that the feeling is mutual! 
Multi-talented, Grammy-award winner Rick is a global household name. International fame was a done deal after the huge success of Jessie's Girl, but Rick's achievements and talents reach far beyond that massive hit song.  
Alkaline Water = Ageless Rock Star!
Rick knows that Tyent Alkaline Water is the best-tasting water on the market, but he's also switched on to the incredible health benefits of drinking ionized alkaline water every day, straight from his Tyent Water Ionizer!  
It's fun to hear Rick say, "I've found that Tyent Water has reversed the aging process in me. I'm now actually getting younger!" But then take a moment: this man is 71 years old, and would you look at him?  
Rick has an awesome point: alkaline molecular hydrogen-rich water is also known to flow in those famed 'Fountains of Youth' around the world, and scientists already know about its powerful anti-aging properties.  
Tyent Water on Tour!
With his 2021/22 Tour Schedule underway, it's vital that Rick takes care of that famous voice. The solution? Drinking Tyent Alkaline Water – and taking it on the road with him! 
"I'm hoping to win an Academy Award, and I'll get up there and thank Tyent – it's actually helped my throat on the road." 
Rick Springfield 
Tyent Water for Life
Rick has been using and drinking Tyent Water for several years now, after seeing a Tyent Water Ionizer in a friend's house and trying alkaline water for the first time. Years later, he loves both the versatility of Tyent Water and those amazing health benefits.  
"Overall, we use Tyent Water in our home for everything! I'm a big believer that disease cannot live in an alkaline environment, so our environment is as alkaline as we can make it thanks to the Tyent alkaline water that we drink and cook with." 
Rick Springfield 
Hydrate Like a Rock Star 
Rick's not alone: stars such as Beyonce always make sure that alkaline water is in the dressing room. Legendary rock star Rick Springfield is just one of the many entertainers and musicians who rely on a Tyent Water Ionizer to keep them hydrated and in great voice.  
Want to hydrate like a rock star? Call our team today: we can make it happen!