Want to know the 9 top reasons why the Tyent Edge is the water ionizer that could transform your health, wellbeing and energy levels? Read on!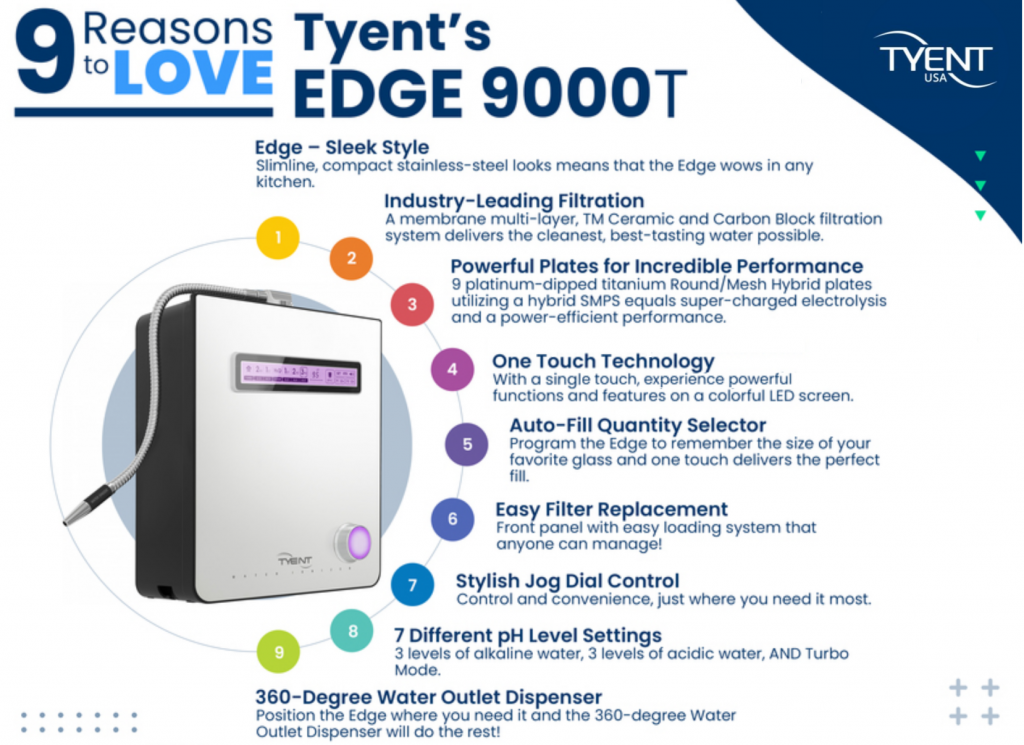 The Edge – Sleek Style for Any Kitchen
Industry-Leading Filtration
Powerful Plates for Incredible Performance
Smart One Touch Technology
Cool Auto-Fill Selector
Easy Filter Replacement
Stylish Jog Dial Control
3 Levels of Alkaline and Acidic Water
360-Degree Water Outlet Dispenser
1. The Edge – Sleek Style for Any Kitchen
The Edge is a compact machine that's perfect for smaller kitchens. One glance tells you how fabulous the Edge will look in any home. With sleek, rounded lines and genuine stainless-steel casing for a chic, high-end look, the slimline Edge makes a style statement to match its performance.
2. Industry-Leading Filtration
Tyent filters outperform any others in the industry, and with a membrane multi-layer filtration system, the Edge is no different! TM Ceramic and Carbon Block filters remove suspended solid particles over 0.5~5, such as rust, sand and sediment, for the cleanest, best-tasting water possible. When it's time to change those filters, the Edge will simply let you know on the LCD screen, where you can monitor your filter usage at a glance!
3. Powerful Plates for Incredible Performance
The Edge is compact, but incredibly powerful, with NINE platinum-dipped titanium Round/Mesh Hybrid plates utilizing a hybrid SMPS for powerful electrolysis and power-efficient performance.
4. Smart OneTouch Technology
The Edge is all about next-generation technology and the modern details that you'll love. Check out the colorful, LED touchscreen to complement the design and give a user-friendly operation that's a pleasure to use!
5. Cool Auto-Fill Selector
You'll love the Auto-Fill Quantity selector with an automatic flow stop. Simply program the Edge to remember your favorite glass or jug and use the one-touch feature to fill it to your precise requirements.
6. Easy Filter Replacement
Filter replacement is a breeze with a front panel, easy loading system that anyone can manage!
7. Stylish Jog Dial Control
A stylish jog-dial gives you control and convenience, just where you need it most.
8. 3 Levels of Alkaline and Acidic Water
Enjoy 3 levels of alkaline water AND 3 levels of acidic water, so you can have the exact water you need, at the push of a button. Plus, the Turbo Mode gives you even more amazing options for skincare and around your home!
9. 360-Degree Water Outlet Dispenser
The 360-degree water outlet dispenser is so cool – it gives you more flexibility so you can position the Edge exactly where you need it by your sink and makes using it just that little bit easier and more pleasurable.
Discover the Edge for Just $25 Per Month
You know, we could go on here: there are SO many more reasons why the Edge is such an exciting addition to the Tyent range of water ionizers!
The best way to discover them is to experience the Edge for yourself. We make it easy, with a 75-day trial period, a Lifetime Guarantee and financing terms with payments starting at only $25. Want to find out more? Call our team at 855-TYENT-US () and find out how you can give YOUR health and lifestyle a brand-new Edge!