Is 13 an unlucky number? Not if you're counting 13 reasons to LOVE the Tyent H2 Hybrid machine! So what are the top 13 reasons why this water ionizer is making such big waves in the industry?
Let's take a look!
First-ever Hybrid alkaline water ionizer and hydrogen water generator
LCD display and Touch Screen technology
Powerful dual filtration
Most technologically advanced machine yet
Push hydrogen water button
Hydrogen water jog dial
Fixed quantity selection option
Front-load filter replacements
Platinum-dipped titanium plates
360-degree Smart Spout
The 'legendary' Tyent Turbo Button
Stipulation-free, no-quibble Lifetime Guarantee
Super-sleek design for ultimate kitchen style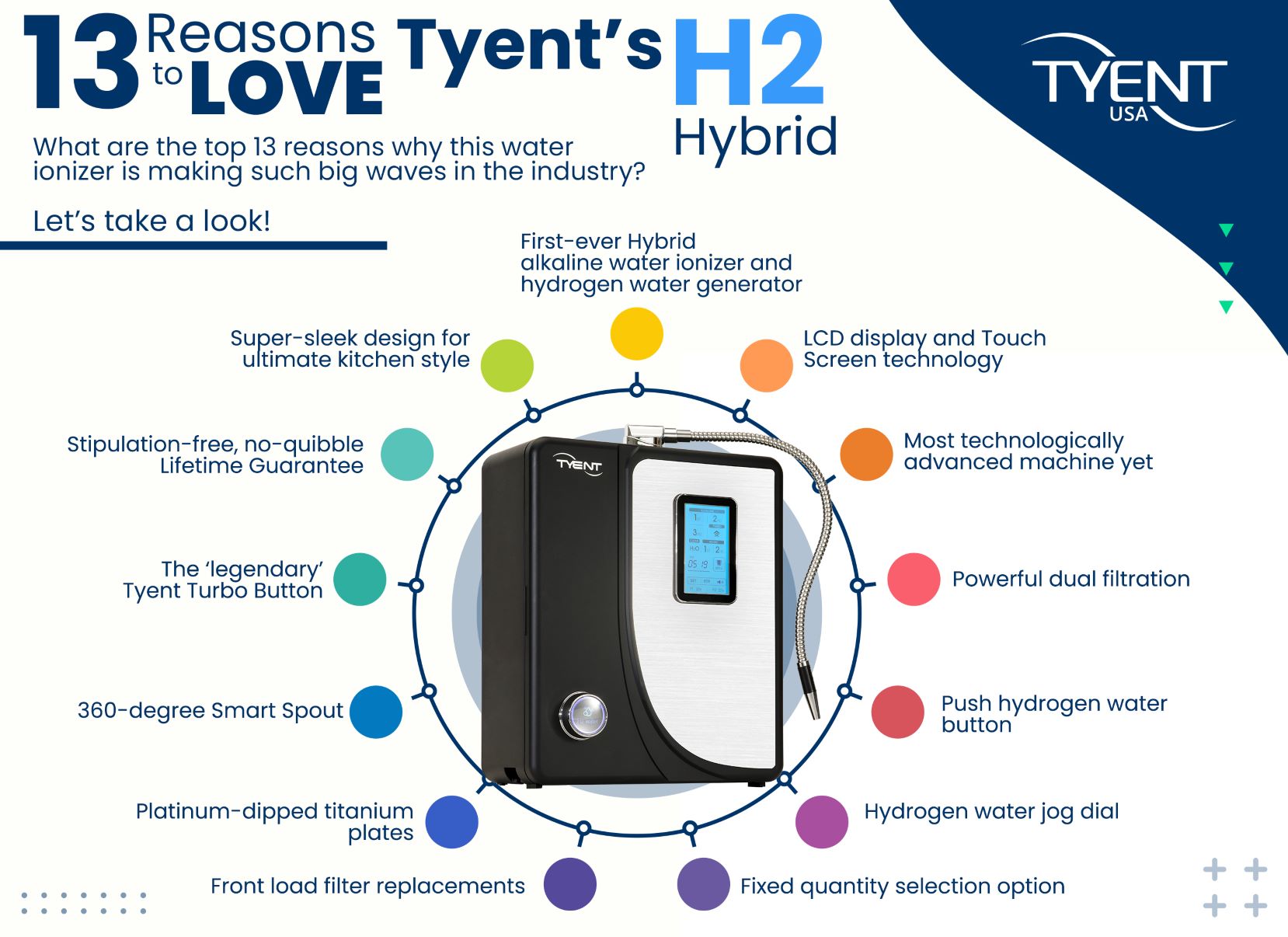 1. First-ever Hybrid alkaline water ionizer and hydrogen water generator
A groundbreaking industry first, the H2 Hybrid combines a separate alkaline water ionizer and hydrogen water generator. From one powerful machine, you can now select:
Neutral water
Alkaline water
Hydrogen water
Acid water
2. LCD display and Touch Screen technology
The H2 Hybrid LCD display and touch screen technology are Smartphone-inspired, a breeze to operate and look as sleek and user-friendly as you'd expect!
3. Powerful dual filtration
No company beats Tyent for filtration. We know that drinking clean, safe water is why many people buy a water ionizer in the first place. Our filters remove 200 dangerous contaminants and up to 99% of deadly lead.
With a micron filtration level as refined as a hospital kidney dialysis machine, our filters are engineered to remove the harmful toxins in your source water, while leaving the essential minerals intact and bioavailable.
4. Most technologically advanced machine yet
Our engineers went back to the drawing board to build, from the ground up, a water ionizer that sets a new standard. The H2 Hybrid features layers of next-generation technology to deliver outstanding performance, unseen before in the water ionizer industry.
5. Push hydrogen water button
Push for perfect, hydrogen-rich water! Grabbing a hydrating glass of your favorite water has never been easier!
6. Hydrogen water jog dial
More hydration innovation: use the hydrogen water jog dial for water that's packed with thousands of bubbles of pure molecular hydrogen.
7. Fixed quantity selection option
This is such a cool feature. Just program in the volume of your favorite glass or bottle and the H2 Hybrid will then deliver precisely the right amount of delicious alkaline hydrogen water at the push of a button.
8. Front-load filter replacements
Filter replacement can be tricky, so we make it super-easy, with a simple, front-loading system that everyone can manage with ease.
9. Platinum-dipped titanium plates
Our plates are constructed from titanium and dipped multiple times in platinum. The result? The biggest, toughest and thickest plates in the industry. The unique Solid/Mesh Hybrid design gives the largest surface area for electrolysis power, without compromising on strength and durability.
10. 360-degree Smart Spout
Your choice! Make life that little bit easier and position your H2 Hybrid on either side of your sink for 360-degree, easy operation.
11. The 'legendary' Tyent Turbo Button
Tone your skin, give your hair a deep shine, and keep your home clean without toxic chemicals. Tyent Turbo Water does all of this and much more. Push the button and fast track to some of the most awesome beauty and cleaning hacks out there. Even better? It's all-natural.
12. Stipulation-free, no-quibble Lifetime Guarantee
No other water ionizer company can beat this: a solid-gold, stipulation-free LIFETIME Guarantee on every water ionizer machine we sell. We don't just sell the best water ionizers in the world – we also deliver complete peace of mind on your purchase.
13. Super-sleek design for ultimate kitchen style
The H2 Hybrid isn't just one of the most advanced kitchen appliances on the market today – it's also one of the most stylish. Chic, unfussy lines and exceptional attention to design detail means that the H2 Hybrid combines elegantly desirable looks with world-beating performance.
Own an H2 Hybrid from as Little as $25 Per Month!
Can you tell that we're excited about this? Here's even better news: the H2 Hybrid can be yours for as little as $25 per month. You read right! Want to learn more? Call up our friendly team at 855-TYENT-US () and ask how easy it is to install an H2 Hybrid in your kitchen!