A spa day at home can be almost as good as the real thing. Maybe even better, because you don't have to travel anywhere and it's certainly cheaper!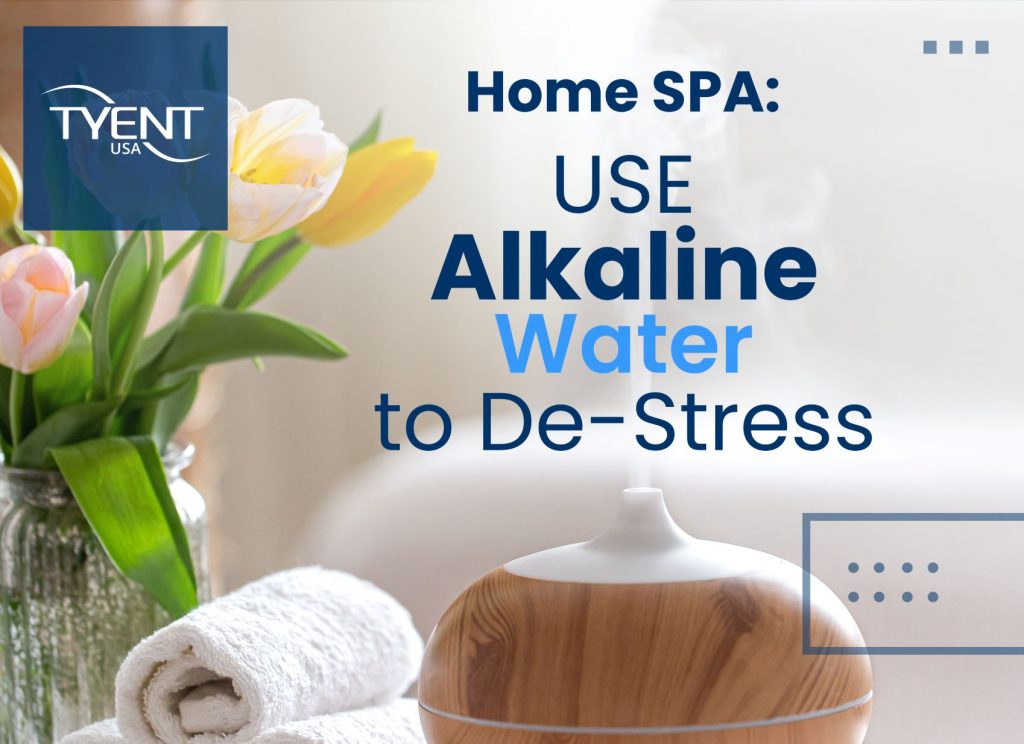 Let's Get This Spa Day Started!
Switch off the phone, unplug everything that bleeps and vies for your attention, and indulge your body and senses.
Rise and drink a glass of alkaline water straight away to rehydrate and refresh your mind and body. Throw open the curtains and do some gentle stretching to feel energized.
Give yourself a body treatment during your shower, using an exfoliating mitt, body scrub or a luxurious, skin-pampering cleanser such as Tyent Beauty Soap. Wash your hair and rinse with acidic water for a deep, glossy shine.
After drying off and cleaning your teeth, spritz your face with acidic level 1 water from your water ionizer for soft, radiant skin.
Enjoy a light breakfast of fruit and yogurt, a plant-based smoothie or a detoxing juice to fuel the first part of your day. Try taking your coffee or tea outside, if possible, or sip by an open window to enjoy the fresh morning air, without the distraction of emails or social media.
Work Up an Appetite
Exercise is one of the best ways to de-stress. It boosts oxygen circulation and promotes the production of endorphins: chemicals that make you feel good and help to reduce feelings of anxiety and stress. Do something you love: yoga indoors or outside, go for a run or hike, or try wild/open water swimming if there's somewhere nearby you can do so safely. Don't forget to take a bottle of alkaline water with you for energizing hydration on the go.
Make lunch something nutritious and delicious – a warm or chilled salad with some of your favorite healthy ingredients is perfect. Eat slowly, chew thoroughly and stop eating when you're full.
Create Calm and De-Stress
After lunch, try a meditation session: it can help you to feel calm and in control. Follow it up with a delicious glass of alkaline water to help maintain the perfect pH balance that's vital for optimum health.
Remember, this is a spa day, so it's all about relaxed, nourishing wellbeing. Pick up your favorite book or magazine and lose yourself for an hour or so, while sipping a cleansing, therapeutic herbal infusion.
Fresh and Fabulous Food
Keep dinner healthful and light. Chicken, fish, beans or pulses cooked with veggies are wholesome and filling. Take it in any direction you like: curry, chili, broth – try Dr. Lori's delectable Detox Soup – or how about roasting your favorite vegetables in the oven with some fresh or dried herbs and a slick of olive oil? Take your time preparing the food and savor every mouthful.
Nurture a Good Sleep Routine
As the evening beckons, light a scented candle and enjoy its fragrance as you wind down before bedtime. A good sleep routine is essential for robust physical and mental health: follow our 10 Easy Steps to a truly good night's sleep.
Why not set aside time each month for a de-stressing spa day at home? It's a great way to nurture yourself and create a feeling of positive self-love.
Alkaline Water: Change Your Life
Every minute of each day, alkaline water is helping someone feel amazing. Find out about the many ways that a water ionizer can transform your life for the better by clicking on our FREE eBook.