Want to enjoy a spa day with your water ionizer? Yay… you'll both look so cute in fluffy robes and matching face masks!
Of course, we mean a spa day at home, courtesy of your water ionizer! Grab a glass of Tyent Alkaline Water and start planning your spa break!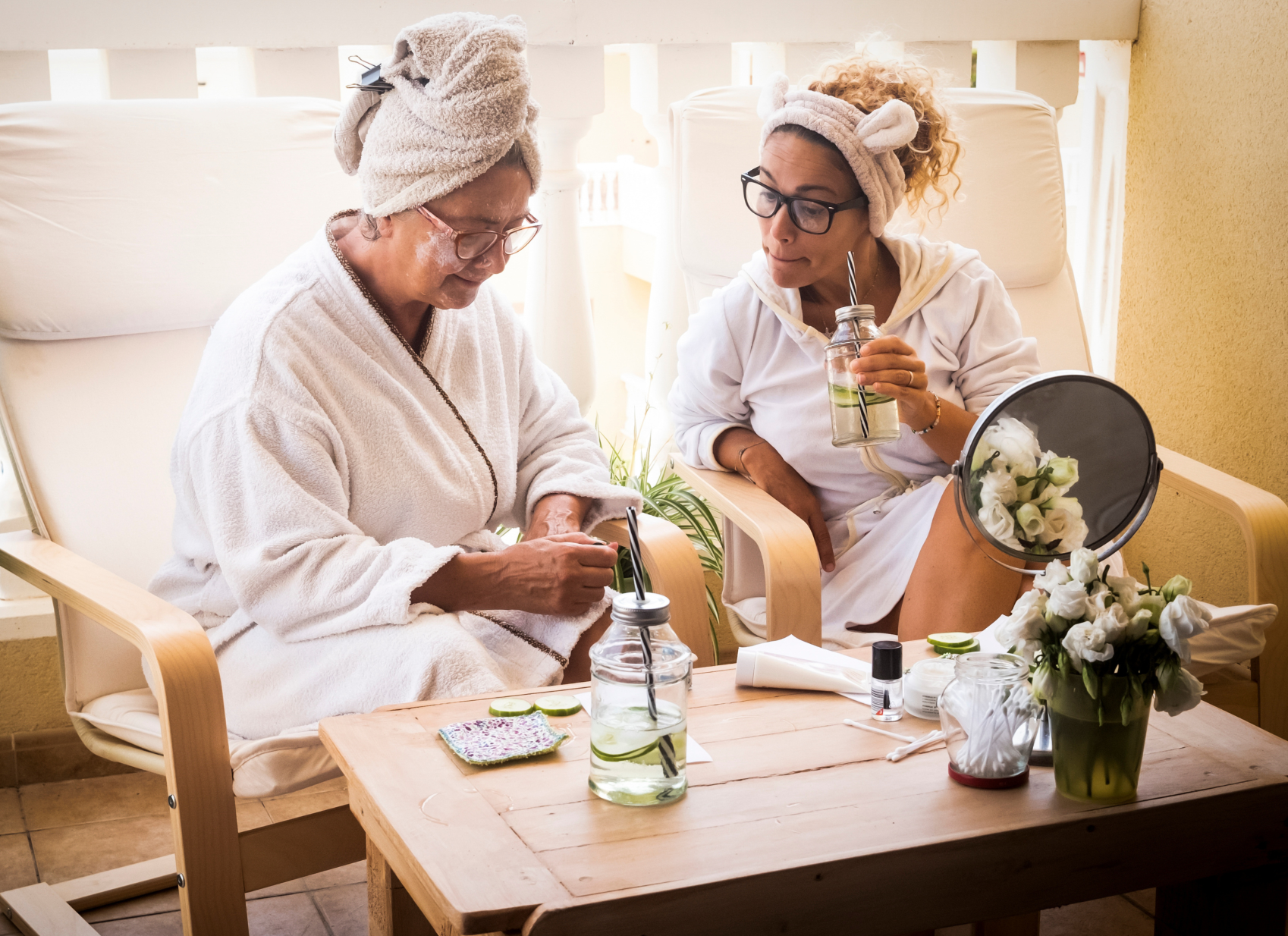 Switch Off, Chill Out
There's a reason that spa visits are often called 'retreats.' On your chosen spa day, switch off all the devices that might distract you from the important business of pampering, and clear a mental space to step into and occupy for the next few hours.
Begin with a luxury shower, complete with a circulation-boosting body scrub – a handful of brown sugar mixed to a stiff paste with coconut oil works beautifully. Treat your skin with a naturally pampering soap to cleanse and fill your bathroom with its gorgeous scent.
Tyent Beauty Water
After showering, spritz your face with acidic Tyent Beauty Water from your water ionizer, and add a couple of drops of uplifting essential oil for that real spa feel! Try lemongrass, bergamot, rosemary, or your own personal favorite.
After a light, energizing breakfast, ease yourself gently into your spa day with a little yoga or stretching. Try to practice outside if possible, or at least by an open window. Yoga not your thing? Make time to take whatever exercise fulfills you most – swimming, walking, ice skating, cycling… whatever you feel happiest doing.
Remember to keep sipping Tyent Alkaline Water for hydration and to keep your energy levels naturally high.
Mmm…. Spa Day Lunch!
The best spa days come with delicious, healthy food, that's presented beautifully. To achieve that at home, buy a selection of your favorite fruit, vegetables and nuts, and create a platter of savory and sweet foods. Cutting them into bitesize pieces and adding a couple of yummy dips is an easy way to make your 'spa lunch' seem a little more special!
Self-Care Spa Treatments
After lunch, pick a self-care activity or two to help you feel relaxed and pampered. A facial massage is a fabulous treat! Follow these easy steps:
In a small bowl, mix a carrier oil with a few drops of essential oil
Dip your (clean!) fingertips into the oil and begin to sweep it over the planes of your face: down the bridge of your nose, over your cheekbones and sweep outwards underneath your eye socket.
With more oil on your hands, apply gentle pressure from your eyebrows, upwards to your hairline
Finally, sweep your fingers in small, gentle strokes up your neck, towards your jawline, then over your chin and smooth out towards your ears.
Other spa-inspired ideas to build into your spa day include soothing, neutral music, a magazine or book, aromatherapy candles, a little meditation and a manicure or pedicure!
The Perfect End to Your Spa Day!
For a touch of healthy decadence, as your spa day slides towards the evening, why not fix yourself a delicious alkaline water-based mocktail, while you start planning your next one?
Alkaline Water: Change Your Life
Every minute of each day, alkaline water is helping someone feel amazing. Find out about the many ways that a water ionizer can transform your life for the better by clicking on our FREE eBook.