Certification is important. It means that a company or business has been tested rigorously and has been found to meet an exacting professional standard. In a world of big promises and online claims, certification is a vote of confidence that customers can rely on.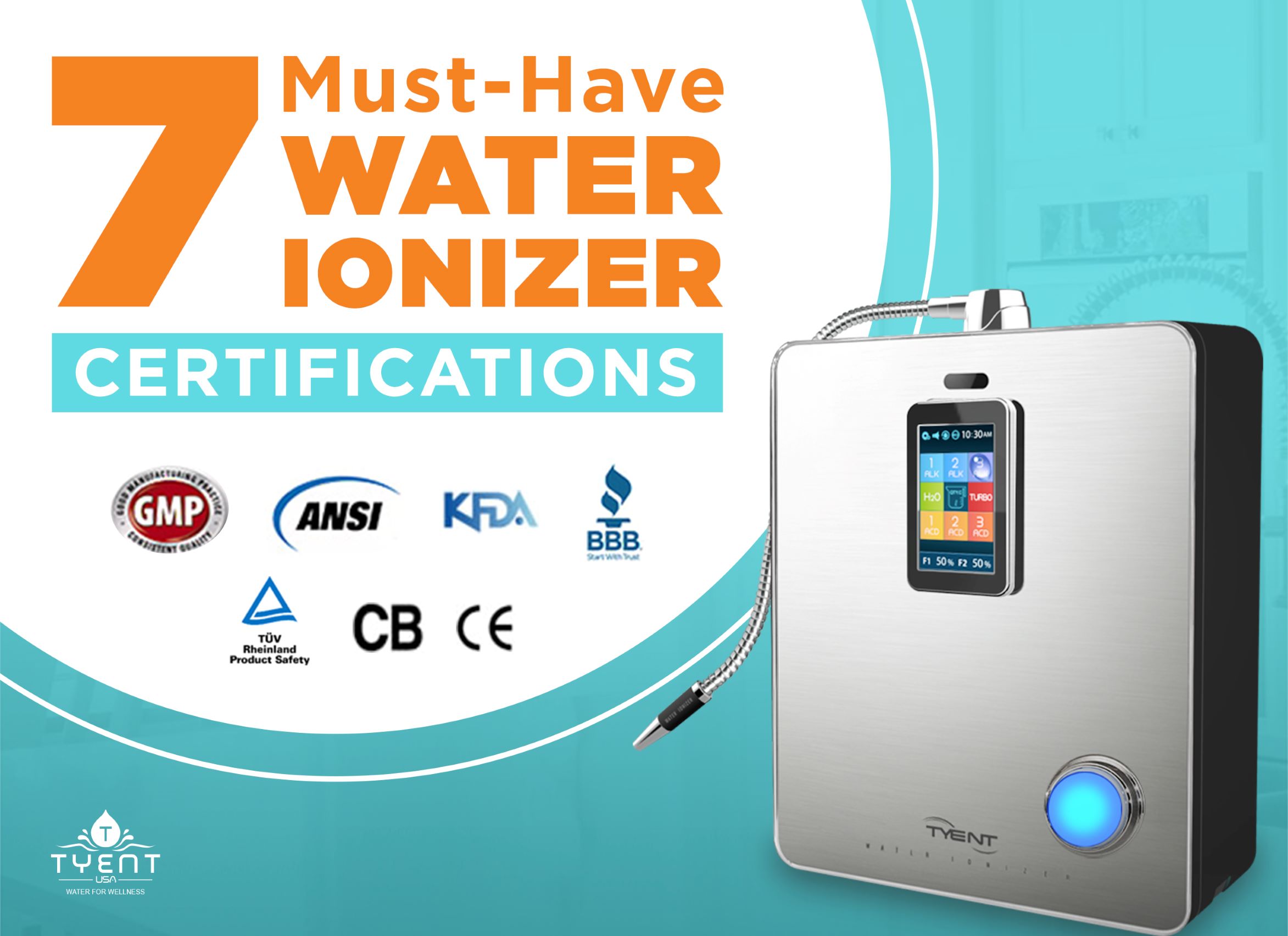 Essential Water Ionizer Certification
For any water ionizer company, certification is essential. Among the most reputable market-leaders, look for the following certifications before handing over your credit card:
Better Business Bureau – Our A+ Rating with the Better Business Bureau (BBB) is a testament to how highly we prioritize customer service and make sure that every single one of our thousands of customers feels valued and satisfied with our high standards.
European Conformity (CE/CE Marking) – A broadly used standard of excellence both inside and outside the EU, verifying that a product conforms with health and safety, and environmental protection benchmarks.
Good Manufacturing Practice (GMP) – enforced by the FDA, this important certification assures customers that a manufactured product is safe for people to use or consume.
(CB) – The International Electrotechnical Committee for Conformity Testing to Standards (IECEE) established the CB Scheme for Electrical Equipment. The CB Scheme – or CB Agreement – is a multilateral, international agreement for, 'the mutual acceptance of test reports and certificates dealing with the safety of electrical and electronic components, equipment and products.'
American National Standards Institute (ANSI) – a product certification program to establish marketplace confidence in the safety of electrical and electronic components, equipment and products.
TÜV Rheinland Product Safety – This mark gives evidence that the essential safety requirements of the product have been fulfilled and the production has been inspected by the impartial organization TÜV Rheinland Product Safety. The TYPE APPROVED mark shows both the manufacturer and the consumer that the product meets the required safety standards.
Korean Food and Drug Administration – The KFDA is the governmental agency that regulates food, pharmaceuticals, medical devices, and cosmetics in South Korea.

More Tyent Certifications
These accreditations are a small handful of the long list of our tested-and-certified credentials. Tyent has achieved certification from many more institutes and organizations. You can check out the full list right here.
Tyent invests constantly in customer care and tomorrow's water ionizer technology today. Endorsement from official bodies and watchdogs gives our customers the reassurance they deserve that Tyent Water Ionizers are a wise investment for life. Transparency and customer happiness are at the heart of our Core Values.
Our commitment to excellence means that from your first inquiry about buying a Tyent Water Ionizer, to each time you push a button to select your perfect glass of hydrogen water, you feel the contented confidence that comes from having made the right choice.
Water Ionizers Built With Passion and Integrity
Tyent's passion for making clean, safe water available to everyone led us to produce the best water ionizers in the world, and our customer-focused integrity keeps us at the forefront of the industry.
Quality and excellence – certified!
View this post on Instagram