We pride ourselves on building the best water ionizers in the world. But for everyone at Tyent, our relationship with our customers, and the service we provide to them is just as important as the machine itself.
Honest, friendly and caring customer service is a rare thing these days, but it's what you'll find when you talk with any of the Tyent team.
Because it's something that we value, we've put together a list of the 10 reasons that Tyent's customer service is different. Want to learn more about our Secret Logic?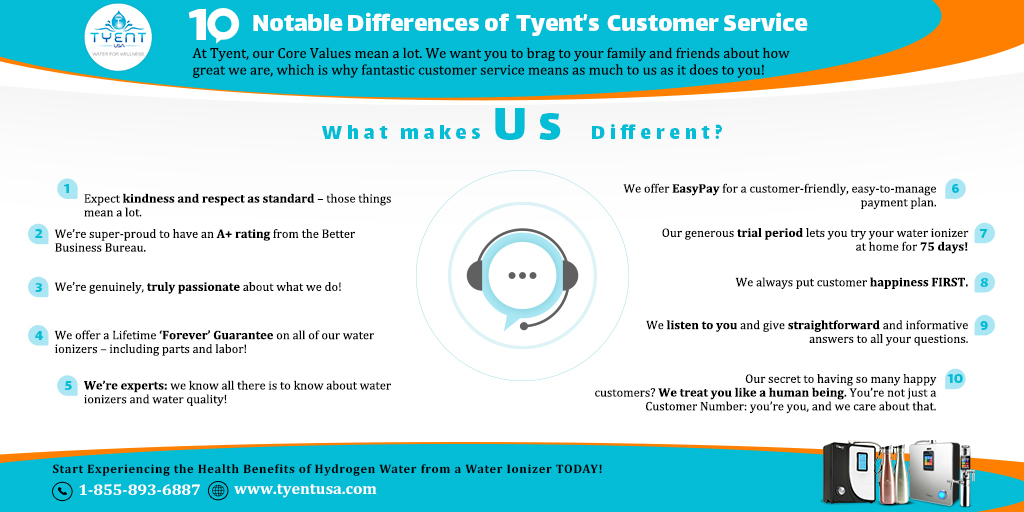 1. We don't leave customer care to chance. We have a set of Core Values that informs every aspect of our service to our customers.
2. We always answer your questions in an informed, transparent and straightforward way. If we can't give you the information you need during the conversation, then we'll research the answer and get right back to you.
3. We listen to you. We really do. Your feedback shapes the future direction of Tyent, and it matters to us.
4. We invest constantly in the future of water ionizer technology. We aim to always bring you the most advanced features and desirable looks that you want in a water ionizer, and tomorrow's innovative engineering, today.
5. Honestly? We want you to tell your friends and family about your great customer experience with us. We want to impress you!

6. We always put our customer's happiness and satisfaction first.
7. We want to dazzle you with our knowledge and enthusiasm about what we do!
8. Customers are never only numbers or 'units' to us. We never lose sight of the fact that you're a person, a human being. You can always count on us treating you with respect and kindness.
9. We offer a Lifetime Warranty on all of our water ionizers. That says a lot about two things: how much we value our customers and want them to have complete peace of mind; and how awesome we know our water ionizer machines are!
10. Finally, we don't issue a list of the reasons we're great and leave it at that – we live up to every single one. Don't take our word for it – check out what our customers say for themselves. Or even better, give us a call and let's talk water ionizers! It's what we do better than anyone else in the industry!