The secret is out: ionized alkaline water is great for your health!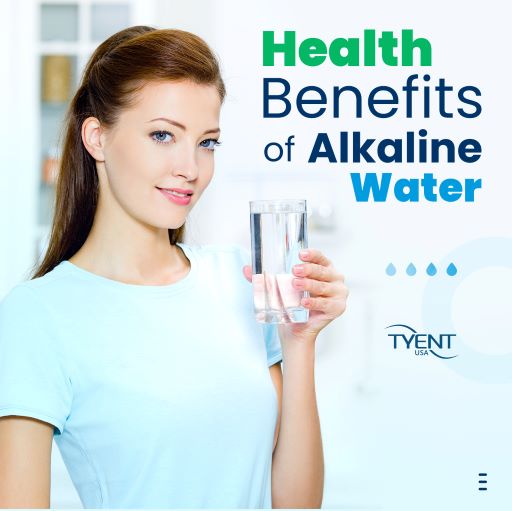 Tyent USA leads the water ionizer industry with innovation and excellence. We're proud to help our customers discover how easy it is to convert their source water into safe, delicious alkaline water that's packed with additional health benefits.
There are so many reasons to choose ionized alkaline water over bottled water. We've rounded up some of the most compelling ones right here so you can learn more about alkaline water and how it can help to support the good health of you and your loved ones!
Health Benefits of Alkaline Water
Do you feel sluggish during the day? Do you ever wonder how your hydration habits are impacting your health?
Research shows that ionized alkaline water increases energy and can even support weight loss by neutralizing acidic waste. Drinking alkaline water from a water ionizer can help you to feel more energized and therefore able to work out harder and for longer when you hit the gym.
Alkaline water contains a slew of powerful antioxidants that help to neutralize free radicals – the harmful oxidants responsible for cellular decay, early aging and degenerative diseases.
That abundance of antioxidants also supports a robust immune system, helping to protect your body from illness.
Alkaline water also helps you to look great! The ultra-hydrating effect of ionized alkaline water can be seen in your skin too! As well as a plumped-up, youthful complexion, alkaline water helps to flush away toxins leading to a clearer, healthier appearance.
Other Benefits of Alkaline Water
As well as the healthful effects that you'll see and feel for yourself, ionized alkaline water delivers a whole host of practical benefits for your home, spending, and environmental footprint.
Disposable plastic bottles require a lot of energy and resources to produce and once used, frequently end up in landfill. Switching to alkaline water is a more sustainable option that helps you to cut right back on plastic waste. In other words, what's better for you is also better for the planet!
The Turbo feature on your Tyent water ionizer is also perfect for replacing all those expensive (and toxic) household cleaning products. Spritz surfaces, shine and deep clean with natural, safe Turbo water: you'll love the difference!
Our Tyent water ionizer dual filters remove over 200 contaminants, including chlorine, chloramines, and heavy metals from your source water, for the ultimate peace of mind. And forget about spending extra money on pricey organic fruit and veggies – Tyent Turbo Water easily removes herbicides and pesticides from your fresh produce. More money saved!
Facts and Figures
There are over 500 clinical studies on the benefits of molecular hydrogen dissolved in water. Still with the science of ionized alkaline water, our commitment to transparency means that we publish the third-party laboratory report confirming just how clean and safe Tyent alkaline water is.
Every Tyent water ionizer combines state-of-the-art design and engineering. Tyent is the proud recipient of dozens of prestigious quality certifications. We use our position at the forefront of the water ionizer industry to constantly find ways to deliver even more for our customers.
If you have any questions about the health benefits of alkaline water, please contact one of our customer service representatives at 855-TYENT-US ().