We'll come clean with you – there are more than 13 reasons to LOVE the ACE 13 Water Ionizer, but we like a bit of numerical alliteration, so let's go!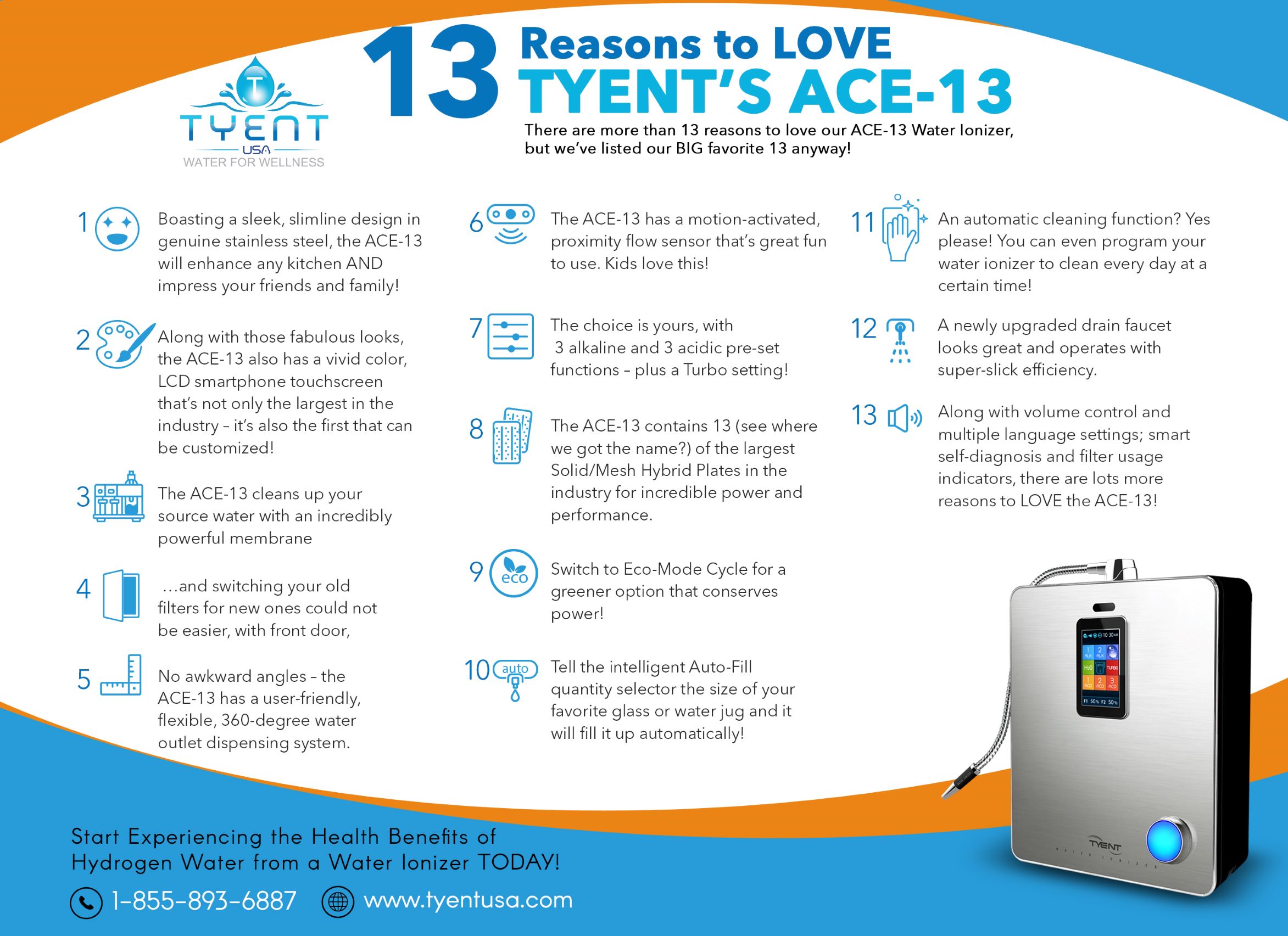 1. Sure, style isn't everything, but the way that a gadget looks in your kitchen DOES matter. After all, with a Tyent Lifetime Guarantee, the ACE-13 will be around for a long time! With a beautifully sleek, slimline design in genuine stainless steel, the ACE-13 will enhance any kitchen!
2. Along with those fabulous looks, the ACE-13 also boasts a vivid color, LCD smartphone-style touchscreen that comes with its own impressive features. The largest display screen in the industry is also the first that can be customized for bespoke use.
3. The reason many people buy a water ionizer is for its powers of filtration. We're all worried about what's in our tap water so being able to filter out the bad stuff is vital. The ACE-13 cleans up your source water with an incredibly powerful membrane multi-layer, dual filtration system. TM-Ceramic and Carbon Block Filtration with a micron level/filtration capacity of 0.01 removes contaminants for safe water that tastes amazing.
4. …and switching out your old filters for new ones could not be easier, with front-loading, easy filter replacement.
5. No awkward angles here – the ACE-13 has a user-friendly, flexible, 360-degree water outlet dispensing system.
6. Nothing suits modern life more than hands-free controls. The ACE-13 has a motion-activated, proximity flow sensor that is practical and fun to use. Kids love this feature and it gets them drinking more water!

7. The choice is yours, with 3 alkaline and 3 acidic pre-set functions – plus a Turbo setting!
8. The ACE-13 blows the competition out of the water in terms of sheer power: it contains 13 of the largest plates in the water ionizer industry. Each solid-mesh hybrid plate is constructed from titanium and dipped multiple times in pure platinum. The result? The most powerful, effective performance you've ever experienced in a water ionizer machine.
9. Switch to Eco-Mode Cycle for a greener option that conserves power!
10. The Auto-Fill quantity selector is such a fabulous feature! Use the jog-dial to tell your intelligent water ionizer the size of your favorite glass or water jug. The water flow will fill it up precisely and automatically stop once it reaches the desired level!
11. An automatic cleaning function? Yes please! The ACE-13 cleaning cycle can be customized for precision results, based on your water usage and source water! You can even program your water ionizer to clean every day at a certain time!
12. A newly upgraded drain faucet looks great and operates with super-slick efficiency.
13. Want more? How about volume control and multiple language settings? Smart self-diagnosis? Filter usage indicators? Okay, we said there were more than 13 reasons to love this machine, right?
We Know You Will LOVE the ACE-13 Water Ionizer!
We have complete faith that you will LOVE the ACE-13 Water Ionizer every bit as much as we do. Want to find out for yourself how awesome water can taste again and enjoy all of those incredible benefits?
Call up our fabulous Customer Team today at and ask about the amazing deals we have on right now!
View this post on Instagram