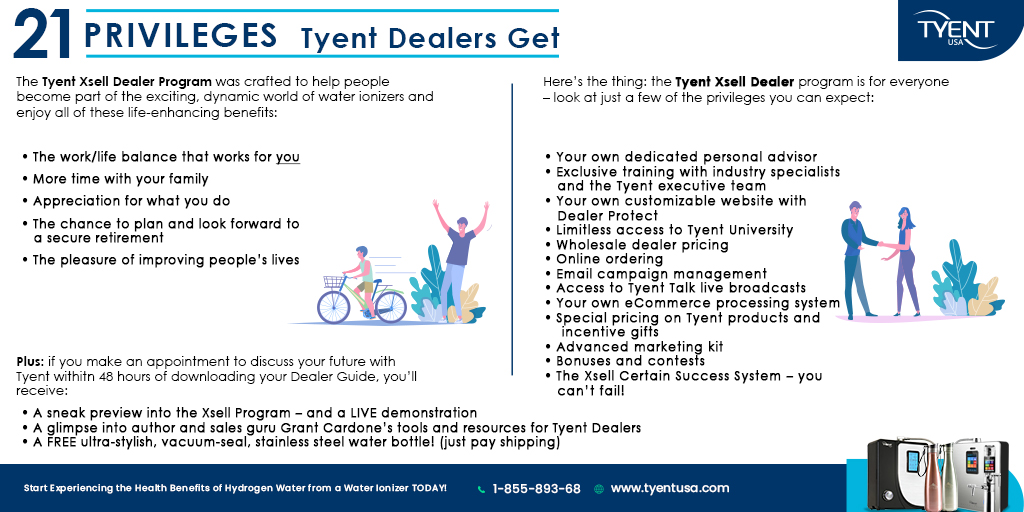 Tyent dealers get more happiness and satisfaction out of their work than their counterparts in other industries. Why? Because they benefit from unique privileges that enhance their lives and deliver the rewards that equal personal contentment and career fulfillment.
The Tyent Xsell Dealer Program was crafted to help people become part of the exciting, dynamic world of water ionizers and enjoy all of these life-enhancing benefits:
The work/life balance that works for you
More time with your family
Appreciation for what you do
The chance to plan and look forward to a secure retirement
The pleasure of improving people's lives
Here's the thing: the Tyent Xsell Dealer program is for everyone. Whatever your personality, skill set or business history, you can make it work for you. And we've got your back all the way – look at just a few of the privileges you can expect:
Your own dedicated personal advisor
Exclusive training with industry specialists and the Tyent executive team
Your own customizable website with Dealer Protect
Limitless access to Tyent University
Wholesale dealer pricing
Online ordering
Email campaign management
Access to Tyent Talk live broadcasts
Your own eCommerce processing system
Special pricing on Tyent products and incentive gifts
Advanced marketing kit
Bonuses and contests
The Xsell Certain Success System – you can't fail!
There's so much to learn; download our Dealer Guide now to find out more. You'll see why Tyent Dealers are the success stories of the water ionizer industry and hear what medical experts, celebrities and fellow dealers themselves think about Tyent Water!
Plus: if you make an appointment to discuss your future with Tyent within 48 hours of downloading your Dealer Guide, you'll receive:
A sneak preview into the Xsell Program – and a LIVE demonstration
A glimpse into author and sales guru Grant Cardone's tools and resources for Tyent Dealers
A FREE ultra-stylish, vacuum-seal, stainless steel water bottle! (just pay shipping)
The Perfect Time To Launch Your New Lifestyle
Launch your career with Tyent, and with our Certain Success System, the future can be everything you dreamed of.
The time is now: Google Trends predicts that the water ionizer industry is soaring and showing no signs of slowing down.
Unlock your best career move yet and share the benefits of our unsurpassed reputation in the industry and investment in the future of water ionizer technology.
Our award-winning team is waiting to take your call at .