We all want strong, healthy teeth and gums. Good oral hygiene is a key aspect of overall wellbeing -cavities and gum disease have been repeatedly linked to serious health conditions.
What should we all be doing to maintain good mouth health?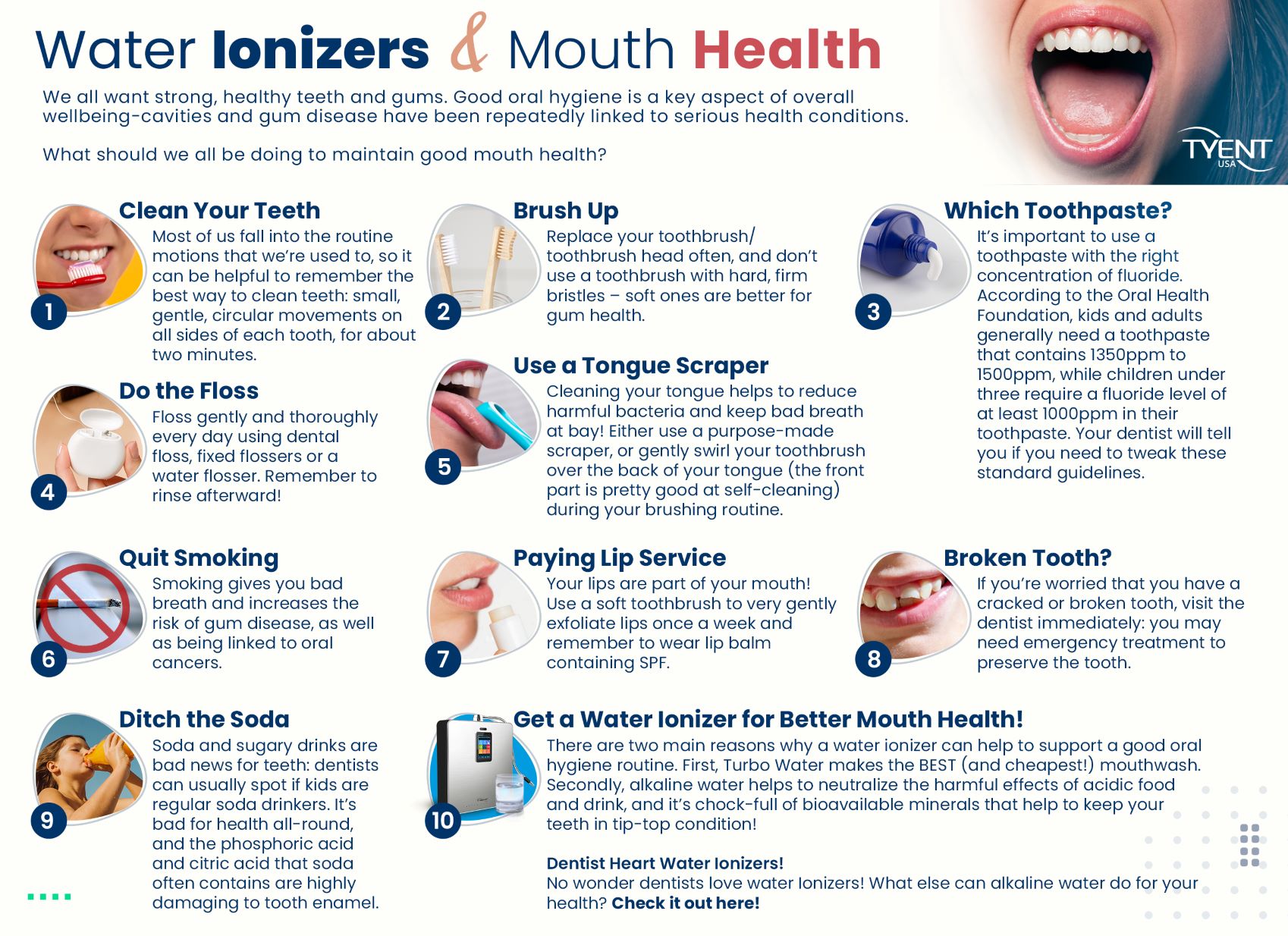 1. Clean Your Teeth
Most of us fall into the routine motions that we're used to, so it can be helpful to remember the best way to clean teeth: small, gentle, circular movements on all sides of each tooth, for about two minutes.
2. Brush Up
Replace your toothbrush/toothbrush head often, and don't use a toothbrush with hard, firm bristles – soft ones are better for gum health.
3. Which Toothpaste?
It's important to use a toothpaste with the right concentration of fluoride. According to the Oral Health Foundation, kids and adults generally need a toothpaste that contains 1350ppm to 1500ppm, while children under three require a fluoride level of at least 1000ppm in their toothpaste. Your dentist will tell you if you need to tweak these standard guidelines.
4. Do the Floss
Floss gently and thoroughly every day using dental floss, fixed flossers or a water flosser. Remember to rinse afterward!
5. Use a Tongue Scraper
Cleaning your tongue helps to reduce harmful bacteria and keep bad breath at bay! Either use a purpose-made scraper, or gently swirl your toothbrush over the back of your tongue (the front part is pretty good at self-cleaning) during your brushing routine.
6. Quit Smoking
Smoking gives you bad breath and increases the risk of gum disease, as well as being linked to oral cancers.
7. Paying Lip Service
Your lips are part of your mouth! Use a soft toothbrush to very gently exfoliate lips once a week and remember to wear lip balm containing SPF.
8. Broken Tooth?
If you're worried that you have a cracked or broken tooth, visit the dentist immediately: you may need emergency treatment to preserve the tooth.
9. Ditch the Soda
Soda and sugary drinks are bad news for teeth: dentists can usually spot if kids are regular soda drinkers. It's bad for health all-round, and the phosphoric acid and citric acid that soda often contains are highly damaging to tooth enamel.
10. Get a Water Ionizer for Better Mouth Health!
There are two main reasons why a water ionizer can help to support a good oral hygiene routine. First, Turbo Water makes the BEST (and cheapest!) mouthwash. Secondly, alkaline water helps to neutralize the harmful effects of acidic food and drink, and it's chock-full of bioavailable minerals that help to keep your teeth in tip-top condition!
Dentists Heart Water Ionizers!
No wonder dentists love water Ionizers! What else can alkaline water do for your health? Check it out here!
View this post on Instagram