Throw away food, and you're throwing away money. Reusing kitchen scraps means that you spend less AND your food tastes better. It's a zero-waste win-win! Here's how to do it!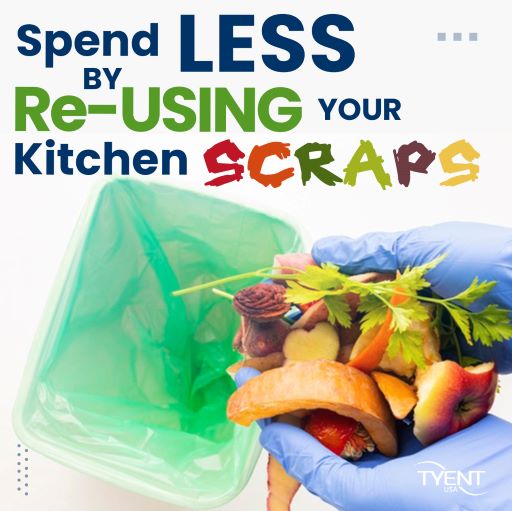 1. Keep a freezer bag or box to collect scraps for making vegetable That means the tops and tails of carrots, leeks (or try leek top tempura!), onions and garlic, the stems of coriander, parsley, rosemary and other herbs, and similar kitchen scraps. Whenever you have a suitable quantity, simply throw your kitchen scraps into a pan of boiling water and simmer for an hour or so. Strain, reduce a little over the heat and either keep in a bottle in the refrigerator for a week, or freeze into handy cubes.
2. If you want to spend less creating great flavors, never throw away the rind of Parmesan cheese! Whenever you make an Italian-style pasta sauce or minestrone, throw in the rind to simmer for a while. It adds a wonderful 'umami' depth of flavor and makes a delicious cook's perk to enjoy when it's softened in the sauce!
3. Got leftover mashed potatoes and a heel of slightly stale bread? Let's get reusing! Fork a tin of tuna through the potatoes, add some chopped scallions or leeks and any soft herbs you have lurking in the fridge. Turn the bread into crumbs, form patties with the potato mix, then dip in turn into the beaten egg and then the breadcrumbs. Bake or shallow fry, or pop into the freezer for a quick meal fix and spend less on take-out!
4. Packs or bunches of soft herbs and salad leaves wilting and shriveling in the chiller box? Oddments of cheese that won't quite stretch to a sandwich? Make Fridge Scraps Pesto! Just throw the leaves and cheeses into the food processor with olive oil, any nuts or seeds you have around (a quick dry-fry in a pan will improve them immeasurably), fresh lemon juice, garlic, salt and ground pepper. Tweak the flavor with a little sour cream or yogurt, more olive oil, a pinch of sugar, etc. and keep balancing and tasting until you're happy. Stir through hot pasta or freeze in portions.
5. Bananas starting to turn? Chop into pieces and open freeze them on a tray, then store loose in a resealable bag. Add to homemade smoothies and spend less on store-bought ones! Do the same with grapes and any soft fruit that's past its best.
Get Clued Up About Kitchen Scraps!
As well as reusing kitchen scraps, it helps to be clued up at how to reduce food waste as you go along. That means shopping wisely, keeping an eye on use-by dates and making sure that food items are stored properly.
Fruit and vegetables should form the basis of our regular diet. Making stock from kitchen scraps and smoothies from berries that otherwise would get thrown away is so rewarding. You get extra nourishment from all those vitamins and minerals, your food tastes awesome because it's getting a little extra love, and you spend less money on eating better!
Save Money and Spend Less with a Water Ionizer!
Did you know that a Tyent Water Ionizer can help you to save even more money? Check out how to save hundreds of dollars every year by spending less on these household essentials, while drinking the best-tasting alkaline water there is!
View this post on Instagram