Holidays are a hectic time, especially if you're trying to figure out the travel essentials to bring with you. With some smart planning – and our handy checklist – you can enjoy a happy, healthy vacation.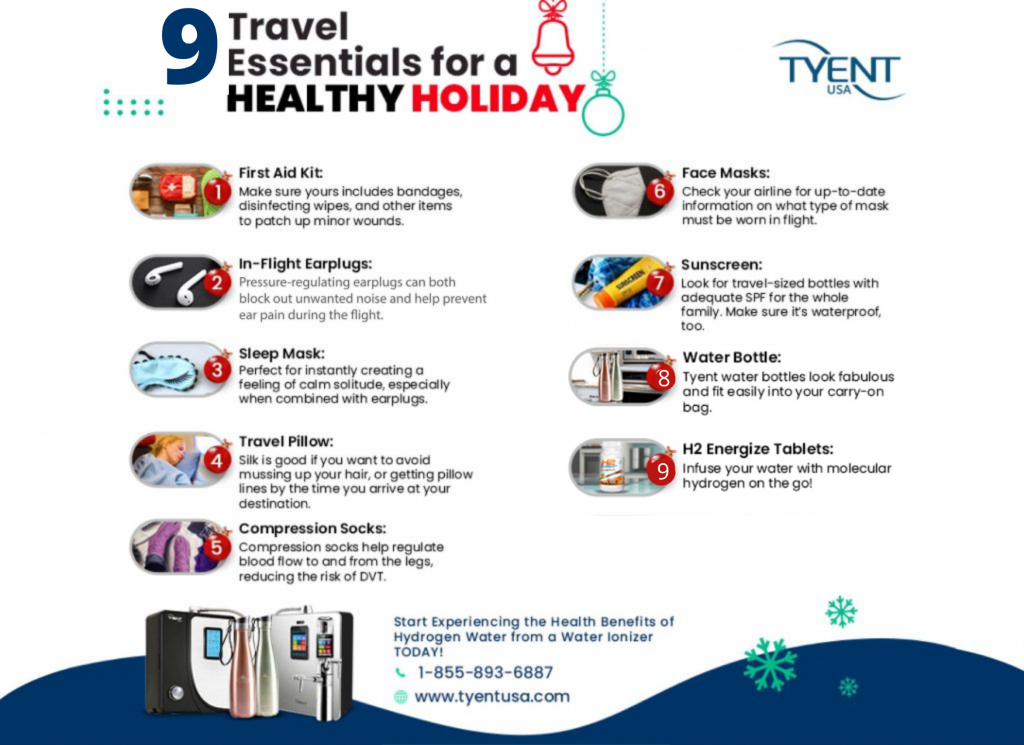 Travel Essentials Checklist for the Holidays
1. First Aid Kit
Whether you're driving or flying, a first aid kit should be on your travel essentials checklist, especially if you're planning a bunch of outdoor activities or traveling with children.
You can find small kits pre-assembled with bandages, disinfecting wipes, and other items to patch up minor wounds.
If you're flying, make sure that your travel kit complies with any restrictions, and ensure that larger tubes and bottles, and any sharp implements are packed into your checked-in luggage.
2. In-Flight Earplugs
Holiday flights are usually crowded and any plans you have for enjoying a peaceful journey may be foiled by your fellow passengers crying, coughing, gossiping, and laughing.
If you're sensitive to noise, earplugs should be one of your must-have travel items. Pressure-regulating earplugs can both block out unwanted noise and help prevent ear pain during the flight.
Cutting out background noise can also help you focus on reading or writing and can even let you catch a few Zzz's.
3. Sleep Mask
A sleep-mask is perfect for instantly creating a feeling of calm solitude, especially when combined with earplugs.
With a range of sleep masks to choose from – massaging, aromatherapeutic and more – you'll find the one that works for you.
4. Travel Pillow
If you're hoping to snooze en route, then have a travel pillow to hand. Silk is good if you want to avoid mussing up your hair, or getting pillow lines by the time you arrive at your destination.
5. Compression Socks
If you're on a long flight with limited legroom, you may be at risk of developing deep vein thrombosis (DVT). Compression socks help regulate blood flow to and from the legs, reducing the risk of DVT.
6. Face Mask
Check your airline for up-to-date information on what type of mask must be worn in flight, and at the airport. Masks with valves and face shields worn without a cloth mask underneath are no longer permitted on American Airlines, and you must take steps to ensure every member of your party has the right kind of face covering to comply with current regulations.

7. Sunscreen
If you're heading somewhere sunny – including the ski slopes – sunscreen is a must. Look for travel-sized bottles with adequate SPF for the whole family and make sure it's waterproof if you plan to go swimming.
8. Carry a Water Bottle
It's important to stay hydrated while traveling. Tyent water bottles look fabulous and fit easily into your carry-on bag.
9. Tyent Hydrogen Water Tablets
You can't take your water ionizer with you, but you can take along H2 Energize Tablets to infuse your water with molecular hydrogen on the go! Just drop into a glass of water and wait for that energizing fizz!
What Can't YOU travel Without?
Which essentials do you always have when you travel? Share your tips in the comments below!