Dr. Lori Shemek is back again to share her favorite healthy keto holiday recipes!  Dr. Lori is the best-selling author of books such as The Ketogenic Key, Fire Up Your Fat Burn and Beginner's Guide to Intermittent Fasting.  Dr. Lori is a certified nutritional consultant and weight loss expert who spreads awareness of the negative effects of inflammation.  Enjoy!!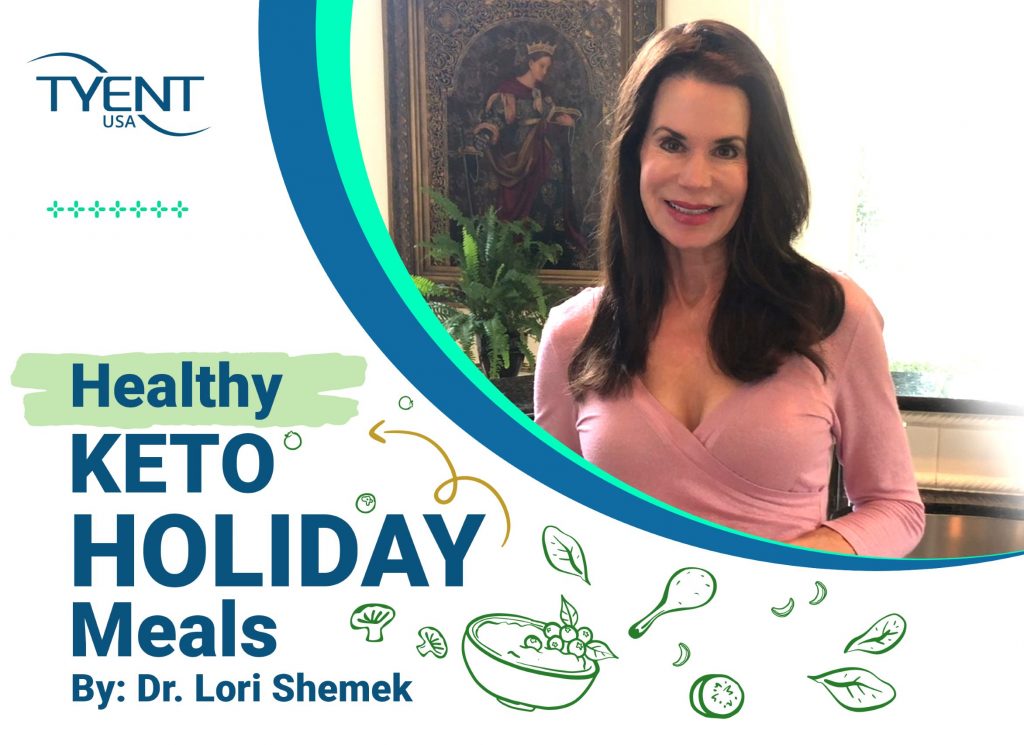 The holidays are a wonderful time that brings much joy. One of the main features during this time of year is the delicious and comforting food. So many want to continue to eat healthfully during the holidays and yet, at the same time, not feel they are missing out.  This is why I wanted to offer healthier holiday options.
Here are healthy and delicious holiday meals!  Super-easy, lower carb, gluten-free, Paleo and sugar-free. You'll love how the holiday aroma wafts through the air, while knowing that every food on your plate is anti-inflammatory. Living an anti-inflammatory lifestyle is a vital component to our optimal health. Keeping inflammation low optimizes immunity, cellular health, brain health, gut health and facilitates healthy weight.
So let's get cooking!
Holiday Dinner Option #1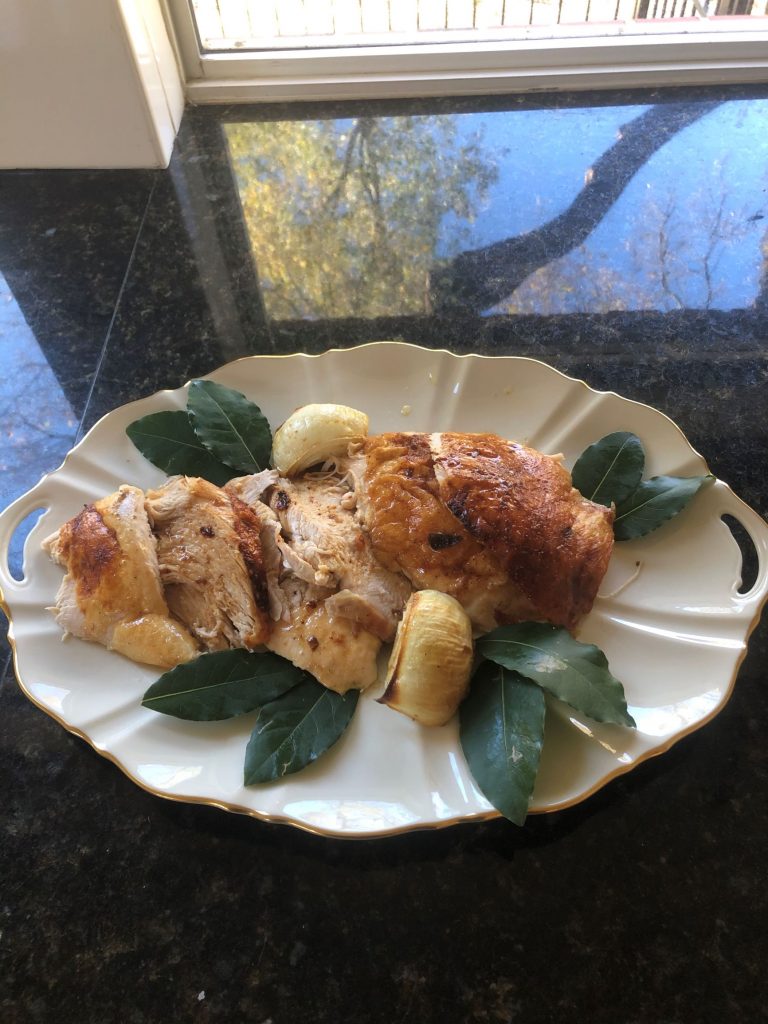 Traditional Oven-Roasted Turkey Breast
Ingredients
1 cup butter, softened
2 onions, quartered
Sage leaves
Salt to taste
Pepper to taste
Garlic powder to taste
Instructions
Preheat oven to 350 degrees F (175 degrees C)
Place turkey breast with skin side up into a roasting pan. Rub softened butter over the turkey.
Salt, pepper, garlic powder to taste over buttered turkey breast.
Tent the turkey breast loosely with foil for the first hour of roasting. Remove foil tenting for the rest of roasting.
When ready, the turkey will reach an internal temperature of 165 degrees. Ensure you let it sit for 15 minutes to create a juicy holiday turkey.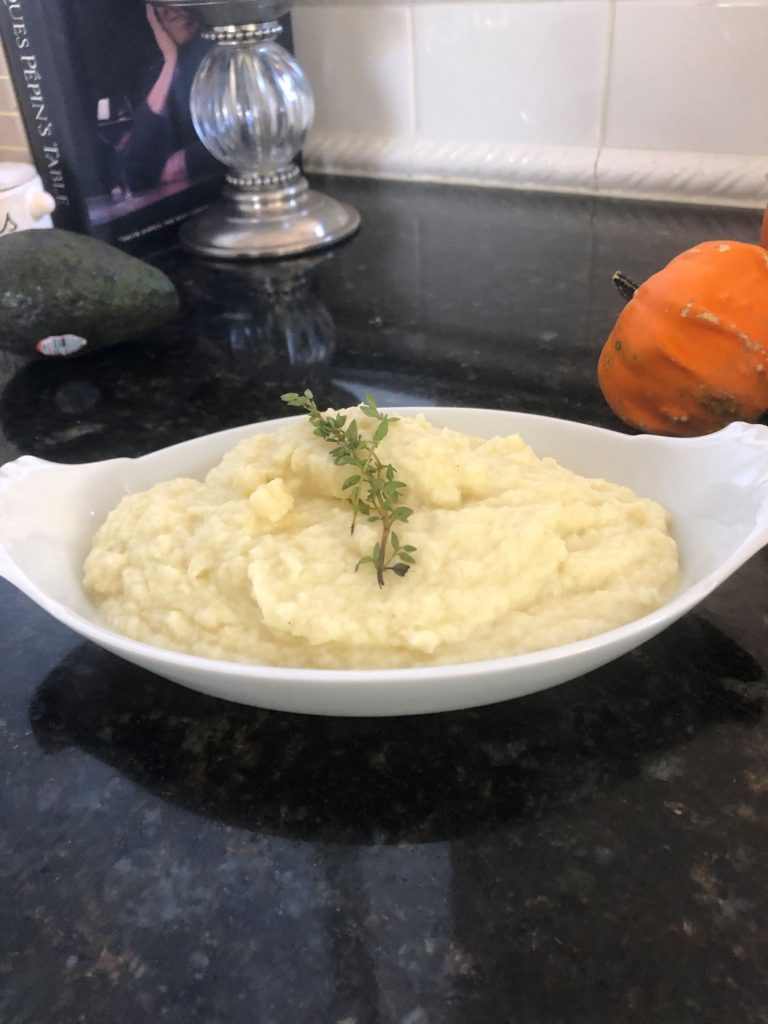 Creamy Mashed Cauliflower
Ingredients
1 large head of cauliflower cut into florets
Chicken broth
1/2 cup unsalted butter
1/4 cup of heavy cream
Salt and black pepper to taste
 Instructions
Place cauliflower florets into a large pot of boiling chicken broth.
Turn heat down and simmer until tender (10 minutes).
Drain broth from the pot. Add salt, pepper, butter, and heavy cream.
Blend cauliflower in the pot with a potato masher or immersion blender until smooth.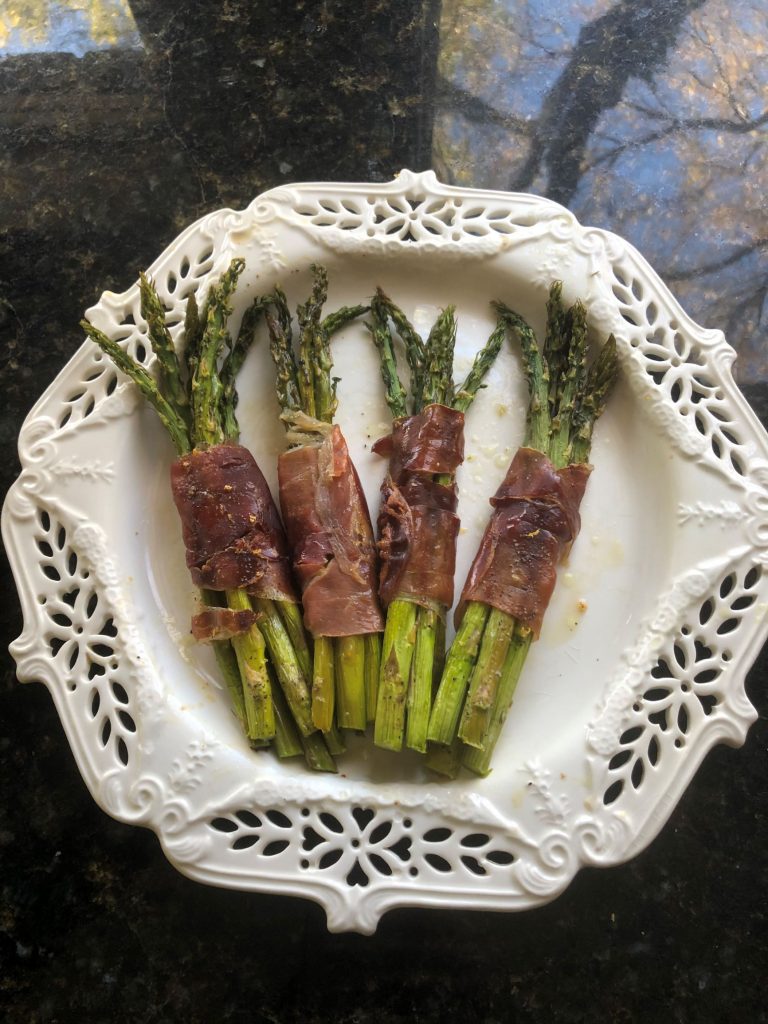 Prosciutto-Wrapped Roasted Asparagus Bundles
Ingredients
2 lbs asparagus, trimmed
6 slices prosciutto
Olive oil to drizzle
Kosher salt, to taste
Freshly ground pepper, to taste
Zest of 1 lemon
Freshly squeezed juice from 1 lemon
Instructions
Heat the oven to 400 degrees F.
Remove a slice of prosciutto. Lay 6-8 asparagus stalks crosswise on the prosciutto and roll the prosciutto around the bundle of asparagus as you gently pull it tight. Place the bundles on a baking sheet.
Drizzle the asparagus bundles with olive oil. Sprinkle with salt and pepper and grate the lemon zest onto the asparagus.
Roast in a 400 degree F oven for 12-15 minutes. Squeeze fresh lemon juice over each bundle and serve immediately.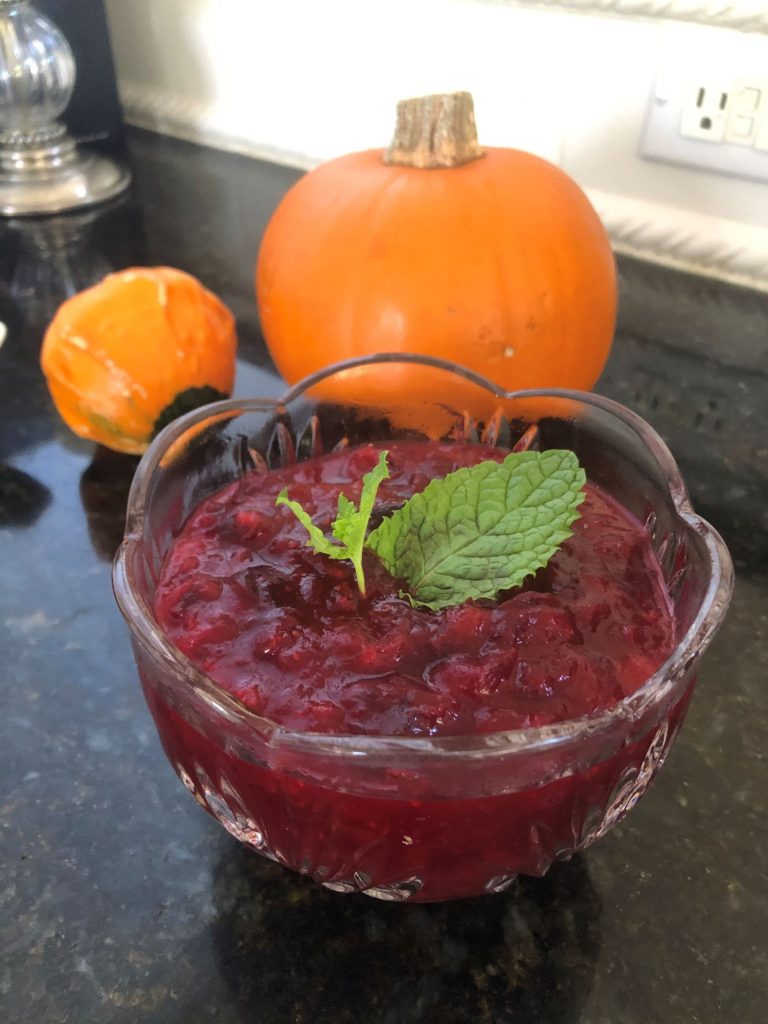 Healthy No-Sugar Cranberry Sauce
Ingredients
12 oz. cranberries
2 teaspoons monk fruit sweetener or Swerve (or to taste)
1 cup water
1 teaspoon orange zest (add more if you like more orange flavor)
1/2 teaspoon vanilla extract
Instructions
Combine the cranberries, water, monk fruit sweetener, and orange zest in a medium saucepan. Bring to a boil, then reduce heat to a gentle simmer.
Simmer for 15 minutes until the cranberries pop and a sauce forms.
Remove from heat. Stir in the vanilla extract.
HOLIDAY DINNER OPTION #2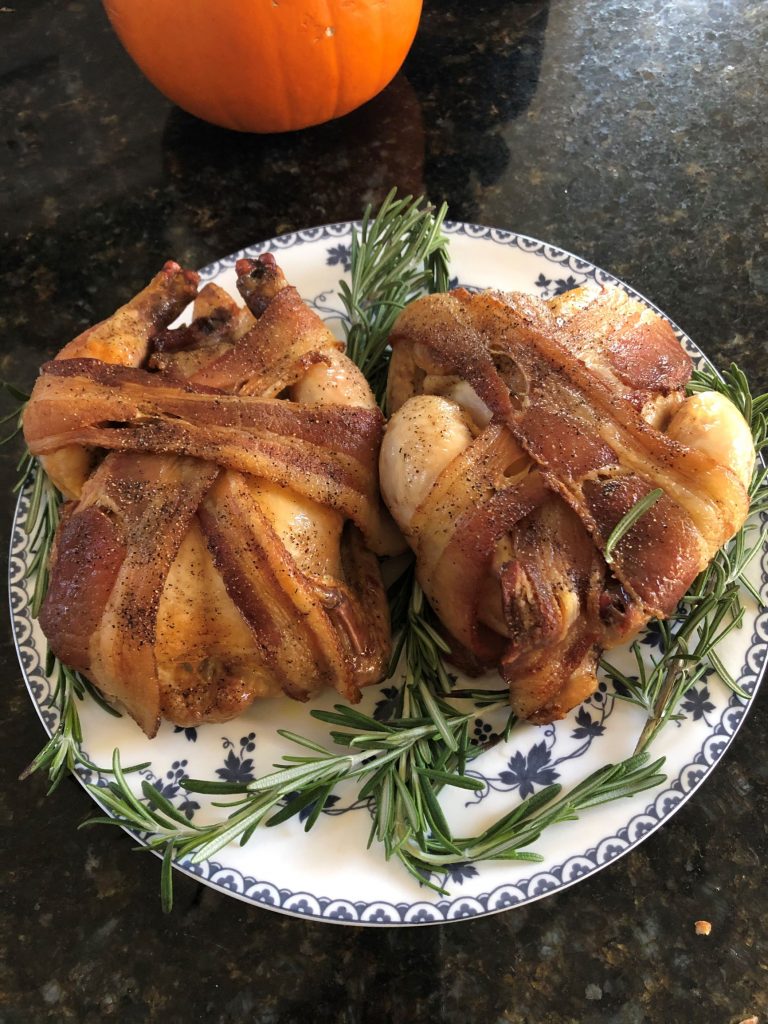 Cornish Game Hen with Bacon
Ingredients 
2 whole Cornish hens, about 1 1/2 lb. each
1 lb. smoked bacon
Salt
Pepper
Instructions
Preheat oven to 350°F.
Pat the Cornish hens dry and tuck the pointed ends in under the birds.
Wrap the bacon around the Cornish hens.
Transfer the bacon-wrapped Cornish hens to a shallow baking sheet/dish.
Salt and pepper to taste
Roast for 1 hour or 1 hour and 15min if they are over 1lb. Increase the temperature to around 375F for the last 10-15mins to help crisp up the bacon. Let sit for 10 minutes before serving.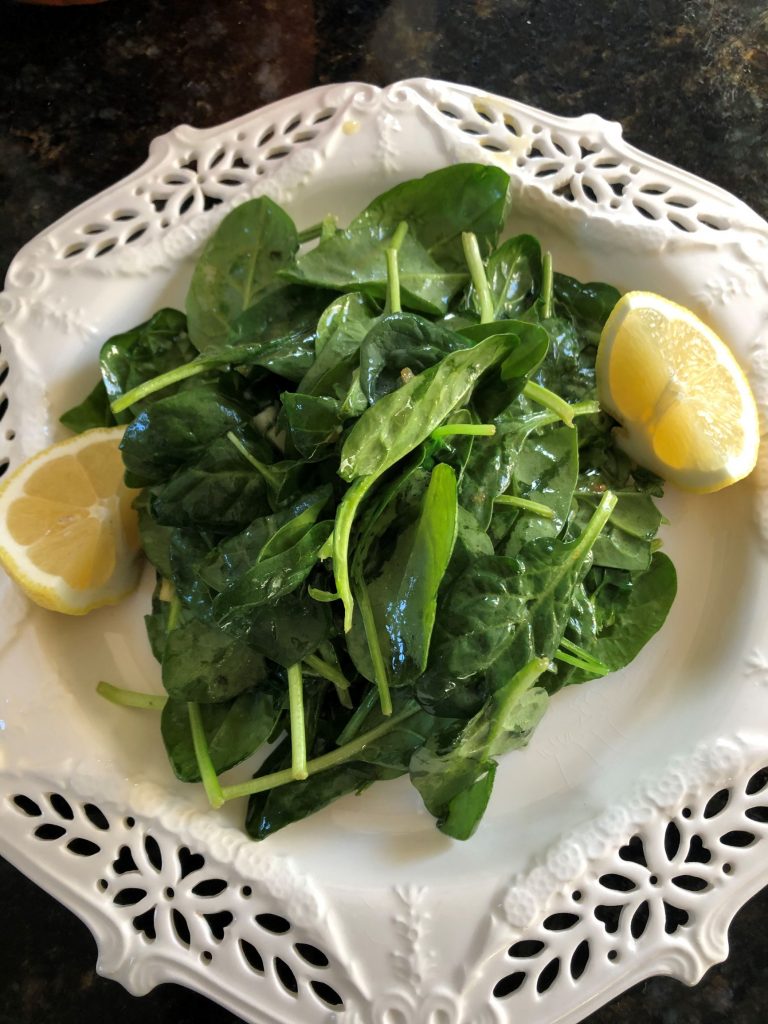 Lemon Butter Spinach
Ingredients
1 (24 ounce) bag baby spinach
 Juice of 1 1⁄2 lemons
4-6 garlic cloves, finely chopped
3 tablespoons butter
3 tablespoons olive oil
Instructions
In a large pan or pot, add olive oil, butter, garlic and the juice of 1/2 lemon. (you may adjust olive oil/butter/lemon to your liking).
Let cook over low heat for about 20 minutes so the flavors meld.
Take off heat, add spinach, toss well and serve.
Crispy Roasted Shiitake Mushrooms Topped with Goat Cheese
Ingredients
1 pound shiitake mushrooms
1/4 cup extra-virgin olive oil
Salt and freshly ground black pepper
Instructions
Preheat oven to 400 degrees.
Place mushroom caps on a baking sheet, gill-side up.
Drizzle with 2 tablespoons olive oil, turn mushrooms, and drizzle with the remaining 2 tablespoons olive oil.
Season with salt and pepper and toss to coat.
Transfer to oven and roast for 25 minutes.
Turn mushrooms and continue to roast until crisp on the edges and smaller ones are crisp throughout, 10 to 15 minutes more.
Season with more salt; serve warm or at room temperature.
Which recipe do you like the best?  Everyone at Tyent USA wishes you and your family and healthy and safe Thanksgiving!