Got your Black Friday wishlist sorted yet? Even if you have, we bet you've got enough space for a few more awesome gift ideas that will add some real pizazz to present-giving this year. Whether you're buying for teenagers, parents or best buddies, you'll find something here to impress and delight!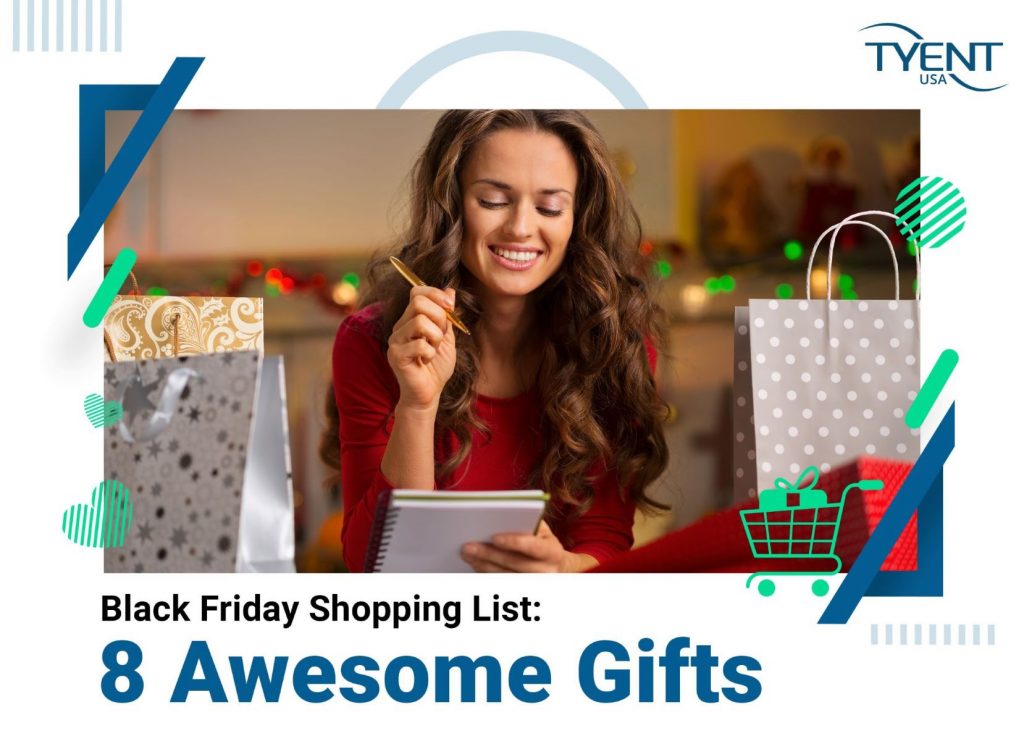 1. Tricky Teen? Teenagers can be hard to buy for, the gifts aimed at teens are often tech-based and therefore expensive, and Lord knows it's hard to impress them anyway! Tyent comes to the rescue with the gorgeously stylish Contemporary Drinkware that takes the concept of water bottles to the next level. Sleek and cool, the teenager in your life will be thrilled with this!
2. Do you have someone in your circle who always needs to charge their phone or laptop because they kind of…forgot to do it earlier (again)? Give them the power to recharge in style, wherever they are, with this cute tassel keychain that conceals the all-important USB charging cables in its smart design.
3. 2020 was the year we all stayed at home. Loungewear replaced suits and anything without an elasticated waistband got shoved to the back of the closet. Since 2021 might well start with similar wardrobe expectations, treat someone to these cozy and deeply comfortable suede slippers, to make those 8 am Zoom meetings positively hygge.
4. For your best friend, mom, sister or anyone who loves a little pamper time, Tyent TM-X Beauty Soap will be their favorite gift this year. Check out these ingredients…fermented pomegranate concentrate, herbal enzymes, honey, coconut and olive oils. With rich foam and spa-quality fragrance, this luxurious bar leaves your skin feeling soft and pampered.
5. When did you last think about bath caddies? No longer the unattractive receptacle of sponges, half-used hair conditioner and stubby water crayons (if you also have a bath-obsessed toddler), bath caddies are Having A Moment, and this one makes it plain why. It's beautiful to look at, will work with a book, screen, candle and beverage of your choice and we cannot imagine not loving this.
6. For your beloved or the people in your life dearest to you, a Tyent Water Ionizer is the perfect gift to show how much you love them. Alkaline water is energizing, hydrating and delivers incredible benefits to support good health for a lifetime.
7. Know anyone who wouldn't welcome a luxurious throw in their life? Thought not. This gorgeously soft throw is like a big ol' hug, and who doesn't need one of those?
8. Give a well-traveled friend a little bit of whimsical yet chic home décor, or treat yourself to this handmade gourd Wishing Basket to store odds and ends with a bit of artistic style, or use it to fill with your hopes and dreams for 2021.
What are you hoping to bag in the Black Friday sales? Want to add some inspo to our list? We love hearing from you, so give our friendly team a call today at and find out about Tyent's very own astounding Black Friday sales!
#blackfriday is almost here! Have you already got a plan of what bargains you'll be hoping to unearth?

🚨 Read on for our awesome tips to boost YOUR Black Friday! https://t.co/NYC4BoNR5l#blackfridaydeals #waterionizer #waterionizers #water #alkalinewater #hydrogenwater pic.twitter.com/ynwuwRR1Dv

— Tyent USA (@TyentUSA) November 4, 2020