Dr. Lori Shemek is back again to share information about Alkaline Keto Diet Tips.  Dr. Lori is the best-selling author of books such as The Ketogenic Key, Fire Up Your Fat Burn and Beginner's Guide to Intermittent Fasting.  Dr. Lori is a certified nutritional consultant and weight loss expert who spreads awareness of the negative effects of inflammation.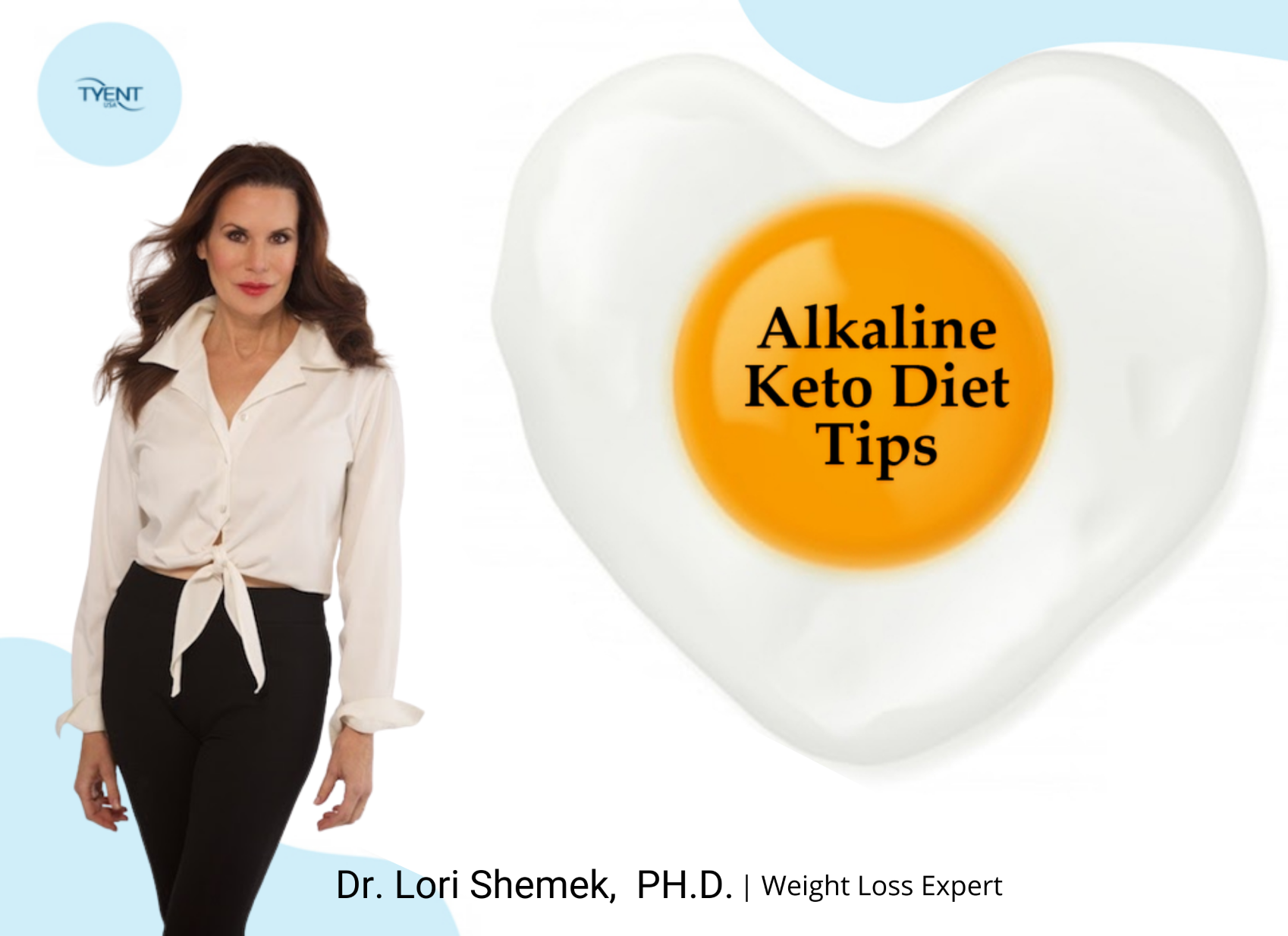 The ketogenic diet known as a very low-carb diet, has become a popular way of eating that can contribute to optimal health where the body produces ketones in the liver to be used as energy. These ketones are made in the liver using our own fat, hence weight loss or dietary fat.
Unfortunately, traditional keto diets — great as they are in other ways — can also be acidic.
Consuming too many acidic foods that deplete minerals like magnesium, calcium and potassium from the body, while increasing inflammation, can pave the way for chronic disease.
When you eat something high in carbs, your blood glucose spikes, releasing the hormone insulin which is delivered to cells to be stored and later used for energy. Unfortunately, most are eating an excess of carbohydrates in their diet, and insulin –  a fat-storage hormone – is secreted in excess leading to not just inflammation, but weight gain as well.
The ketogenic diet is one with a dramatically low level of carbohydrates: 20-50 grams daily. It is high in fat and moderate in protein intake. Once you enter ketosis and produce ketones that your body is using for fuel instead of glucose (glycogen), optimal ketone levels deliver many health, weight loss, physical and mental performance benefits. Ketones are produced in the liver via body fat or dietary fat, referred to as ketosis. It is these ketones that produce powerful benefits.
What are the benefits of eating a ketogenic diet?
The benefits are many and scientifically proven such as:
Reduces Appetite
Potential Weight Loss
Belly Fat Loss
Reduced Triglycerides
Reduced LDL (Bad Cholesterol)
Increased HDL (Good Cholesterol)
Reduced Blood Sugar and Insulin
May Lower Blood Pressure
Helps Fight Metabolic Syndrome
Therapeutic For Epilepsy
Helps to Improve Symptoms of Bipolar and Depression
Consuming too many acidic foods creates a "chronic low-grade acidosis" that depletes precious minerals like magnesium, calcium, and potassium from the body, while adversely impacting bone health, increasing inflammation, and paving the way for chronic disease. Anything lower than 7 on the pH scale is acidic. Also, when you have a low pH (acidic), you absorb 20% less oxygen too; It's not healthy.
The keto diet is a step in the right direction as it minimizes the consumption of carbs and sugar and it includes alkaline vegetables such as leafy greens, celery, asparagus, Brussel sprouts, broccoli, green beans, zucchini, cucumber, and beets. Also, healthy alkaline choices such as black olives, almonds, butter, olive oil, fresh vegetable juice, lemons, limes, tart cherries, coconut, and grapefruit are all healthy, nutrient-rich choices. Adding in more of these alkaline foods while on keto will help ensure you stay alkaline.
Tyent ionized, alkaline water is also one of the best healthy alkaline choices!
Alkalizing lifestyle choices include better sleep, deep breathing, reduced stress and movement each day. Another step in the right direction would be to add in Tyent alkaline water to help achieve balance.
Recommended Reading | Dr. Lori's Vault
View this post on Instagram