As one of our most important holidays approaches, your thoughts might turn to how much work is involved, with guests, endless food preparation and so on. But that's normal, right? Is it even possible to make your Thanksgiving easier?
It's not only possible, but also easy! Wave goodbye to a stressful holiday – here are our 10 guaranteed ways to make your Thanksgiving easier!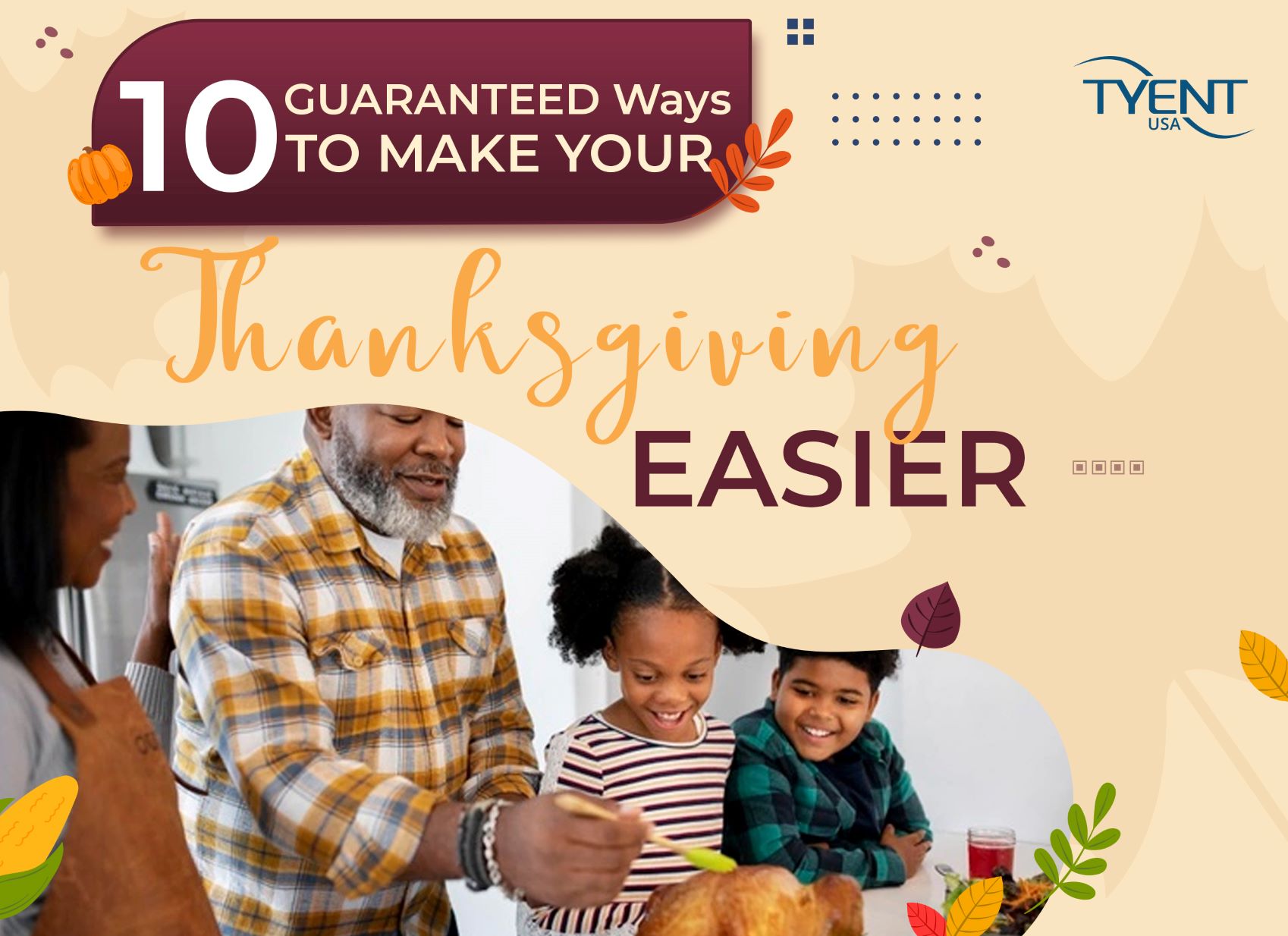 1. Plan what you're going to be eating now, and don't look at any more recipe magazines that might tempt you away from your menu! Once you know exactly what you'll be serving this Thanksgiving, you can make a get-ahead shopping plan to help you stay in control.
2. Once you have that shopping plan, you can also work out how much of your menu you can make – in a nicely relaxed fashion – in the days or weeks before the big day and safely stash in the fridge or freezer.
3. Thanksgiving guests staying overnight? Don't make breakfast a big deal. Make sure that everyone knows where the coffee, cereal and bowls are, set out a covered basket of muffins the night before and fill the fridge with juice. No one needs a military-style start to the day, so make it calm and relaxed for you and your guests.
4. Here's a brilliantly simple tip for making your Thanksgiving easier: use square and rectangle pans in the oven. They line up easily and create much more space for cooking multiple dishes at once.
5. Don't sweat the small stuff when it comes to seasonings and condiments. No one cares if you use Dijon mustard instead of grain mustard in a dressing. It doesn't matter if the parsley in the sauce is fresh or dried. Cut yourself some slack and focus on the joy of the main event, not the minutiae.
6. Make your Thanksgiving turkey the best tasting ever by taking a tip from top chefs and marinating it in brine the night before. There is no easier way to dial up the flavor and keep the turkey nice and moist!
7. Still with the turkey, remember to take the temperature of your Thanksgiving turkey at several points – and never next to the bone. Make sure you get a reading of 165 degrees at the mid-thigh, wing and the thickest part of the turkey breast. Once you have that, take your turkey out and rest it for between 30 minutes and one hour.
8. One guaranteed way of making Thanksgiving morning easier is to lay the table the night before. You'll be so pleased you did it the following day!
9. Delegate! Guests often ask if they can do anything to help, so accept the offer. Easy jobs like filling buckets with ice to chill drinks and free up fridge space, cutting bread and filling the water jugs are time-consuming jobs but easy ones to delegate. Guests love to feel useful and helping hands really do make your Thanksgiving easier!
10. Finally, it's not cheating to buy in ready-made elements of the Thanksgiving feast. If you want to pick up a few side dishes or desserts to give a greater choice or make the big day easier, then do so, guilt-free!
Remember: don't work so hard that you skip drinking enough water! Dehydration is a fast way to feel sluggish. Drink Tyent hydrogen water for extra energy this Thanksgiving!
Do you have a few of your own tips to make your Thanksgiving easier? Please share them!