Fall is such a wonderful time of year…especially for a tasty smoothie recipe using a Tyent Water Ionizer!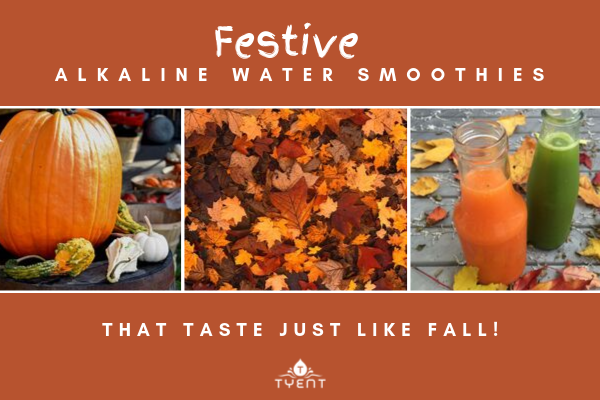 We love the timeless, abiding joy of bringing in the harvest, pumpkins appearing everywhere and the chance to pull on a favorite sweater or scarf to keep warm during these first chilly days.
There's also the frisson of excitement that the festive holiday season is just peeping over the horizon, with all the promise that it brings.
Raise a Glass to Fall with an Alkaline Water Ionizer Smoothie!
We want to raise a glass of something special to the incoming season and celebrate the beauty and delight of this marvelous time of year.
You're invited to try our fall-inspired smoothie recipes and decide which one captures the magic for you!
All these alkaline water ionizer recipes are as easy as they come – simply throw the ingredients into a blender, process until smooth, then serve!
Green Tea, Citrus and Cranberry Refresher
This is an awesome "wake-up-smiling" smoothie that delivers vitamins and antioxidants, as well as delicious hydration to set you up for the day ahead!
4 oranges, peeled and quartered
1 cup fresh or frozen cranberries
2 thin slices of fresh ginger root, peeled
10 – 16 ounces green tea, made with Tyent ionized alkaline water and left to cool
Creamy Fig and Banana
Creamy and sweet, yet dairy-free and deliciously healthy, this soothing smoothie can be enjoyed chilled or gently warmed in a milk pan.
3-4 fresh, ripe figs
1 ripe banana, frozen
1 1/2 cups unsweetened almond or oat milk
½ cup Tyent ionized alkaline water
1 teaspoon vanilla extract
1 teaspoon hemp, flax or chia seeds
Sweet Buttery Banana, Date and Cinnamon
This is such a treat on a cool morning.
Serve chilled or warm with a shot of espresso if you crave the occasional caffeine fix!
1 ripe banana
3-4 pitted dates
1 tablespoon smooth almond butter
½ cup Tyent ionized alkaline water
¾ cup almond or oat milk
1 teaspoon cinnamon
1 teaspoon vanilla extract
The awesome thing about smoothies is that the recipes are there to be tweaked to your heart's desire!
View this post on Instagram
Want to dial up the sweetness? Add a little honey, dates, maple syrup or molasses.
If you want to boost the health-factor of any smoothie, throw in a spoonful of your favorite seeds.
Ginger root and cinnamon warm things up nicely, but you can also experiment with other flavors too – such as freshly ground nutmeg or mace for a touch of sweet spice.
Ionized alkaline water is perfect in smoothies – you get an extra shot of antioxidants, minerals, and hydrogen in every glass to really maximize the goodness!
Rhona Recommends | Get a Water Ionizer to Enjoy a Happy, Healthier Fall!
Fascinating Fall Savings on Tyent Water Ionizers and FREE Gifts!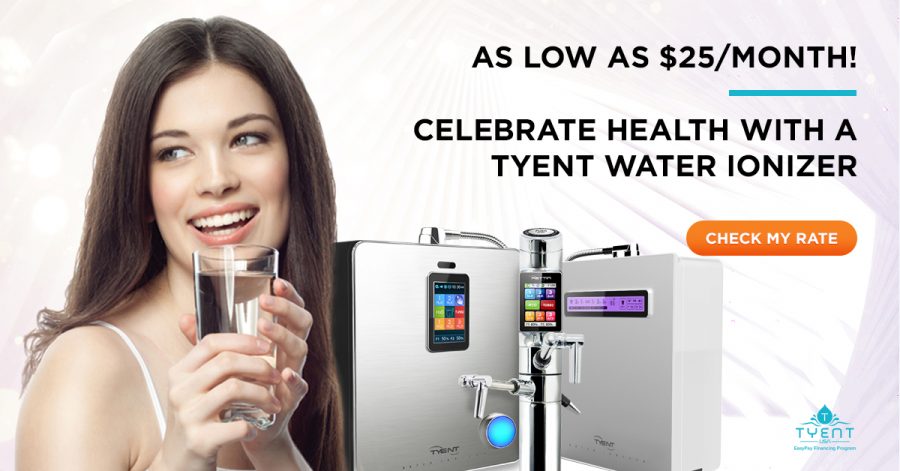 We're celebrating fall with our awesome sale with savings of up to 33% on our award-winning water ionizers, plus a package of FREE gifts worth an incredible $1,600!
Don't miss this – so call us today at to put the power of alkaline water benefits into your home this fall!
Most of us have a favorite smoothie…what's yours? Share your special fall smoothie recipes below!
Up Next: