Buying a water ionizer for your home? Then you need to make sure that you're buying the best. We'll cut to the chase here: the best water ionizers in the world are Tyent Water Ionizers.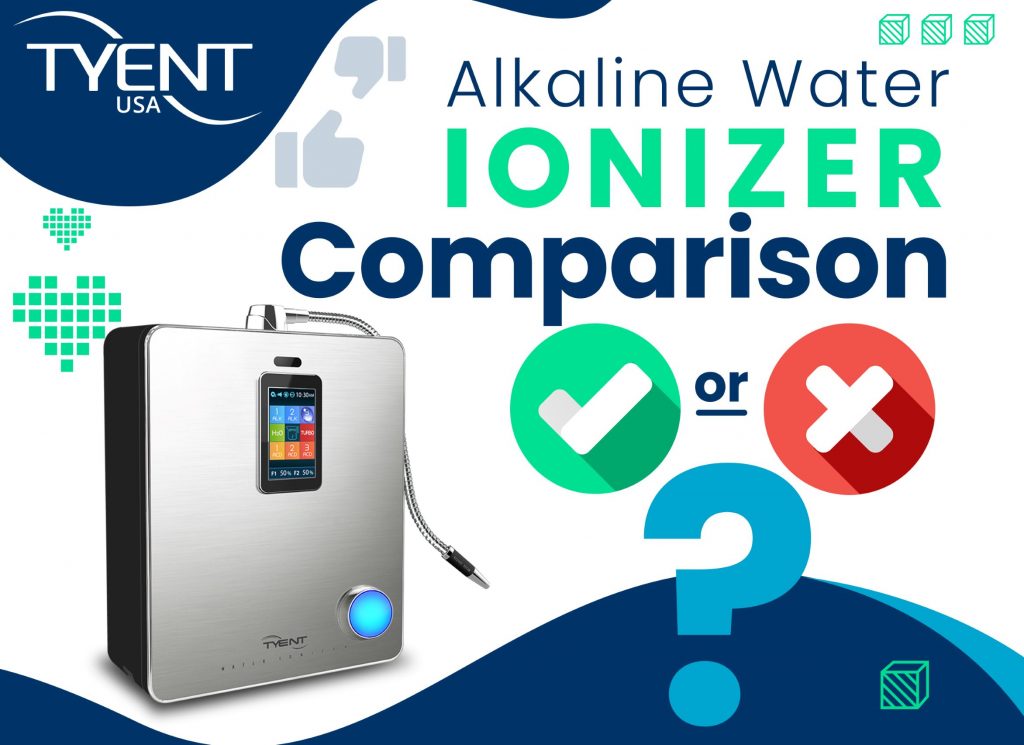 The reason for this is simple: every Tyent Water Ionizer is built from the ground up to be that way. And it's not just us who thinks so.
In fact, from the medical establishment to A-list sports stars, people can't stop singing the praises of Tyent alkaline water. Just look at what Pittsburgh Pirates Catcher Michael McKenry told us about his search for an alkaline water ionizer…
"It was very easy to find who was at the top. That was Tyent. Tyent USA is THE brand."
Michael McKenry
So how do Tyent Water Ionizers compare when it comes to our competitors? Let's look at how Tyent stacks up against Kangen and examine the facts.
1. Tyent Water Ionizers Are a Breeze to Use
Would you rather drive a car with an automatic or manual transmission? Most people prefer automatic because it's easier. Life is complicated enough, who needs to wrestle with confusing water ionizer controls?
Put it this way, would you rather use an ionizer that requires clunky manual adjustments for virtually every command, or would you prefer the sleek automatic flow control, proximity sensors and multiple presets of a Tyent machine?
Yep. Us too.
2. A Tyent Water Ionizer That's Designed with YOU in Mind
One of the assumptions our competitors make is that all of their customers' needs are the same.
At Tyent, we know that your water needs are just as individual as you are. Our water ionizers are fully customizable to work with your unique source water – no matter what it is.
The same cannot be said for Kangen machines. Try setting up a Kangen ionizer with a hard water supply and get ready for it to…well, not work.
3. A Tyent Ionizer Is Built with Cutting-Edge Technology
Your water ionizer's power supply really matters. Older transformer power supplies like those built into Kangen ionizers are prone to overheating. SMPS units are resistant to overheating but not as reliable as transformers.
For our engineers, neither option was good enough. Our team of designers and engineers went back to the drawing board to conceive a brand-new, advanced SMPS-plus power source that was reliable in every sense, as well as being incredibly powerful.
4. Tyent Water Ionizers Produce Cleaner, Healthier Water
Tyent Water Ionizers have the most advanced filtration in the industry and utilize two state-of-the-art filters, while Kangen's ionizers have just one standard-issue filter.
No company takes filtration more seriously than Tyent – and no one beats us for water quality, taste and complete transparency when it comes to the list of toxic chemicals that our filters remove.
5. Tyent's Ionizers Are Cheaper Than Kangen Machines
Our most cutting-edge, innovative and technologically-advanced water ionizers come with a lifetime warranty – including parts – and a generous 75 day returns policy.
Kangen machines cannot compare, with a 5-year-warranty and an are-you-kidding-me 3-day return policy. 3 days. That's barely enough time to get the machine out of the box and working.
And here's the clincher: Tyent water ionizers cost $1000's LESS than Kangen machines, despite being superior in every way.
6. The Only Choice Is Tyent
Our Core Values mean that we want to impress you, from the moment we first chat with you over the phone, to every day that you drink delicious, hydrogen-rich Tyent Water.
That's why we've made it our business to beat every competitor on price, quality and service – every time.
Give our friendly team of experts a call – you'll like speaking with them, and you'll LOVE our water ionizer deals. Head on over to our buying guide to find the perfect ionizer for YOUR needs!
This blog was originally published in July 2015 and has been updated and revised for accuracy
View this post on Instagram