Dr. Lori Shemek is back again to share some tips to help conquer holiday stress.  Dr. Lori is the best-selling author of books such as The Ketogenic Key, Fire Up Your Fat Burn and Beginner's Guide to Intermittent Fasting.  Dr. Lori is a certified nutritional consultant and weight loss expert who spreads awareness of the negative effects of inflammation.  Enjoy!!
The holiday season is a time of joy and happiness for many. However, the holiday season often brings unwelcome stress and depression. And it's no surprise as the holidays often involve cooking meals, shopping, baking, decorating, cleaning and entertaining, to name just a few. Additionally, with the coronavirus in your community, you may be feeling that additional stress.
So what can we do to prevent stress and truly enjoy this special time of year?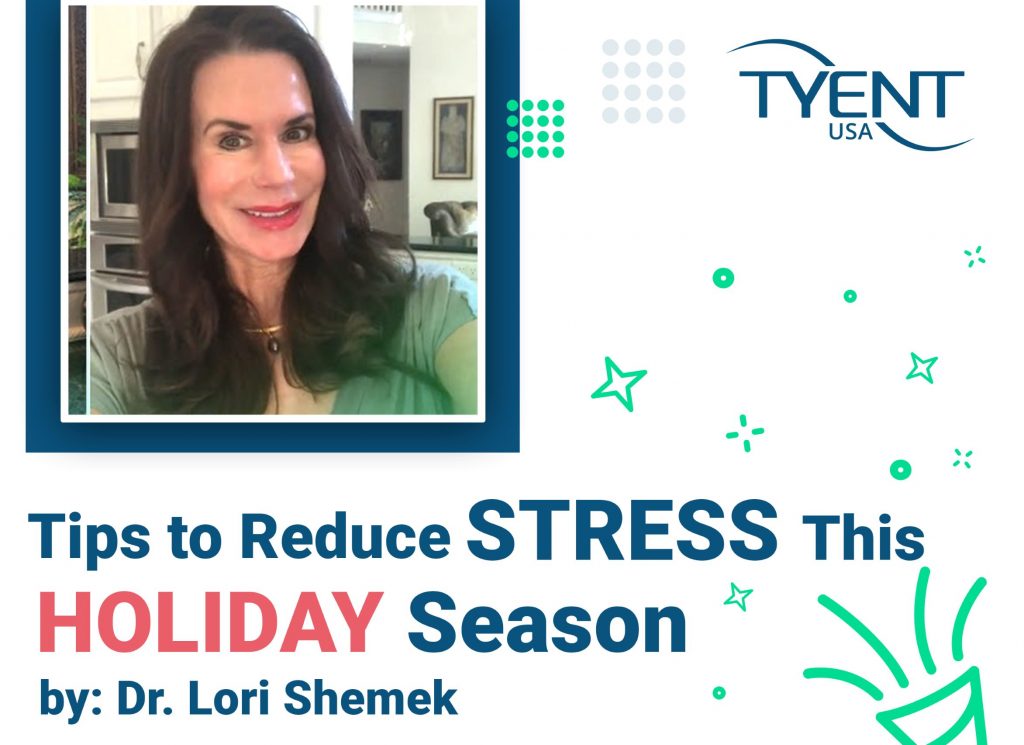 Plan Ahead
Make a checklist of what you need to get done. Set aside specific times and days to do what is on that list such as decorating the tree, creating your menu, recipes, grocery list, shopping online and any major cleaning.
Schedule what you can and that includes your exercise and downtime – powerful. This will help give you the empowerment you need.
Begin EARLY
This is key. So many of us wait until the last minute, and that promotes much stress and frustration. It's okay to get your tree up early. It's okay to wrap presents early. It is never too early to keep the joy of the holidays alive and well.
Be Realistic
Many people want a Norman Rockwell holiday but the reality is that goal may be unattainable for many. Families grow and move away, pandemics arrive, traditions change, relatives may never change. Always bear in mind that we all are imperfectly perfect. Accepting that perfection does not exist, is key to a happier holiday.
Drink Water
Staying hydrated is key to keeping stress away. Mild dehydration is a key component of the stress response. Why?  Cellular function slows down and promotes fatigue, foggy thinking, weight gain and much more without adequate water.
Studies have shown that being just half a liter dehydrated can increase your cortisol levels – cortisol is a stress hormone. Drinking alkaline water will further reduce the inflammation resulting from the stress response in your body.
If you are looking for a very simple way to unwind and protect yourself from holiday stress and throughout the year, drink adequate water. I recommend drinking half your body weight in ounces each day.
Avoid Sugar
Sugar is not so sweet to our health, anxiety and stress levels.  Yes, sugar is harmful to our health over time but it also can affect one's mood.  Opting for the donuts when stressed is easy to do and you are not alone. However, research shows that sugar consumption reduces stress momentarily, but over time weakens our ability to say no to the sweet stuff and we become more reliant on it.
Choose healthy sugar replacements such as monk fruit sweetener, xylitol, stevia or swerve.
Eat a Nutrient-Rich Diet
We all know we need to eat better, but how does this affect our stress level? In a powerful way.  The foods we choose to eat dictate whether we will experience a heightened stress response or a stress response that does not impact health in a negative way.  We can thank our hormones for that.  Anti-inflammatory foods can cut levels of cortisol and adrenaline, stress hormones that take a toll on the body over time.
Anti-inflammatory foods are an excellent stress-busting strategy for the holidays and beyond.  Foods such as:
Leafy Greens
Wild Salmon
Green or Black Tea
Nuts
Avocados
Berries
All Veggies
Move Your Body
Exercise has direct stress-busting benefits.  If you're too stressed to exercise you may want to think twice as exercise can not only protect you from the negative effects of stress, but reduces it powerfully.
Aerobic exercise boosts oxygen circulation and spurs your body to make feel-good chemicals called endorphins that promote stress reduction while you are exercising and in your future. Aim for 30 minutes of aerobic exercise three to four times a week.  Resistance training is also key as it promotes cellular resilience – your body becomes more able to handle stressful events.
Set Aside Differences
If every year you have family drama, prepare for it and let it go.  If every year Uncle John drinks in excess, remember you cannot control him..the only control you have is your reaction to the situation.  Realistic expectations are key to helping you get more enjoyment out of the celebration as opposed to falling into the emotional downward cascade.  We sometimes forget that the holidays are often rife with disappointment and not the happiest of times for many.  Being realistic will not set you up for disappointment again.
Relax
Stress is a buzz-kill and we want to enjoy our holiday, celebrate with contentment in our heart and not feel emotionally and physically drained. One powerful technique is Box Breathing. This is simply breathing in for 5 seconds, hold for 5 seconds, breathe out for 5 seconds and hold again for 5. Repeat 6 times or as often as desired. The best part about this breathing technique is that you can use it anywhere – driving in holiday traffic, on a plane going to grandma's, wrapping gifts or at night to fall asleep.
Don't let the holidays become something that promotes distress. Instead, take steps to prevent the stress and depression that can ensue during the holidays.  Remember to put your oxygen mask on first – you can't help or contribute in a quality way and have fun, if you are not taking care of YOU.
View this post on Instagram