Dr. Lori Shemek is BACK AGAIN to share her recipe for Dragon Fruit Salad!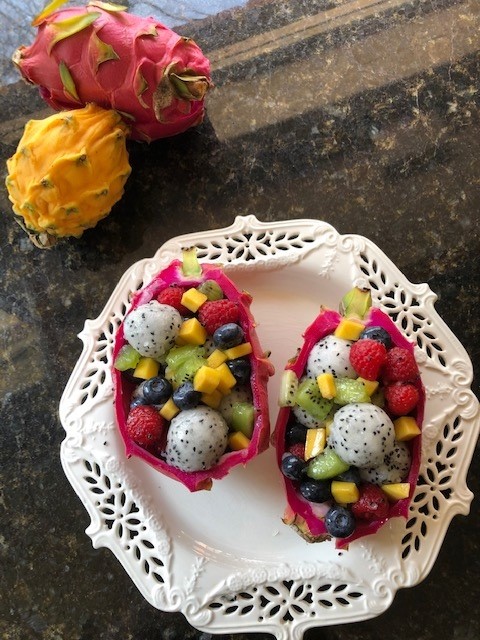 7 Benefits of Eating Dragon Fruit
1. Dragon Fruit is an alkaline fruit with a juicy, mildly sweet flavor. An alkaline body is essential to optimizing health and fighting illness and disease.
2. Dragon Fruit is high in antioxidants and polyphenols that optimize and protect your cells from damage.
3. Dragon Fruit is high in vitamins and minerals such as vitamin C, B1, B2, Protein, Calcium, even Iron.
4. This delicious fruit is high in prebiotic fiber that feeds the healthy gut bugs necessary for optimal gut health.
5. Dragon Fruit keeps hunger and cravings away.
6. Dragon Fruit contains several types of antioxidants called flavonoids that are linked to better brain health.
7. Dragon Fruit helps promote a healthy heart via all benefits such as fiber, promoting a healthy gut, antioxidants, nutrients and low-sugar.
Eating a nutrient-rich diet has powerful health benefits. When you are craving something sweet, this alkaline salad can satisfy your sweet tooth and help add antioxidants and polyphenols to protect your health.  Dragon fruit, raspberries, kiwis and blueberries are low-sugar fruits, yet high in nutrients and fiber to protect your cellular health, optimize gut health, promote brain health and keep hunger and cravings away!
Ingredients
1 Dragon Fruit
2 Cups Mixed Fruit such as raspberries, blueberries, kiwi and mango
1 Tablespoon Chopped Fresh Mint Leaves
1 Tablespoon Organic Honey or 8 Drops Stevia
Directions
Slice dragon fruit in half, lengthwise.
Using a melon baller, scoop out dragon fruit making small fruit balls, set aside.
Scrape out the excess dragon fruit to create an empty shell
Chop kiwi and mango into small bite-size pieces.
In a separate bowl, mix equal amount of raspberries, blueberries, kiwi, and mango with dragon fruit balls.
Add mint.
Mix-in honey or stevia and mix.
Serve and enjoy!
Recommended Reading | Dr. Lori's Vault