Taking up running is something that many people consider at some point.  And running is becoming ever more accessible, with inclusive programs like Couch to 5k and any number of alternative training apps.
Here's what we'll cover below: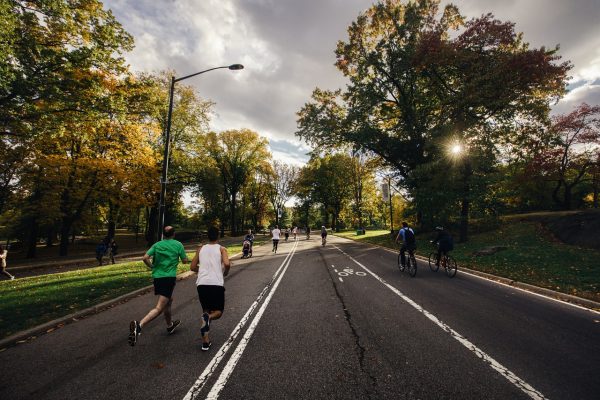 What Are Some of the Benefits of Running?
Running is a pretty awesome form of exercise for several reasons:
It gets you places. You can literally run somewhere instead of relying on transport.
You can just get on with it. Only got an hour to spare? Don't waste it getting to and from the gym, just pull on your running shoes and go!
It's excellent for cardiovascular health.
It can be very therapeutic. Apart from the mental and emotional benefits of taking exercise, you can plug yourself into your favorite music or podcast and chill out while working out!
It's cheap: you need a pair of running shoes, and that's about it. Sure, you can invest in cool gear if you want to, but going out for a run in your leggings and tee shirt is just fine too.
RELATED |
10 Best Quick Workouts for Busy People Who Don't Have Much Time
What Are Some Running Tips for Beginners?
But before you throw yourself at the nearest track or park run, there are a few pointers to bear in mind:
Get fitted for a pair of decent running shoes, in a store with trained staff. It's the only real investment at this stage, and running is otherwise free, so don't skimp on the all-important footwear!
Don't push yourself too hard, too fast. Make progress at your own pace and if something doesn't feel right, then stop and rest. Consider consulting with your doctor before taking up strenuous exercise.
Hydrate with alkaline hydrogen water from your water ionizer. Ionized water is super-hydrating and tastes amazing. Crucially, the microscopic hydrogen molecules are like tiny vitality bombs that dial up your energy levels from within.
RELATED |
101 Reasons To Love Tyent Water Ionizers, Part 6: Sports
Walk Before You Run
View this post on Instagram
If going for a run appeals to you, then give it a go! It can be exhilarating, empowering and terrific for your overall sense of wellbeing.
Not up to a run yet? Try a brisk walk! The benefits are similar and often give people a 'soft' route into running.
Don't forget to take a bottle of hydrating, energizing Tyent Water with you: it's essential to getting the most out of any workout.
Just ask the
professionals!
Where to Find Water Ionizer Bargains
Running Shoes and a Water Ionizer = the Perfect Essential Kit!
So, why not pull on your trainers and run over to our egg-citing Easter sales?
Maybe all that Easter candy has gone to our heads a little here, but right now, we have some of our most amazing water ionizer deals ever!
So, don't miss it!
Are you about to try running for the first time? Are you already a Couch to 5k aficionado?  Do you have some great training tips of your own?  We'd love to hear them – so tell us in the comments!
Up Next: