Be more confident this spring with these tips on how to debloat.
In this article:
How to Debloat | 5 Tips How to Beat the Bloat and Be Body Ready This Spring
Click here to jump to the infographic.
What Is Bloat?
When gases get trapped inside the body, they can become points of great discomfort. That's the feeling of being bloated.
It occurs when there's a buildup of gas in the digestive tract. When we eat, food moves through the stomach, small intestine, and large intestine or colon.
On the journey, the muscles and bacteria break down food into usable energy.
Some of the food gets left behind where the bacteria continue to work on it. This process creates and releases gas. This is a primary cause of bloat.
Not only is bloating sometimes painful, but it can also be embarrassing to deal with publicly.
With springtime upon us, the weather is only going to get warmer. Daily outfits will have fewer concealing layers and likely lighter, more clingy fabrics as well.
There is no better time to beat the bloat and rid your body of this inconvenience once and for all.
5 Tips on How to Debloat Fast
There are many ways to debloat, and you can begin with these tips.
1. Drink Natural Fluids Instead of Drinks with Artificial Sweeteners
Flavored drinks contain chemical coloring, artificial sugars, and flavoring agents that stress the GI tract. Carbonated drinks contain gas that can exacerbate the problem of bloating.
Instead of artificially flavored drinks, only drink natural, uncarbonated beverages. These include coconut water and natural fruit juices.
Better yet, drink water since bloating can be a sign of dehydration. It's best not to consume just any type of water, though. Pick hydrogen water.
You can make it by using a water ionizer. Water ionizers are machines that increase the hydrogen atoms, which help you hydrate faster.
RELATED: Bloated? Hungover? 3 Must Know Tips Using Your Water Ionizer
2. Avoid Dairy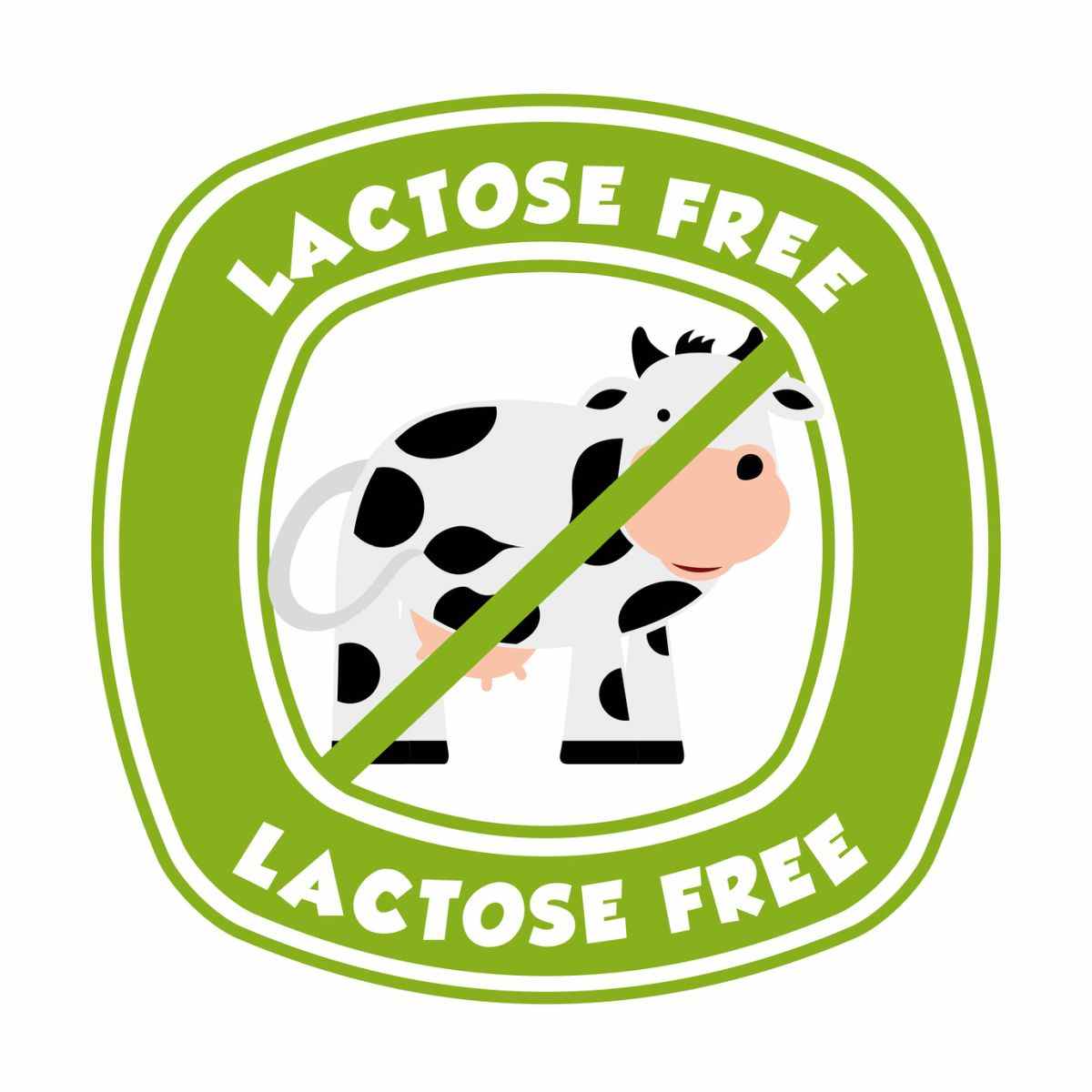 According to the United States National Library of Medicine,
"Approximately 65% of the human population has a reduced ability to digest lactose after infancy."
The problem is, most people don't realize they have trouble digesting lactose from dairy products until they stop eating them.
Because the body of a lactose-intolerant person has to work harder to digest this sugar, it slows down digestion. It then allows gases to build up in the digestive tract, causing bloat.
Instead of dairy, try substitutes made from almonds, coconuts, or soy.
3. Get at Least 25 Grams of Fiber in Your Diet Daily
Dietary fiber acts like a cleaning agent for the intestines. It helps to move undigested food through the intestines more quickly, so your body can get rid of it.
Averaging 25 grams of fiber per day from foods such as cruciferous veggies is a sure way to keep digestion pumping and bloat down. It also prevents constipation.
What Are Cruciferous Vegetables? These refer to vegetables belonging to the Brassicaceae family such as cauliflower, although they can take an alternative name of Cruciferae because their flowers can shape like a cross. They are popular because of their high nutrient value.
4. Eat Smaller Healthier Portions

Do you know your stomach is only about the size of your fist?
Now, think about the size of an average portion for you. It is probably bigger than your fist.
Another way how to debloat fast is to control your portions.
Reducing the size of your meals relieves the swelling in the stomach from overeating. It makes for more efficient digestion, which indirectly reduces bloating.
5. Flush Out Toxins
If you're eating the wrong kind of diet, you increase the risks of chronic inflammation and the buildup of toxins. Depending on the toxicity, it can affect the gut flora.
The body has both bad and good bacteria. As long as you have more of the latter, you're fine.
If inflammation is high, you can disturb this balance.
There are many ways to deal with toxins such as taking probiotics. One of the best options, though, is to drink Tyent hydrogen water.
Increasing the amount of hydrogen in the water you consume also boosts its antioxidant activity. It means it can help flush toxins from the body and fight off free radicals.
Hydrogen water also has a faster gastric emptying period, which means your body can use these hydrogen atoms more quickly.
Don't forget to download, save, or share this handy infographic for reference: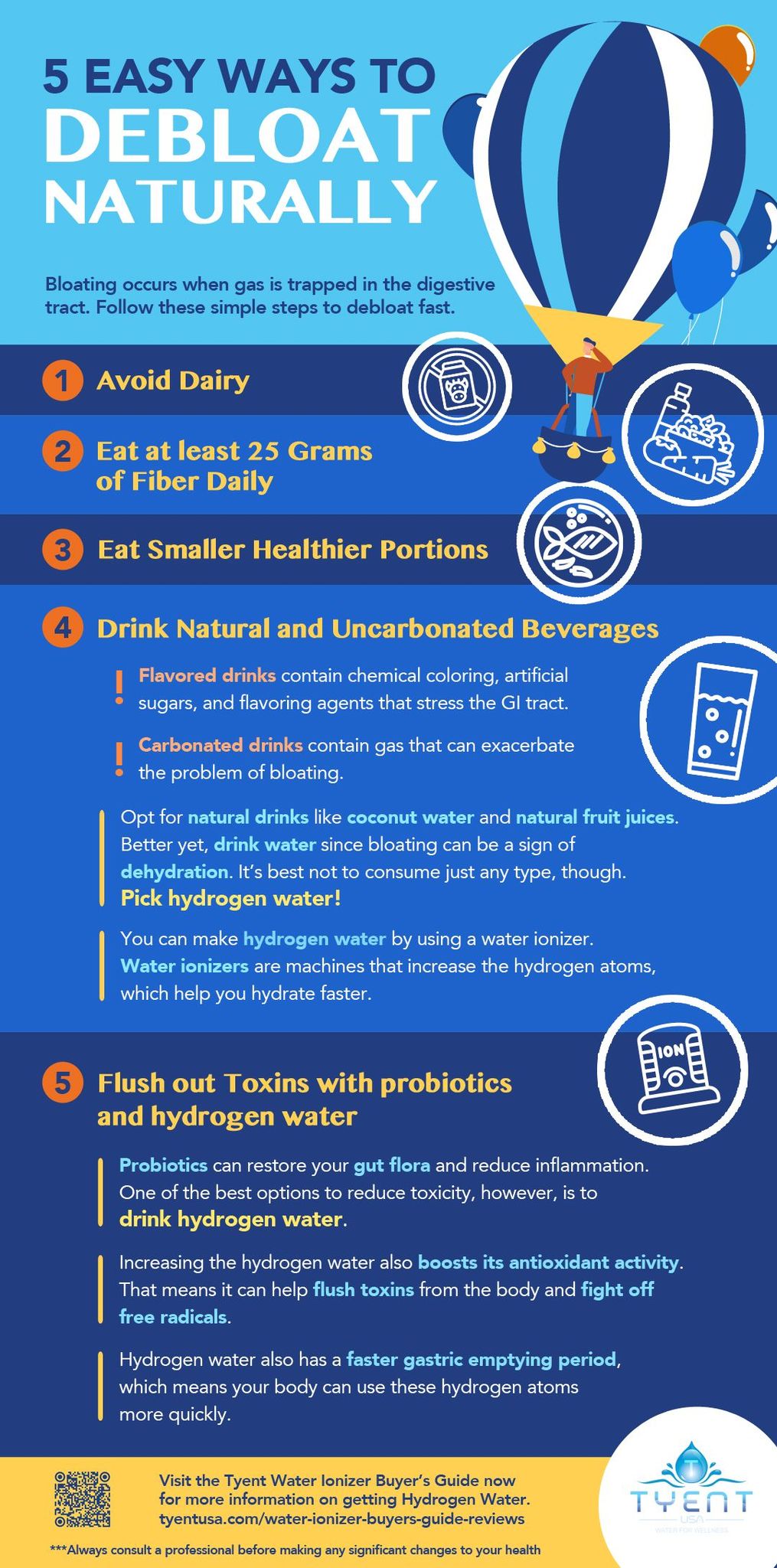 Watch this video below and find out how to debloat naturally!
Remember these ways on how to debloat this spring with a Tyent water ionizer. This way, you can enjoy the beautiful weather without a care in the world.
Visit the Tyent Water Ionizer Buyer's Guide now for more information.
How do you manage bloating? Share your tips below!
Up Next:
Editor's Note: This post was originally published on April 2, 2016, and has been updated for quality and relevancy.