Dr. Lori Shemek is back again to share her top foods to eat for Diabetes.  Dr. Lori is the best-selling author of books such as The Ketogenic Key, Fire Up Your Fat Burn and Beginner's Guide to Intermittent Fasting.  Dr. Lori is a certified nutritional consultant and weight loss expert who spreads awareness of the negative effects of inflammation.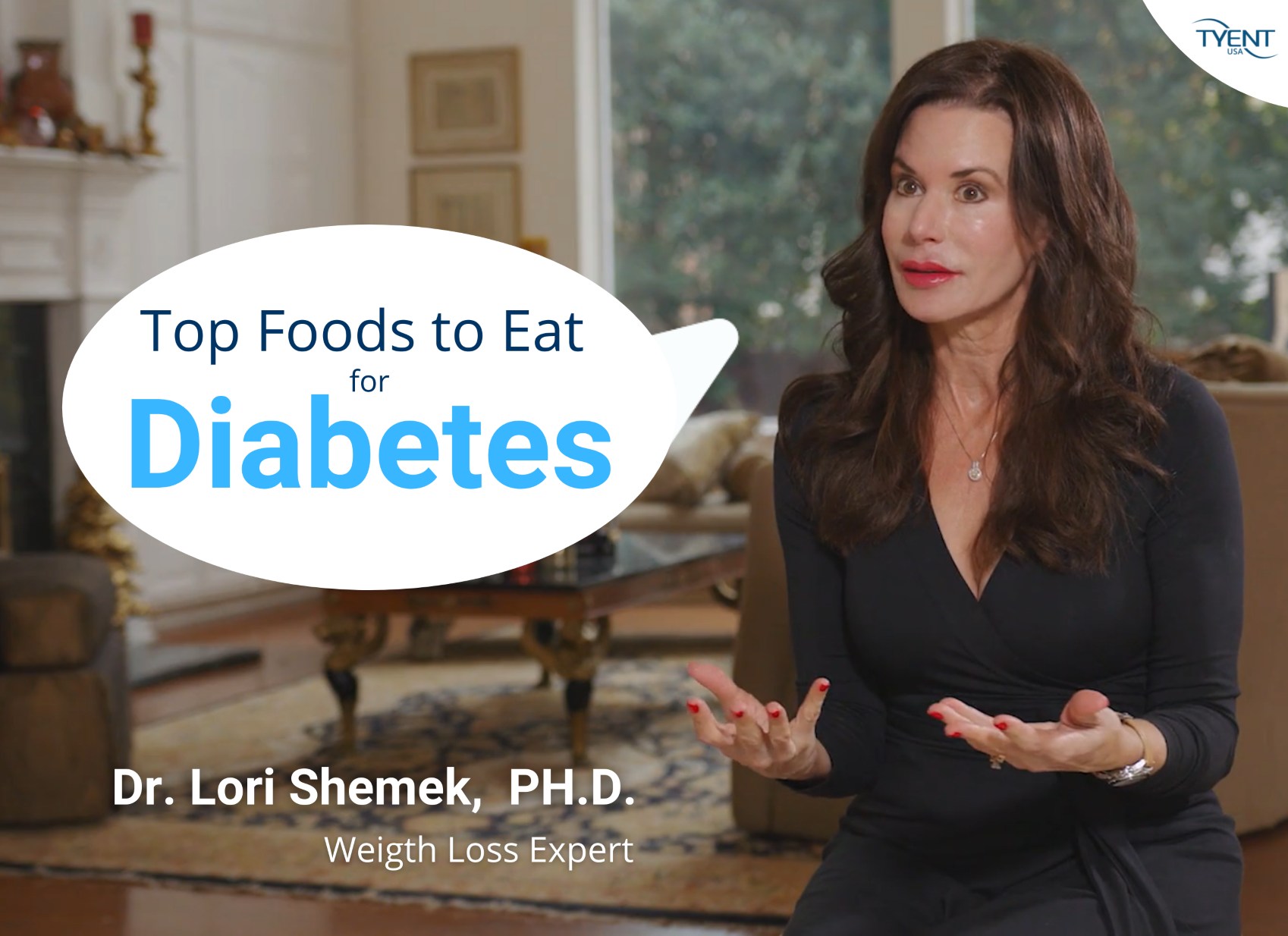 Type 2 Diabetes is affecting a large portion of our population. You most likely know someone or have this condition yourself. Yet even prediabetes is very problematic. Approximately 88 million American adults—1 in 3—have prediabetes. What's important to also note is that more than 84% of people with prediabetes do not know they have it. Recent research has shown that those with prediabetes can suffer from heart disease, heart failure or stroke even before progressing to full-blown type 2 diabetes.
Both prediabetes and Type 2 diabetes are largely dependent on lifestyle factors such as dietary choices and exercise. If you lose weight, you'll help to optimize and control your blood glucose. If you exercise, you'll better manage your blood sugar as you are utilizing the glucose in the body.
Type 2 diabetes also happens because of genetics. Every body is different, and you didn't choose this. However, making healthy choices will protect you.
Many people with diabetes are confused as to what to eat when one has type 2 diabetes. What not to eat is also just as important.
Trying to determine which foods are best to eat with diabetes can be challenging. It is important to note that choosing anti-inflammatory foods will help you manage your diabetes and inflammation.
Best Overall Actions:
Reduce Carbohydrate Intake
Eliminate Refined Grains and Sugar (candy, desserts, flour, bread, pasta, cereals, potatoes)
Eliminate Junk Cooking Oils such as Corn, Vegetable, Soy and Canola
Add More Fiber
Add Protein to Each Meal
Add Healthy Fat to Each Meal
Choose Only Whole Foods
Use the Ketogenic Diet
Lose Weight
Exercise – Movement
Best Foods to Manage Prediabetes and Type 2 Diabetes:
All nuts such as macadamia, walnuts or almonds
Wild Fatty Fish
Avocados
Olive Oil, Avocado Oil
Grass-Fed, Pasture-Raised Meats and Poultry
Whole Organic Eggs
Chia Seeds and Flax Seeds
Leafy Greens
Cruciferous Veggies
Cultured Foods such as Greek Yogurt or Kefir (no added ugar)
Berries
Garlic
Eating refined, processed food, sugars and fast foods are only going to increase blood sugar levels and promote inflammation.
The good news? You can reverse these conditions!
Remember also to drink enough clean alkaline water as this may help you balance blood sugar levels. In addition to preventing dehydration, it helps your kidneys flush out the excess sugar through the urine
Recommended Reading | Dr. Lori's Vault
View this post on Instagram
References