Add flavor to your diet this year with 13  of our best healthy juice recipes!
RELATED: Alkaline Water Ionizer Recipes to Soothe a Sore Throat
Healthy Juice Recipes to Complement Your Diet
Healthy Juice: A juice that contains the essential vitamins and minerals required for good health and proper nutrition.
1. Carrot-Orange Juice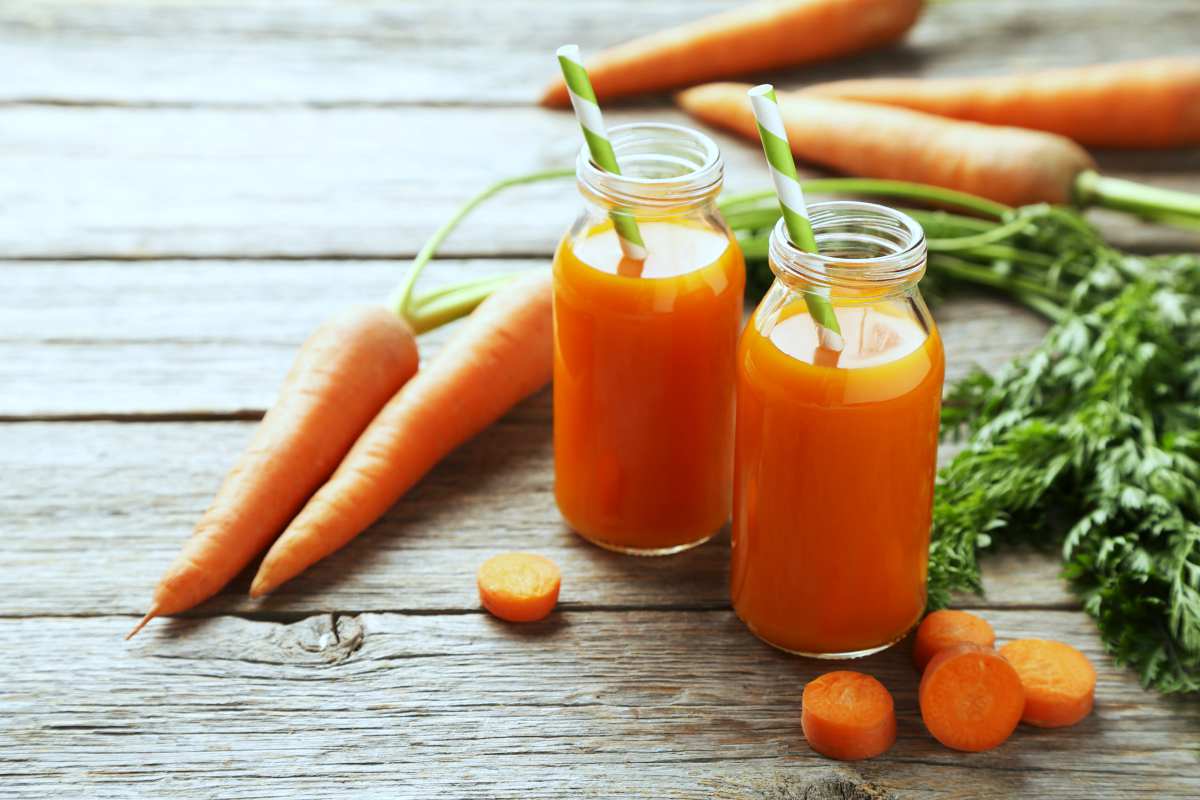 This juice recipe is a good source of vitamins C and K. It contains beta-carotene, which helps improve skin problems like rashes and psoriasis.
It may also ward off various eye disorders, such as muscular degeneration, cataracts, and blindness.
What You Need:
3 peeled carrots (medium)
2 peeled oranges (medium)
Optional: 1 tablespoon chia seeds
Method:
Juice the carrots, and then the oranges. If using the chia seeds, stir and soak for five minutes.
Optional: Serve the juice immediately over ice.
Serves: 1
2. Kale Juice

This nutrient-dense juice recipe helps improve skin, mood, and energy levels. It is very high in antioxidants that help counteract oxidative damage.
Oxidative damage is believed to be one of the leading drivers of aging and other diseases, such as cancer.
What You Need:
5 kale leaves (large)
1-2 cucumbers (large)
1-2 ribs celery (large)
1 apple
1 peeled lemon
1-inch peeled knob ginger
Method:
Process all ingredients through a juicer. You may also use organic produce. Serve immediately over ice.
Serves: 1-2
3. Fresh Salsa Juice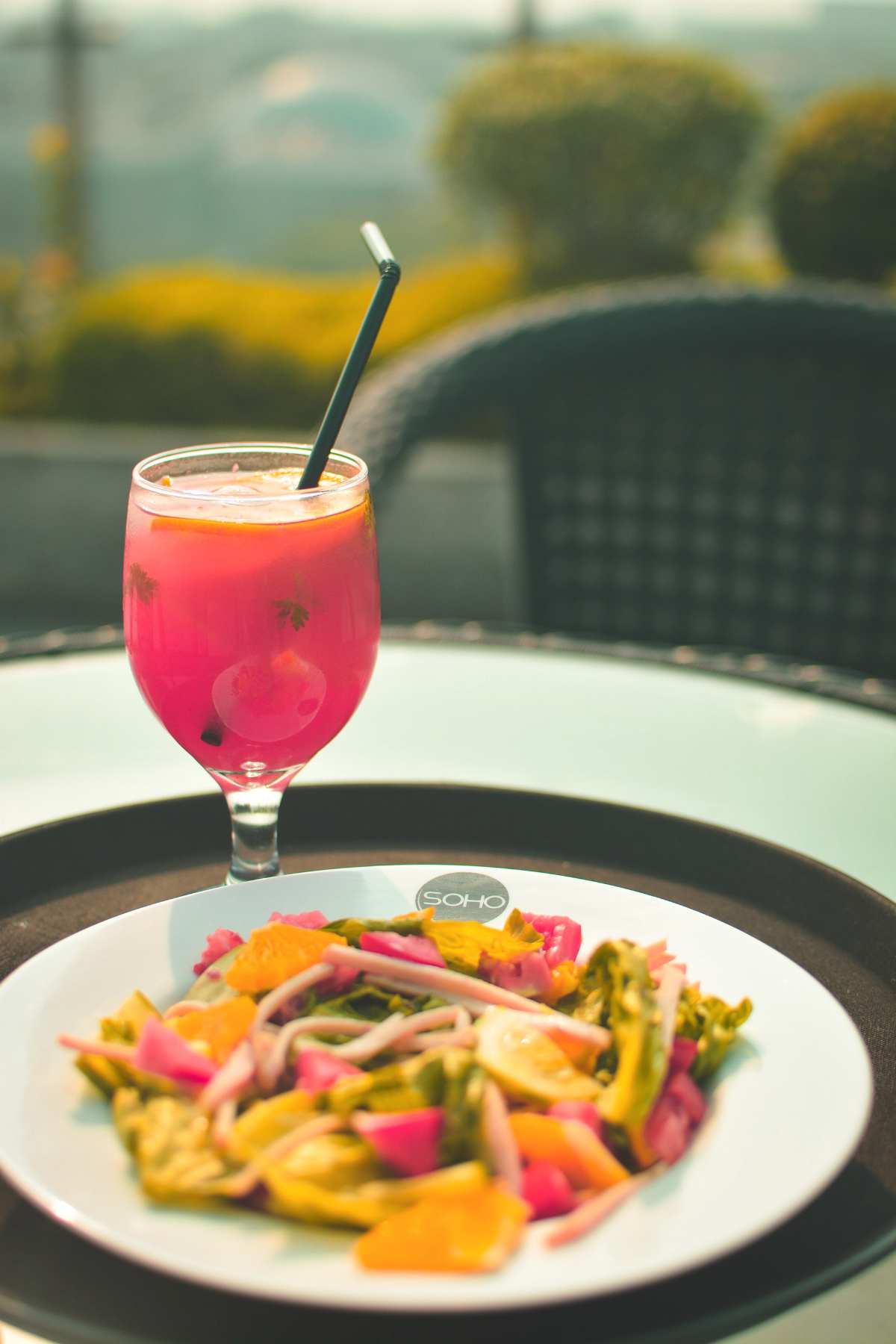 This quick-and-easy concoction is low in natural sugar and calories. It is also full of fiber without any fat or sugar.
This is a perfect juice recipe for anyone with type 2 diabetes. It does not raise the blood sugar or trigger a release of the body's insulin.
What You Need:
1 red bell pepper (medium)
1 celery stalk (large)
1 clove garlic
1 scallion/spring onion (medium)
1 cup cherry tomatoes
1 handful of cilantro
a dash of cayenne pepper
a dash of Himalayan salt
Method:
Process all the ingredients in a juicer. Shake or stir, and serve.
Serves: 1
4. Tomato-Vegetable Juice

This winning combination is a great substitute for bottled vegetable-blend juices.
It has a high amount of lycopene and beta-carotene. This help reduces the risk of developing heart diseases.
It is also perfect for those with high amounts of lipids in the body. Its excess fiber content helps break down bad cholesterol.
What You Need:
2 tomatoes (large, sliced into wedges)
2 stalks of celery (large, trimmed)
1 red bell pepper (large, sliced into 8 pieces)
1 peeled carrot (medium)
1 cup chopped hearts of romaine
¼ cup chopped fresh chives
¼ fresh jalapeño (stemmed and seeded)
Optional: Ice cubes
Method:
Add the lettuce, chives, and tomatoes into the juicer. Then, put in the jalapeno, bell pepper, celery, and carrot.
Process these ingredients through a juicer. Pour the juice into the glasses.
Optional: Fill two glasses with ice.
Serves: 2
5. Apple, Mint, Spinach, Lime, and Cucumber Juice

This drink is packed with antioxidants and vitamins that help boost energy without overloading the body with too much sugar. Athletes may benefit from this refreshing drink because of its energy-boosting properties.
What You Need:
1 green apple (cored and sliced into four)
2 big handfuls of spinach leaves
1½ limes (juiced)
½ roughly chopped cucumber
4 mint sprigs (leaves only)
Method:
Put all the ingredients into a juicer or blender, then blend until smooth. Serve in a tall glass with ice.
Serves: 1
6. Pomegranate-Watermelon Juice

This healthy juice recipe is high in potent antioxidants. It helps reduce blood pressure, cholesterol, and the incidence of influenza.
Enriched with citrulline and ellagitannins, it has beneficial effects regarding metabolism and performance.
What You Need:
2 pomegranates
2 cups watermelon
2-3 sticks celery
Optional: ½-1 ruby grapefruit
Method:
Wash all produce well. Peel and remove the seeds from the pomegranate.
Chop the watermelon. Juice and pour over ice.
Serves: 1
RELATED: Why Should You Wash Fresh Produce With Alkaline Water?
7. Blueberry Cabbage Juice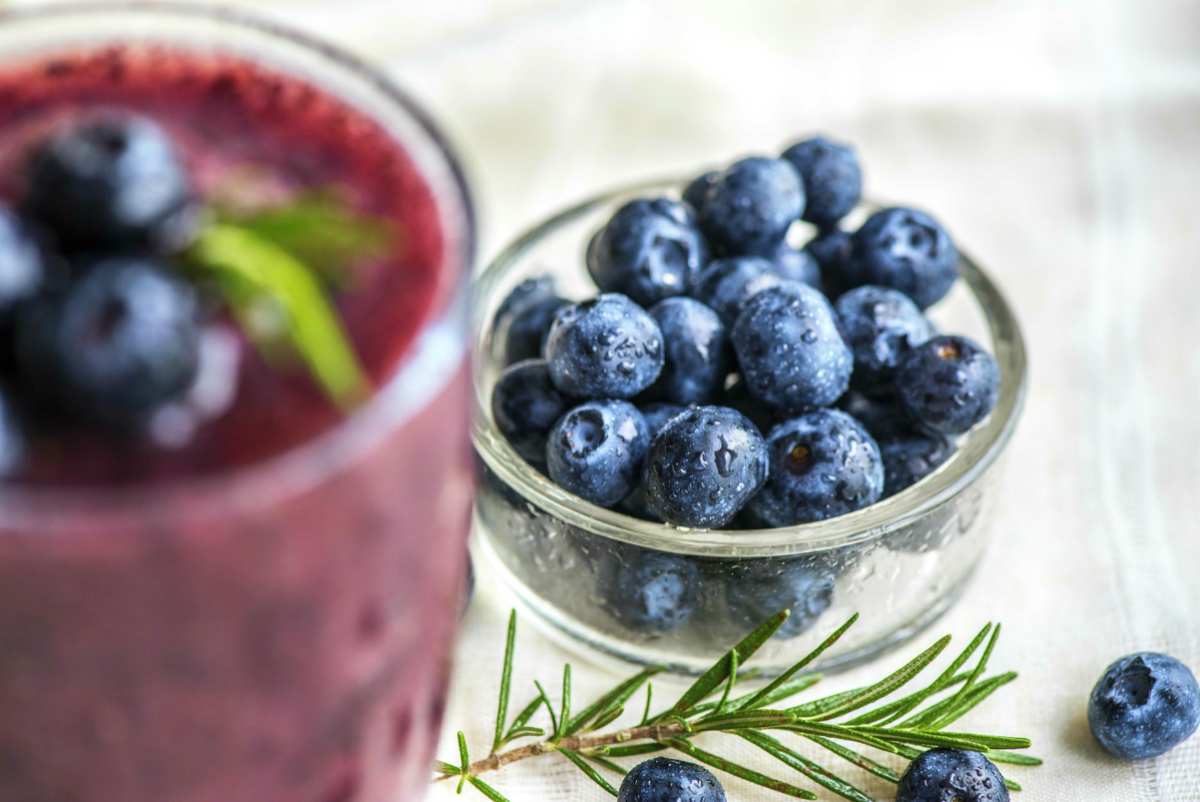 This nutritious juice drink contains antioxidants that help detoxify the body. It also has large amounts of vitamins A and C, which help in fighting free radicals.
Free radicals are the main cause of diseases, such as cancer and heart problems.
What You Need:
1 apple (large, sliced into four)
1 peeled cucumber (large)
1 cup fresh blueberries
1/4 red cabbage (medium)
Method:
Start in this order: cabbage, cucumber, blueberries, and apple. Process these ingredients through a juicer. Optional: Serve over ice.
Serves: 1
8. Lemongrass Juice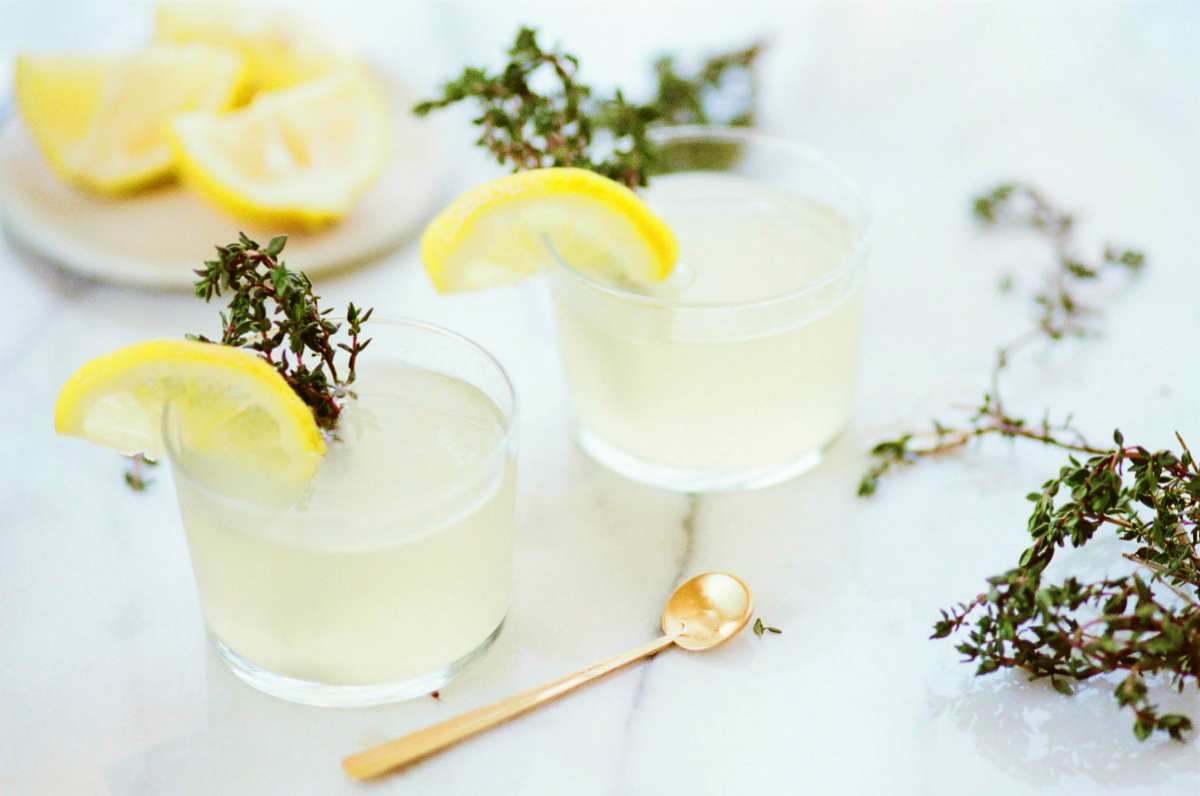 This beverage helps reduce cholesterol, tame high blood pressure, and purify the liver. It also boosts metabolism and is a great option for those who want to lose weight.
What You Need:
250 stalks of chopped lemongrass
1/4 teaspoon salt
4 cups water
1/2 cups caster sugar
4 ice cubes
Method:
Heat water in a large pan over medium flame. Add lemongrass stalks, and simmer for 5 to 8 minutes.
Strain into a pitcher, then add sugar and salt. Stir until dissolved.
Place in a separate pan over medium flame, and bring to a boil. Remove from the flame, then allow to cool completely.
Add 2 to 3 ice cubes to a serving glass, and pour the juice over it.
Serves: 1
9. Green Juice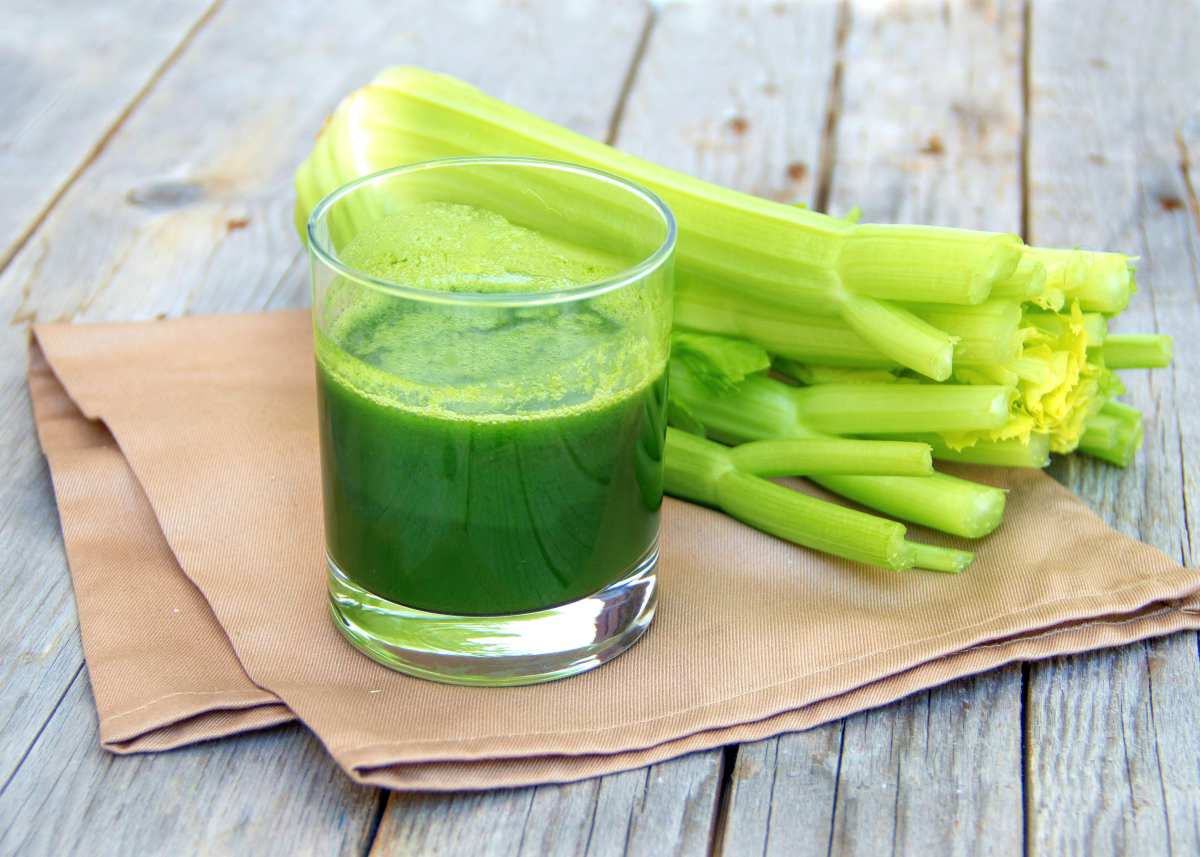 This healthy juice recipe helps improve energy, reduce inflammation, and improve the digestive system. Many also turn to green juice to lose weight, because it aids in eliminating toxins from the body.
What You Need:
3 ribs organic celery
2 organic cucumbers (large)
2-3 leaves of green kale
1 broccoli stem (large with florets removed)
1 organic lemon (half peeled with the white part left on)
1-2 organic apples or pears
1-2-inch peeled knob of fresh ginger
Method:
Wash all produce, then push the whole pieces through the juicer. Juice and serve. Optional: Serve with ice cubes.
Serves: 1-2
10. Papaya Juice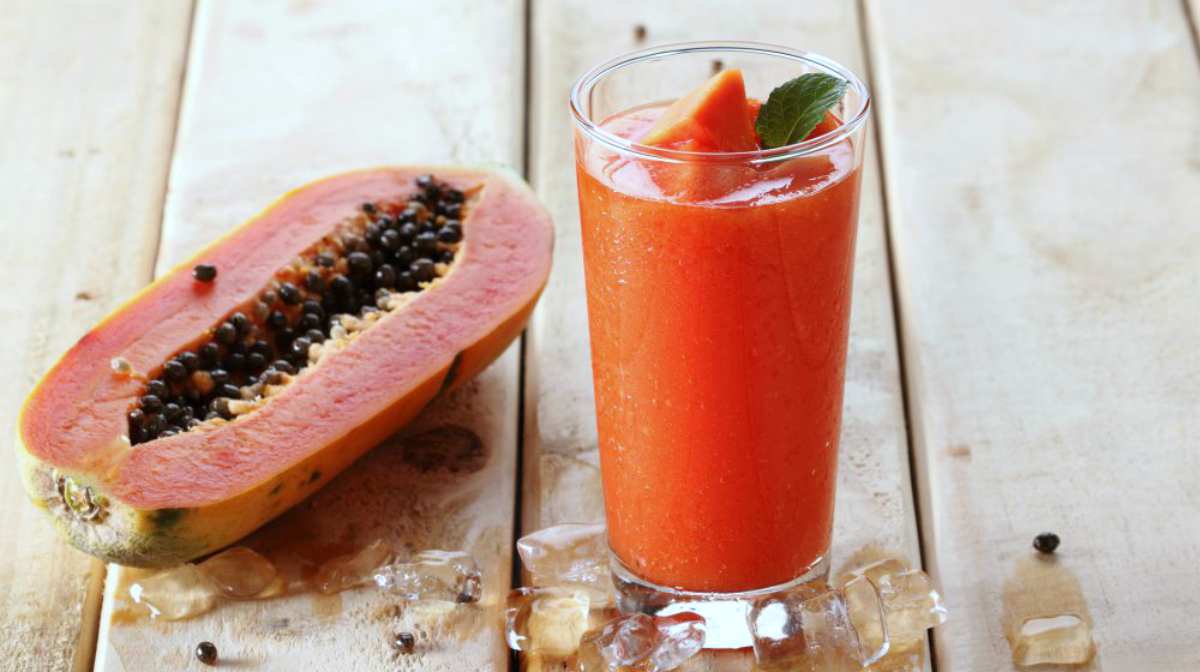 This beverage is rich in papain, which helps improve digestion and prevent constipation. It is also known to be quite effective in treating cancer, especially colon cancer.
It is high in fiber, which helps seal cancer-causing toxins from healthy colon cells.
What You Need:
1 cup papaya cubes
1/2 cup musk melon cubes
1/2 teaspoon lemon juice
Method:
Blend the fruits in a blender until smooth. Add the lemon juice, and mix.
Put crushed ice in a glass, and pour the juice in.
Serves: 2
11. Cucumber Juice

This hydrating refreshment helps promote weight loss, boost immunity, and detoxify the body. It is an excellent source of B vitamins. Deficiency of B vitamins often results in fatigue, irritability, and poor concentration.
What You Need:
1/4 ripe cantaloupe (sliced into chunks, seeds removed)
2 celery stalks
1/2 sliced cucumber
1/4 peeled lemon
Method:
Process all the ingredients through a juicer. Drink immediately, or let chill for an hour.
Serves: 1
12. Green Lemonade Juice

This fresh juice recipe helps burn fat and improve the skin. It helps prevent calcium deposit build-up, preventing artery clogs and kidney stones.
This drink is good for those with hypertension because it contains bioflavonoids.
Bioflavonoids play a role in regulating blood pressure and improving blood flow.
What You Need:
1 lemon
1 cucumber
2 apples (medium)
2 cups spinach
4 kale leaves
Method:
Dice the apples and cucumber and throw them into the juicer. Add lemon, spinach, and kale.
Blitz the mixture until smooth. Add ice and serve.
Serves: 1-2
13. Apple, Pear, and Cherry Juice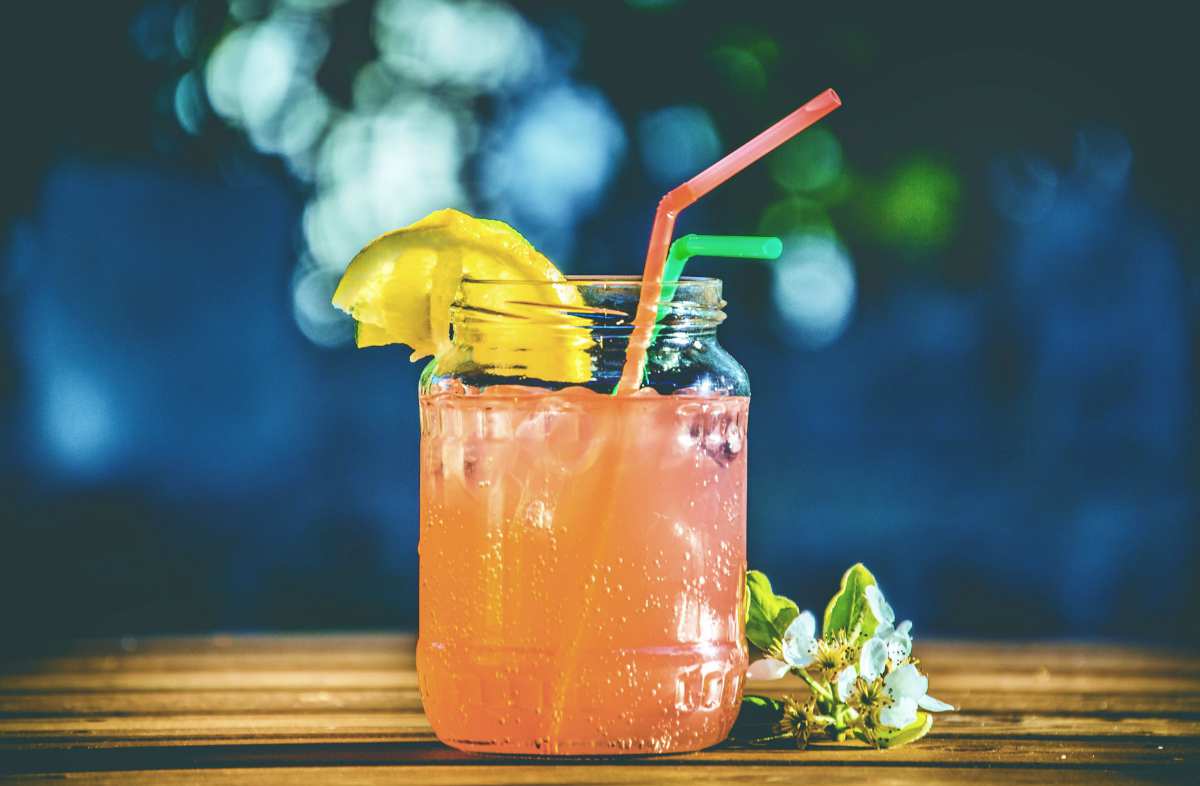 This vitamin-packed beverage promotes strong bones and younger-looking skin. It is low in cholesterol, sodium, and saturated fat, making it healthy for the heart.
This beverage is also high in fiber, which helps reduce the risk of coronary heart disease.
What You Need:
1 cored and cubed apple (medium)
2 cored and cubed soft pears (medium)
1/2 cup fresh cherries (pits removed or frozen and thawed)
Method:
Combine apple, pears, and cherries in a blender. Blend until smooth.
Strain juice and, if desired, thin with water. Shake before serving.
Optional: Garnish with fresh cherries before serving.
Serves: 1
The Role of Alkaline Water in These Recipes
The use of alkaline water in the concoction of citrus juices balances acidity. The balance, then, helps ease the elimination of acids and other toxic wastes in the body.
When washing the skins of fruits and vegetables, it's best to use Tyent's alkaline turbo water. This specific type of water can remove oil-based herbicides and pesticides which regular water can't do.
Learn how to make detox juice recipe in this video from HealthNut Nutrition:
Maintaining a well-balanced diet is essential for sustaining a healthy lifestyle. These juice recipes are just a few of many other ones you can concoct at home.
While each has its own benefit, all promote the same thing—good health. Add these to your daily meals today, and enjoy a healthier, better you this new year.
Do you have healthy juice recipes you would like to share with us? Shoot us a message in the comments section below.
Up Next: