These alkaline recipes are a great way of incorporating all the benefits of increased pH into your body.
RELATED: Start An Alkaline Diet This Winter By Using A Water Ionizer
9 Alkaline Recipes That Are Easy and Delicious
1. Green Dip
https://www.instagram.com/p/BVLglnLhip7/
This refreshing and alkalizing dip uses fresh peas and creamy avocado to get its hue. It's incredibly versatile, you can even use it as a spread for appetizers.
Ingredients:
2 cups fresh peas (frozen is also good)
1 small avocado
3 tablespoons finely chopped green onions or chives
2 1/2 tablespoons lemon or lime juice
3/8 teaspoon salt
1/8 teaspoon ground pepper
Instructions:
Remove the pit from the avocado and roughly chop the flesh.
Combine avocado, peas, chives, lime juice, salt, and pepper. You can use a food processor with an S blade for a super fine and creamy dip, or mash it a mortar and pestle for a more chunky and rustic feel.
Transfer into a serving bowl and season to your taste. Add a sprinkling of chives on top for garnishing.
Did You Know?
Avocados are pretty high in alkaline value at +15.6. Peas, on the other hand, are alkaline-forming legumes.
What Is Alkaline-Forming? This is the process of forming an alkaline environment through the ingestion of certain foods. Plant-based foods such as green vegetables, peas, beans, lentils, seeds, nuts, and herbs, are alkaline-forming, and also very dense in nutrients.
2. Kale and Golden Beets Salad

Green, leafy vegetables are well-known for being perfect alkaline foods. This delightful and earthy salad makes for a light yet filling lunch, or a hardy side dish.
Salad Ingredients:
1 bunch of kale with stems cut off and cut chiffonade-style
4 medium-sized golden beets
2 medium-sized carrots
1 bell pepper (any color will do, but we prefer yellow and orange for a bright pop of color!)
4 finely chopped green onions
Dressing Ingredients:
3 cloves of garlic, finely minced
1-inch nub of ginger, peeled and finely minced
1/4 cup canola oil
1/4 cup apple cider vinegar
Juice of half a lemon
3 tablespoons tahini
1 tablespoon tamari
2 teaspoons dried oregano
1 teaspoon dried basil
Instructions:
Combine ribbons of kale and green onions into a large salad bowl.
Grate carrots, beets, and bell pepper, and add to the greens.
Toss to mix the vegetables. Pause to stir in the salad dressing before tossing again to spread the dressing evenly.
3. Lemon & Herb Dressing
Creamy Lemon Herb Dressing https://t.co/HnNj5OJrEw #vegan #recipe pic.twitter.com/ogBvmngkz8

— Veggie Recipes (@Vegan___Recipes) May 9, 2018
This creamy dressing is among the best alkaline recipes to drizzle over your favorite salad, fried fish, or even use as a zesty dip.
Ingredients:
1/3 cup hemp hearts
A few chive sprigs chopped into 1-inch pieces
1/2 teaspoon of garlic powder
A few sprigs of fresh dill
Juice of 1 lemon
A few sprigs of fresh cilantro and parsley (feel free to combine or use either of the two)
1/2 teaspoon of onion powder
Salt to taste
Some water for thinning out the mixture as desired
Instructions:
Combine all ingredients and blend together in a blender or food processor.
Add water a bit at a time until you reach a consistency you're happy with.
Adjust seasoning to taste.
Chill before serving the dressing.
Store in an airtight container. It can last inside the refrigerator for up to 7 days.
4. Hearty, Old-Fashioned Faux Beef Stew
Traditional 'Beef' Stew Recipe https://t.co/N0uRcQW3Hs #EatForThePlanet #vegan pic.twitter.com/l2D0t5RWD8

— One Green Planet (@OneGreenPlanet) March 14, 2016
This faux beef stew is so good even regular meat eaters swear by it. It has no real animal meat, which means this dish is completely acid-free and has hearty root crops that will balance your alkaline levels.
Ingredients:
1 large yellow onion, diced
2 tablespoons olive oil
5 cloves of garlic, finely minced
2 tablespoons tomato paste
1 tablespoon white wine vinegar
4 cups vegetable stock or broth
1 tablespoon balsamic vinegar
1/4 cup organic rice flour
2 carrots, chopped into 1-inch chunks
3 1/2 cups of potatoes chopped into even, 1-inch chunks
1 teaspoon dried or fresh thyme
3 stalks of celery, chopped into 1/2-inch pieces
1/4 cup fresh or dried parsley, finely chopped
3 pieces of fresh or dried bay leaves
1 1/2 packs of faux beef chunks
Instructions:
In a large pot, heat the oil and saute the onions on medium heat for 5 minutes.
Add garlic and tomato paste, stirring and cooking for 2 minutes.
Pour in the 2 types of kinds of vinegar, and stir.
Add the rice flour and stir well for 1 minute until smooth.
Add the vegetable stock along with the potatoes, carrots, bay leaves, celery, pepper, and thyme.
Stir together all the ingredients, turning the heat to low.
Simmer for 40 minutes, but stir frequently to make sure nothing sticks to the bottom and burns.
After 40 minutes, add the faux beef and parsley, and cook for another 2 minutes.
You can also use real beef and beef stock for this recipe, but you will have to brown the meat beforehand and simmer for a longer period of time until the meat is soft.
5. Vegan Thai Green Curry
https://www.instagram.com/p/BltKIkNn2es/
Thai green curry is rich but light, spicy but fresh, and this vegan alkaline recipe has a bunch of delightful vegetables that will make your body and tastebuds happy. It's one of the tastiest and easiest alkaline recipes for dinner ever!
Ingredients:
3 teaspoons Thai green curry paste (feel free to reduce to 2 teaspoons if you want a milder heat)
1 sweet potato, small
Juice of 1 lime
1 eggplant, small
2 cups vegetable stock
1 broccoli head
3 kaffir lime leaves
1 medium zucchini
2 small bell peppers (any color works, it's up to you!)
1-2 cups coconut milk
A small nub of ginger, finely grated
Salt and pepper, to season
Instructions:
Pour the vegetable stock into a large pot and let boil.
Add all the vegetables, lime leaves, ginger, and enough coconut milk to cover the contents of the pot.
Simmer, covered for 20-30 minutes.
Stir occasionally so nothing sticks to the bottom and burns.
Season according to your taste.
Let cook until the vegetables are fully cooked/fork tender, and take the pot off the heat.
Add lime juice and stir to combine.
Serve with jasmine rice.
RELATED: High Alkaline Foods To Add To Your Diet
6. Sweet Potato Breakfast Bowl
Wake up to a nourishing bowl of goodness: sweet potato breakfast bowls with savory granola! https://t.co/lAo7IfoHtw pic.twitter.com/IG2reMpzRU

— Gena Hamshaw (@thefullhelping) August 5, 2016
Sweet potatoes are fantastic: they're full of complex carbohydrates, vitamins, and are a great addition to any alkaline diet. This alkaline recipe for a sweet potato breakfast bowl is so easy you might say goodbye to cereal.
Ingredients:
1 8-ounce can sweet potato puree or 1 cup of mashed sweet potato
1/2 teaspoon olive oil
2 teaspoons finely minced garlic
3 tablespoons pumpkin seeds
2 teaspoons sesame seeds
2 cups spinach
Instructions:
Heat oil over medium heat, then add garlic.
Cook garlic for 1 minute until fragrant.
Add spinach and saute until every leaf has wilted.
Scoop sweet potato mash into a bowl.
Top the sweet potato mash with spinach, pumpkin seeds, and sesame seeds.
Add salt and pepper to taste.
7. Coconut and Lime Panna Cotta
Taste the tropics with Coconut and Lime Panna Cotta—boosted with *protein*! https://t.co/4QxTMtLNnj pic.twitter.com/Ncm6ildQgX

— Thrive Market (@THRIVEmkt) March 17, 2018
This refreshing dessert will give you vacation vibes after just one mouthful. Its rich coconut taste is complemented well by the mild lime kick.
Ingredients:
1/2 cup coconut milk
3 tablespoons agave nectar
1/2 cup water
1/2 teaspoon agar-agar powder
Zest of 1 lime
1/2 teaspoon lime extract
Chopped pineapple
Natural green food coloring (optional)
Instructions:
Lightly heat the water in a saucepan and dissolve the agar-agar powder.
Remove from the heat once the powder is fully dissolved and let stand for 5 minutes.
In another saucepan, warm the coconut milk.
Place the saucepan with the agar-agar over low heat while stirring.
When it starts to boil, add the coconut milk, lime extract, sugar, zest, and color (optional). Stir until everything has mixed well.
Add more sugar to adjust to your taste.
After cooking for 3-4 minutes, remove the saucepan from the stove and pour the mixture in small bowls. Let sit at room temperature until it sets, or let chill in the fridge.
Serve with pineapple or your choice of side fruits.
8. Raw Lemon Cookie Balls
This delightfully tart concoction is one of the best alkaline recipes for all the lemon and cookie fans out there. And since it's raw, you don't even have to put it anywhere near an oven!
Ingredients:
1 1/2 cup almond flour
1/3 cup raw coconut flour
1/2 teaspoon salt
2 tablespoons organic maple syrup or raw, organic honey
Juice of 3 lemons
2 teaspoons vanilla extract
1/4 cup melted coconut oil
Instructions:
Pour all ingredients into a food processor and combine into a stable consistency.
Use a tablespoon to scoop up the mixture and roll in your palms into your desired shape (We rolled them into balls, but you can make a traditional flat cookie if you want).
Leave them plain, or roll them in finely chopped nuts, shredded coconut flakes, or sugar.
Put the prepared cookies in the fridge to chill and set for 10-15 minutes.
You can also put them in a dehydrator if you want a more crunchy cookie texture.
9. Nutty Protein Bars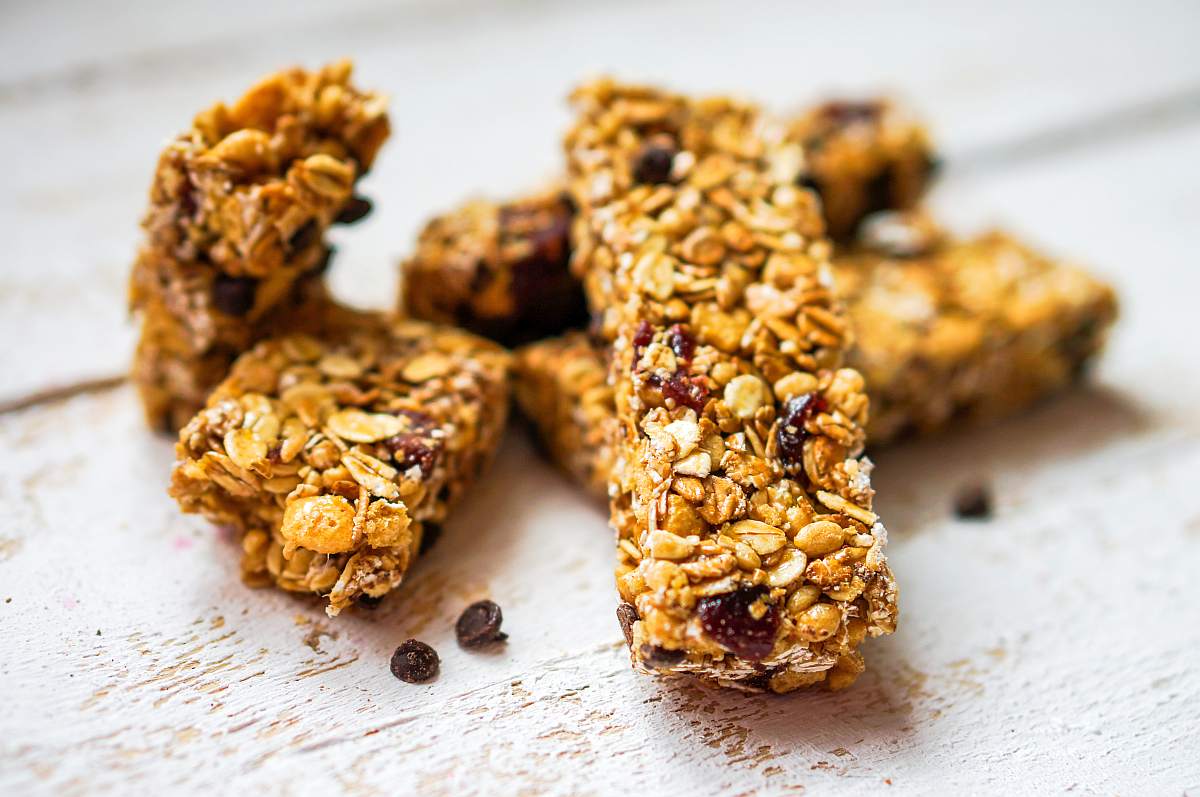 These protein bars are perfectly nutty and give a big boost of energy upon consumption. Have it for breakfast, snack, or a quick energy boost while on a hiking trip.
Ingredients:
1 bag wholegrain puffed kamut
2 bags of mini marshmallow (vegan or non-vegan)
1 cup carob chips
2 scoops of vegan protein powder (we used vanilla, but you can experiment with your favorite flavors)
1 teaspoon vanilla
1/2 cup almond milk
1/2 cup trail mix
Instructions:
Pour the puffed kamut into a large bowl.
In a separate bowl, mix vanilla and almond milk.
Grease two separate pans with cooking spray or vegetable oil.
Add the almond milk mixture and protein powder in a non-stick pot and bring to a boil over medium heat.
Once the mixture comes to a boil, remove from the heat and stir in the marshmallows.
After the marshmallows melt, add the ingredients into the large bowl with puffed kamut.
Add the carob chips and gently combine (be careful as they could melt!)
Stir in the trail mix.
Pour the finished mixture into the greased pans and flatten evenly.
Place the pans into the freezer to set.
Once they set, tip the slabs onto a cutting board and slice into 16 bars. Be sure to cut them while frozen as they can become extra sticky when slightly warmer.
What Is Puffed Kamut? A high-energy grain thrice the size of modern wheat. It was discovered by the Egyptians thousands of years ago, and are a popular breakfast cereal for health buffs.
What Are Carob Chips? Also called "that other chocolate chip," carob chips are made from the pods of the carob tree, a diminutive Mediterranean shrub. It is often used as an alternative to chocolate, but is less bitter, less rich, and has a natural sweetness.
Diving into an alkaline diet can be intimidating at first, but having a couple of easy alkaline recipes…or nine can make that shift a lot easier! It even gets simpler when you pair everything up with alkaline water.
Get it right from your tap with Tyent electric water ionizers! We have a model for your every need.
Do you have tasty high alkaline recipes of your own? Share them with us in the comments section below!
Up Next: