2020 has got off to the very best start possible with Tyent being honored with a major industry award as the 2020 Water Ionizer of the Year!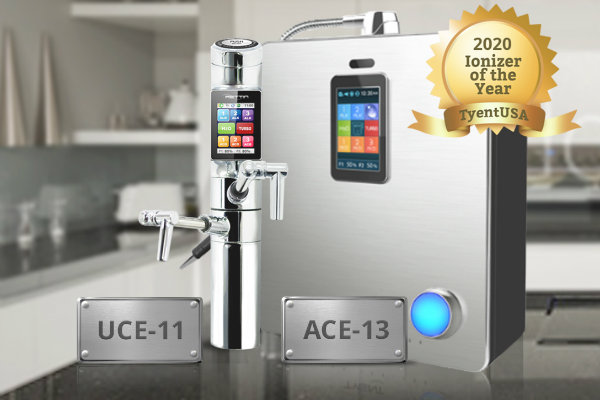 The Best Water Ionizer in the World!
We're delighted to receive such an award that highlights the vital things that sets Tyent apart from other water ionizer companies while showcasing the essential benchmark that we strive to achieve: that Tyent Water Ionizers are the BEST in the world.
We're no stranger to this honor – as we've proudly won the coveted title of Water Ionizer of The Year an unprecedented nine times since 2009.
So, we're not just the best…we're CONSISTENTLY the best!
The Tyent Team: An Office Full of Winners!
Winning this award isn't just about being able to add another piece of shiny hardware to our stacked trophy case.
The reason this award is important to us is that it validates that we're getting both the small and the big things RIGHT.
From the meticulous, world-class engineering that goes into creating every Tyent water ionizer to the brilliant, caring people who answer the telephone when you call…
Every. Single. Element. Matters.
Lifetime Guarantee
Our unwavering attention to detail demonstrates that we're confident enough to make BIG promises and DELIVER on those promises.
See…we don't offer a five-year guarantee on our water ionizers, or even a ten-year guarantee.
EVERY new Tyent water ionizer machine that we sell comes with an unparalleled "Forever" guarantee that literally lasts a lifetime.
This genuine customer-centric approach has helped us achieve and retain accredited status and a maximum A+ Rating from the Better Business Bureau!
A Trial Period That Counts
We also know how important it is for our new customers to make a confident decision when they buy from us, which is why we offer an amazing 75-day trial period on every Tyent alkaline water machine.
This gives you the chance to discover just how much of a difference drinking our alkaline hydrogen water makes to the way you feel and even the way you look!
FREE Water Report and an AMAZING Water Ionizer Deal!
Right now, you can be a winner too and catch an incredible New Year deal, with some of our best sale prices EVER on our water ionizers!
Start by getting your FREE Water Report that will help you learn about the quality of your local water supply.
Then call our friendly team of experts at to find out which award-winning Tyent water ionizer is the perfect one for you! (including our one-of-a-kind Alkaline H2 Hybrid ionizer)