Dr. Lori Shemek is back with another delicious, healthy recipe!
Check out these yummy Cream Cheese Cookies that are fast & easy to make!  Choosing foods that have fewer carbohydrates and zero sugar will have a powerful impact on your overall health and weight.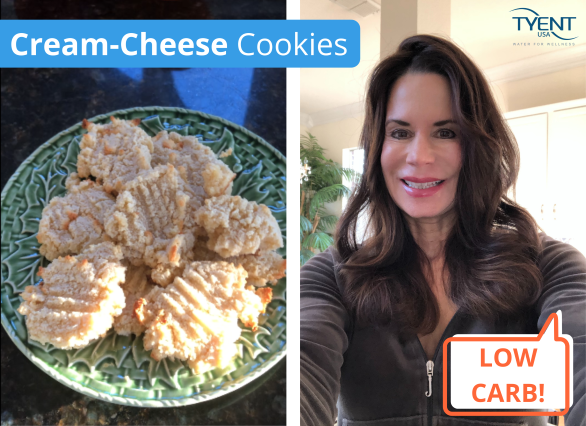 We all know that sugar and refined flour are not healthy as they promote potential inflammation in the body. However, once you swap out the old, unhealthy ingredients, you will actively promote optimal health and a leaner body.
These Cream Cheese Cookies are an example of making these lower-carb, healthier choices. These cookies are not only delicious and healthy, but they are also easy to make as well. What better way to do it than with a delicious sweet treat! It's always a great idea to surround yourself with healthy choices – this is one excellent healthier choice. Don't deprive yourself, just indulge smart!
The healthy fat found in the butter, egg, and almond flour, including the fiber, will help to keep hunger and cravings away.
Ingredients
 1/4 cup butter (softened)
 3 oz. full-fat cream cheese (softened)
 1/2 cup granulated Monk Fruit Sweetener
 1 large whole egg
 3 tsp. vanilla extract
 1/4 tsp. sea salt
 1 tbsp sour cream
 3 cups blanched almond flour
Instructions
Preheat the oven to 350 degrees F (177 degrees C). Line a large cookie sheet with parchment paper.
Use a mixer to beat together the butter, cream cheese, and sweetener, until it's fluffy and light in color.
Beat in the vanilla extract, salt and egg. Add in sour cream
Beat in the almond flour, 1/2 cup at a time. (The dough will be dense and a little crumbly, but should stick when pressed together)
Use a medium cookie scoop (about 1 1/2 tbsp,) to scoop balls of the dough onto the prepared cookie sheet. Flatten with your palm.
Bake for 18 minutes or until the edges are lightly golden. Allow to cool completely in the pan before serving.
Water is Necessary to Burn Fat

Without water, the body cannot properly metabolize stored fat or carbohydrates.

The process of metabolizing fat is called lipolysis. If weight loss is your goal, drink half your body weight in ounces daily.#weightloss #fatloss #hydrate #water pic.twitter.com/dBmEz4Nzjc

— Lori Shemek, PhD (@LoriShemek) March 28, 2021