The backbone of any successful technology-based company is research and development.

In order to stay ahead of the water ionizer curve, Tyent commits its best and brightest employees to the Research and Development Department. At the helm of Tyent R&D is the talented, the unequivocal head tech, Mr. Jim Roberts.
10 Reasons to Love Jim Roberts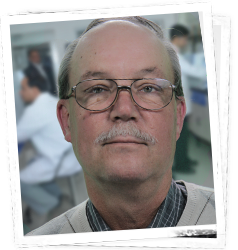 1. He Has Over 25 Years of Experience
Before coming to Tyent, Jim worked for 25 years as a manager in a manufacturing plant. When the factory closed, Jim was laid off and soon introduced to Tyent Founder Joe Boccuti. Joe immediately recognized Jim's incredible abilities as a manager, and he soon became the head person in charge of Tyent's R&D and Water Ionizer Repairs.
2. He's Been With Tyent Since the Beginning
Jim has helped build Tyent into the company it is today. He started in Sales, then moved to Tech Services, and now manages Research and Development. His experiences in all aspects of the company make Jim an invaluable resource both in-house and for Tyent customers.
3. He Was an Entrepreneur Himself
One of the things that attracted Jim to Tyent in the first place was the opportunity to work for a budding new company. In fact, Jim has past experience as an entrepreneur and his knowledge of business management has helped make Tyent stronger.
4. He Knows Water Ionizers Inside and Out
As a new member of the Tyent team, Jim new little about water ionizers. After spending months studying water ionizers and alkaline water, he is now a bonafide water ionizer engineer and certified water quality expert. Jim knows how water ionizers are built, he knows all of their capabilities, and he uses his knowledge to help design the water ionizers of the future.
5. He Is an Alkaline Water Expert
Jim's knowledge of water ionizers extends to the benefits of alkaline water. He believes that the healthiest alkaline water comes from the best, cleanest machines which is why he studies alkaline water as well as the quality, pH and contaminants found in American source water.
6. He Knows About Water Sources Throughout the USA
Every home in America has different water flowing through it. Jim understands the diverse water demographics of the United States but knows that fresh alkaline water can be obtained anywhere by conducting a water report (which Tyent offers for free).  Then, Tyent provides customized filters to work with your unique source water. With a proper filter system and a Tyent water ionizer, the healthiest water can be yours at the touch of a button.
7. He Can Help Select Filters and Pre-Filters
From hard water to soft water and all the waters in between, Jim Roberts knows how to rig a pre-filter and filter system for any location in America. With Jim's help, any home can have healthy alkaline water that is free of contaminants. Plus, all the employees at Tyent are certified water experts, so when Jim's not there to help, you can feel confident that your in good hands.
8. He Knows How to Properly Clean Your Water Ionizer
If you have hard water and need your plates cleaned, then Jim is your man.  Jim builds water ionizers from parts and therefore knows how to disassemble, thoroughly clean and reassemble Tyent water ionizers.
9. He Treats Customers Like the Tyent Family
Jim says,
"Working at Tyent is like working for family, it is that kind of environment. Joe gives everyone who works at Tyent enough freedom to grow and advance to their highest potential, supporting and guiding them in every step."
When working with Jim, our customers feel his compassion and genuine interest in their well being because he truly believes in the Tyent family.
10. He Loves His Job At Tyent USA!
Jim's passion for alkaline water ionizers is contagious. He loves working at Tyent so much, he never wants to quit.
"My goal is to retire one day and continue to work at Tyent!"

-Jim Roberts
The Jim Roberts Way
He is a man of great knowledge, experience, kindness and understanding and Tyent USA is proud to have Jim Roberts on staff. All his great talent goes into every water ionizer that Tyent produces and customers and future customers alike can learn more about Tyent machines from the Tyent Water Ionizer Buyer's Guide.