Under-Counter "T" Adapter
Standard Installation Instructions
1. Purchase your T-Adapter
NOTE: When unit is not used for an extended period of time (i.e. vacations), the valve should be shut-off to prevent any damage to your unit or home.
2. Shut off both hot and cold water main supply at pipe under the sink
3. Locate the cold water supply line valve
4. Disconnect faucet cold water supply line from main cold water pipe – use towel to catch small amount of water that may come from faucet supply line
5. When connecting T-connection to cold water pipe, be sure to use plumbing pipe thread seal tape (not included) to prevent leaks
6. Reconnect faucet cold water supply line to T-connection (now secured to main cold water pipe)
7. Be sure all connections are secure but do not over tighten
NOTE: Do not turn on main water supply until all hoses are properly installed to the unit. Unit and components are subject to change without prior notification in order to enhance performance.
For further assistance, please contact a qualified service technician or plumber.
Asia's Secret to Health and Youthfulness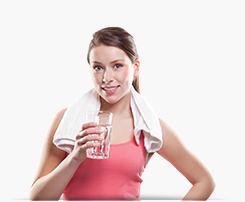 Tyent Water™ is more than just filtered water; it's HEALTHY WATER that is ionized and alkaline with more beneficial properties for you than conventional water. This amazing alkaline water is created through our time-tested water ionizers, which offer the best warranties and trial periods on the market. These state-of-the-art water ionizers install easily onto your faucet to give you the purest and healthiest water available, with just the touch of a button.
Tyent Water was developed in Asia and has been a secret to maintaining health, youthfulness and wellness for over 25 years. The concept of ionized alkaline water is fairly new in the USA, where mostly just a select few celebrities, Olympic gold medalists, doctors and nutritionists are currently reaping the water's rewards.
Tyent Water hydrates better because the water has a smaller molecule cluster size. During the Tyent ionization process, the water is broken down into a much smaller form that helps penetrate your cells faster and easier, therefore fully quenching your thirst and hydrating your body.
Drinking Tyent Water is more beneficial than drinking anything else. Tyent Water offers numerous health benefits. Other beverages such as bottled water, tap water, reverse osmosis water and plain filtered water just cannot compete! Many doctors consider ionized alkaline water to be "alive" because it has many of the same qualities as the pure, oxygen-rich and mineral-rich spring water that can only be found atop of pristine mountain terrain.
Price
$25.00
Looking for a cleaner, more professional looking installation that you can do yourself!? The Under-…
World Class Service
Easy Ordering
Lowest Shipped Prices
Quick Turn Around
Superior Shipping
100% Satisfaction
Exceptional Customer Service