UCE "Under-Counter Extreme" Ionizer Cleaning Cartridge
Directions For Use:
1) Turn off your ionizer and shut off the water supply going to the unit.
2) Locate the filter housing of your ionizer and remove the 2nd Filter.
3) Attach the Citric Acid Ionizer Cleaning Cartridge.  Do NOT over tighten!
4) Turn on both the power to the ionizer as well as the water supply.
5) Run water through the ionizer using the H2O CLEAN mode. DO NOT use any other mode when going through this cleaning process!
6) Allow H2O Clean water to cycle for 5 minutes.
7) Do not operate the machine for 3 hours.
8)  After 3 hours, follow steps 1-4, replacing the Citric Acid Ionizer Cleaning Cartridge with the original filter.
9)  Run the unit on the H2O cycle for 5 minutes to wash the filter inside with clean water.
10)  Check pH levels of the machine and flow rate.  The pH levels should return to normal.  If not, repeat steps 1 through 9. The process can be repeated up to FOUR times with one cartridge.
NOTE:  When cleaning your Tyent machine, be sure to always use the H2O purified water level only!  Do not use any other level while cleaning or damage could occur.
NOTE:  If your water ionizer is subject to hard water conditions, a Cell Safe Anti-Scale filter should be connected.  This filter will prevent scale build up on plates.
Your ionizer water cell is now clean and protected against future scaling! Repeat this process every 6-12 months or as necessary based on source water conditions. If you have any further questions or concerns, please contact us at 1-855-846-8950.
Asia's Secret to Health and Youthfulness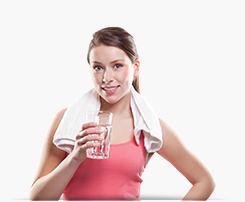 Tyent Water™ is more than just filtered water; it's HEALTHY WATER that is ionized and alkaline with more beneficial properties for you than conventional water. This amazing alkaline water is created through our time-tested water ionizers, which offer the best warranties and trial periods on the market. These state-of-the-art water ionizers install easily onto your faucet to give you the purest and healthiest water available, with just the touch of a button.
Tyent Water was developed in Asia and has been a secret to maintaining health, youthfulness and wellness for over 25 years. The concept of ionized alkaline water is fairly new in the USA, where mostly just a select few celebrities, Olympic gold medalists, doctors and nutritionists are currently reaping the water's rewards.
Tyent Water hydrates better because the water has a smaller molecule cluster size. During the Tyent ionization process, the water is broken down into a much smaller form that helps penetrate your cells faster and easier, therefore fully quenching your thirst and hydrating your body.
Drinking Tyent Water is more beneficial than drinking anything else. Tyent Water offers numerous health benefits. Other beverages such as bottled water, tap water, reverse osmosis water and plain filtered water just cannot compete! Many doctors consider ionized alkaline water to be "alive" because it has many of the same qualities as the pure, oxygen-rich and mineral-rich spring water that can only be found atop of pristine mountain terrain.
Price
$54.95
The Citric Acid Ionizer Cleaning Cartridge is a MUST HAVE in areas with extremely bad source water! …
World Class Service
Easy Ordering
Lowest Shipped Prices
Quick Turn Around
Superior Shipping
100% Satisfaction
Exceptional Customer Service