Goodlife Bottles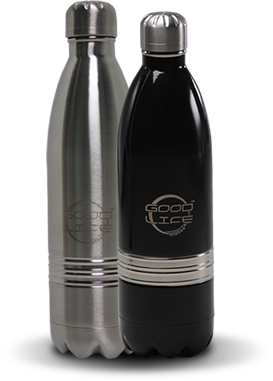 HAVE YOUR TYENT ALKALINE WATER
ANYTIME, ANYWHERE
The first water bottle designed for alkaline water. Non-Leaching, Preserves PH, ORP, and TEMPERATURE.
GoodLife bottles are the perfect & most eco-friendly way to carry your alkaline water anywhere you go. These state of the art drinking bottles are handcrafted with precision and care. The bottles are manufactured utilizing only the highest grade 18/304 stainless steel and 100% BPA free plastic to ensure there will be no leaching of toxins or any unpleasant after taste.

Our unique patented dual wall design, combined with our proprietary vacuum seal cap is the secret behind GoodLife's amazing ability to keep liquids hot or cold for up to 24 hours! The unique shape and craftsmanship of the bottle provides you with quality, durability & style. Whether you are hiking, biking or walking the streets, the GoodLife bottle is a safe, functional and always a healthy companion for you, your family and the environment.
› 100% BPA-free, non-leaching & toxin-free
› Approved for Alkaline water use
› Unique Dual walls with vacuum-seal cap keeps liquid hot or cold for up to 24 hours
› High-quality food grade 18/304 stainless steel keeps liquids fresh & clean
› Portable for hiking, sports, travel, in flight, gym, camping, school and work
› Economical and easy hydration – avoid expensive bottled waters
› No landfill waste from discarded shop-bought water bottles
› Stylish custom design & quality craftsmanship
› Durable, lightweight, reusable and 100% recyclable
Choose The Good Life
Watch Movie To See Why
It's What's Inside That Counts
Watch Movie To See Why