GoodLife Venture 1000mL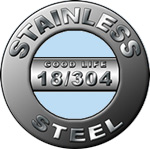 The bottles unique patented dual wall design, combined with its proprietary vacuum seal cap is the secret behind GoodLife's amazing ability to keep liquids hot or cold for up to 24 hours! The unique shape and craftsmanship of the bottle provides you with quality, durability & style. Whether you are hiking, biking or walking the streets the GoodLife bottle is a safe, functional and always healthy companion for you, your family and the environment.
- 100% BPA-free, non-leaching & toxin-free
- Approved for Alkaline water use
- Unique Dual walls with vacuum-seal cap keeps hot or cold for up to 24 hours
- High-quality food grade 18/304 stainless steel keeps liquids fresh and clean
- Portable for hiking, sports, travel, in flight, gym, camping, school and work
- Economical and easy hydration - avoid expensive bottled waters
- No landfill waste from discarded shop-bought water bottles
- Stylish custom design & quality craftsmanship
- Durable, lightweight, reusable, and 100% recyclable
Asia's Secret to Health and Youthfulness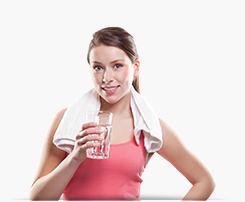 Tyent Water™ is more than just filtered water; it's HEALTHY WATER that is ionized and alkaline with more beneficial properties for you than conventional water. This amazing alkaline water is created through our time-tested water ionizers, which offer the best warranties and trial periods on the market. These state-of-the-art water ionizers install easily onto your faucet to give you the purest and healthiest water available, with just the touch of a button.
Tyent Water was developed in Asia and has been a secret to maintaining health, youthfulness and wellness for over 25 years. The concept of ionized alkaline water is fairly new in the USA, where mostly just a select few celebrities, Olympic gold medalists, doctors and nutritionists are currently reaping the water's rewards.
Tyent Water hydrates better because the water has a smaller molecule cluster size. During the Tyent ionization process, the water is broken down into a much smaller form that helps penetrate your cells faster and easier, therefore fully quenching your thirst and hydrating your body.
Drinking Tyent Water is more beneficial than drinking anything else. Tyent Water offers numerous health benefits. Other beverages such as bottled water, tap water, reverse osmosis water and plain filtered water just cannot compete! Many doctors consider ionized alkaline water to be "alive" because it has many of the same qualities as the pure, oxygen-rich and mineral-rich spring water that can only be found atop of pristine mountain terrain.
Price
$29.95
Choose your favorite COLOR! GoodLife bottles are the perfect & most eco-freindly way t…
World Class Service
Easy Ordering
Lowest Shipped Prices
Quick Turn Around
Superior Shipping
100% Satisfaction
Exceptional Customer Service