Elite Shower Phresh
pH Perfected Rejuvenation!

Take a shower with confidence! The Elite Shower pHresh filter reduces pathogens and chlorine in the water. This incredible innovation brings incredible gloss to your hair, softness to your skin, and removes toxic chemicals that may cause skin, lung and eye irritation.
Reduces Chlorine
Removes 99% of All Dissolved Metals
Relieves Itchy Skin and Scalp
Restores Gloss to Hair
Reduces hearmful VOCs
Enhances pH
Inhibits Bacteria Growth
Did you know that your body can absorb more chlorine in a 10-minute shower than from drinking 8 glasses of the same water?
Commonly used to disinfect tap water, chlorine can make your skin dry, sensitive, flaky and itchy. It irritates your eyes and makes your hair dry and unmanageable. Worse yet, chlorine and chlorine by-products aggravate symptoms for many asthma, allergy, sinus and emphysema sufferers.
But now you can enjoy more manageable hair and softer skin using the Elite Shower pHresh for healthy, chlorine-free showers!
Stage 1 of this system uses KDF, a natural copper/zinc filter media to effectively remove free chlorine and enhance the pH balance of your shower water. KDF also helps control algae, bacteria and shower scum.
Stage 2 is filled with a natural virgin coconut shell carbon that is manufactured to produce a catalytic reaction similar to what takes place in the Elite Air Filter. This NSF certified media provides significant reduction of synthetic chemicals, THMs, VOCs, and chlorine by-products (known carcinogens) that vaporize and are easily inhaled or absorbed through your skin while showering. Additionally, the Elite Shower pHresh is the only shower filter on the market effective at removing chloramines!
Filter cartridge should be replaced every six months to maintain peak performance.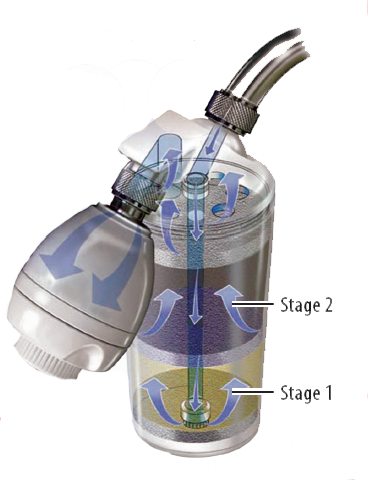 World Class Service
Easy Ordering
Lowest Shipped Prices
Quick Turn Around
Superior Shipping
100% Satisfaction
Exceptional Customer Service